The first time I met acclaimed artisan Barney Bellinger, he was walking in my sister's house with a school kid's grin and a big basket of mushrooms.
"I just found these oysters on the tree behind your shed," he said casually. "There are tons of them. How about if I cook them up for the dinner?" Lightly sautéed with herbs from the garden, they were the most delicious mushrooms we had ever tasted. It was only later he shared the story of four friends, one an expert "forager" who had all been poisoned by one errant wild woods mushroom at a dinner party.
As I came to know Barney and his wife Susan, I grew to admire not only his artistic talents with paint and furniture, but also the way they live. Untethered to "things," they are in constant motion, retreating comfortably into nature's wombs to recharge and discover elements for his furniture and artwork. Barney is considered by many to be the preeminent living rustic artist, and he only accepts limited commissions, preferring instead to follow his own creative process.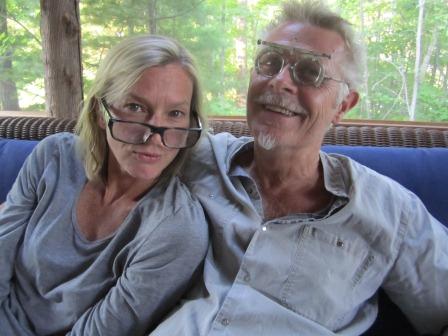 Like many artisans, Barney chooses to make his pieces one at a time. His upstate New York studio is full of found and foraged items and he makes a point of always working with apprentices, to teach others the finer points of his craft. And while industry executives have tried to convince him to replicate his designs on a more mass level, he has always politely declined, despite the financial opportunity. More than anyone else I have ever met, Barney knows how to live in the moment.
The seasons are his guide for where he will go and how long he will stay. Summer and late autumn find him in his beloved Adirondack Mountains gathering knobby root burls, twigs, salvage metal and flea market finds, moving from camp to camp and to art shows. He heads to Montana in September, for fly-fishing when the already-quiet state gets even quieter. Then it's the Florida Keys in March, which were the inspiration for a line of furniture related to cigar boxes. In the winter he takes all of the objects and natural elements he has collected back to his studio in Mayfield, N.Y. and spends those cold months creating.
"If I like it, I figure other people will like it," is his philosophy. And he has a very keenly honed sense of form with function.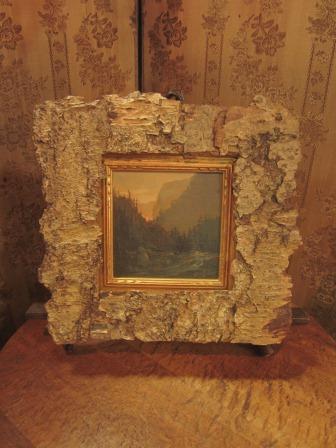 Painting by Barney Bellinger
Because his furniture and paintings will always be on my list of desired objects, I wanted to interview Barney to understand how he approaches his craft and ends up doing exactly what he wants to do.
You've had an interesting journey to become an artist, can you describe it?
I started detailing motorcycles and building custom bikes. I'd go down to Daytona Beach in the '70s for bike week and I'd pinstripe bikes all day. A fire ravaged my business and I lost all my equipment and 23 bikes. That put an end to my company.
Fire places a significant role in your life. How do you explain that?
There have been eight fires in my family. I can't figure it out. My father was burned severely, my business, I lost the use of an arm for an extended period in a fire two years ago. It must mean something but I haven't figured it out yet.
So what happened after your business fire?
I started a hand-painted sign business in the Saratoga Springs area. And that just evolved into creating paintings and then creating my furniture. When you are an artist, the only limitations you have are the ones you put on yourself.
So, you've never been tempted to "go Starbucks," never wanted to turn your work in to mass production or take on tons of apprentices?
No way. No interest. I can think of a number of times I've turned a check back to a client who had gotten too overbearing about the creative process and tried to give me too much direction. I respect the integrity of my pieces and the people who are going to possess them. I want them all to go to good homes. I like people's input, but it's hard to work when someone is trying to control my output.
You have some pretty heady clients?
I never name names but yes, my pieces are in the homes of some of America's most well known families, heads of businesses and in many great lodges in Montana and camps in the Adirondacks. But you never forget where you come from. I think of all of my clients the same way, even the person who paid me for a piece in $20 installments for years.
Where are you most at home?
On a remote Adirondack pond, like the West Canada Wilderness Area or on a backcountry stream in Gallatin National Forest in Montana.
What do you see in buying patterns now as a reflection of the economy?
I'm fortunate that people still want to buy my work but what I'm seeing is "purposeful purchasing." Before the economic downturn, people would buy any piece I had finished, regardless of whether or not they had a place to put them. Now they are buying specific pieces or paintings they have an exact place for in mind.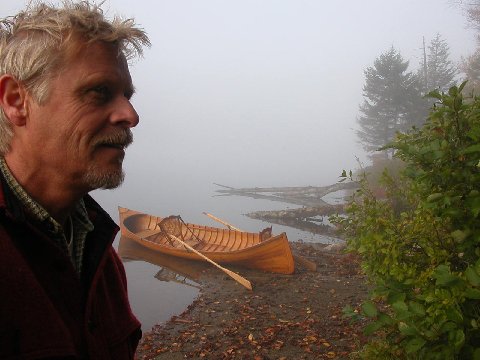 I hope you get a chance to see a Barney Bellinger piece in person sometime. Like most great works of art, the photos can't do them justice. Here is a quote from Barney about the philosophy of his work:
"I do not paint to please critics but rather to record my travels. Information and inspiration is derived through my lifestyle of exploring backwoods ponds, lakes and mountain trails. Lean-to's and tent camps provide shelter. Foraging for raw materials is always an opportunity to study natural forms and color. Painting for me is a privilege."
Follow Lee Woodruff at www.leewoodruff.com
Earlier on Huff/Post50:
PHOTO GALLERY
Post 50s Declare Their Independence