Cleared for takeoff! Though our cruising altitude will be -- ground level... No checked luggage; no flight attendants bedazzled in colorful neckerchiefs; and no pilots in sight. We are taxiing down the runway at JFK International Airport simply in running gear -- at the jubilant JFK Runway Run, hosted by the JFK Rotary Club, on Sunday, April 19, 2015 in Jamaica, NY.
My college buddy Dennis Klainberg (president of Berklay Cargo Services) convinced me to run two days before the 33rd annual 5K race. This event has happened 32 times prior -- where have I been?! -- 'cause I've never heard of such a cool escapade. To run on a runway? No way! Way, as in runwaaaay!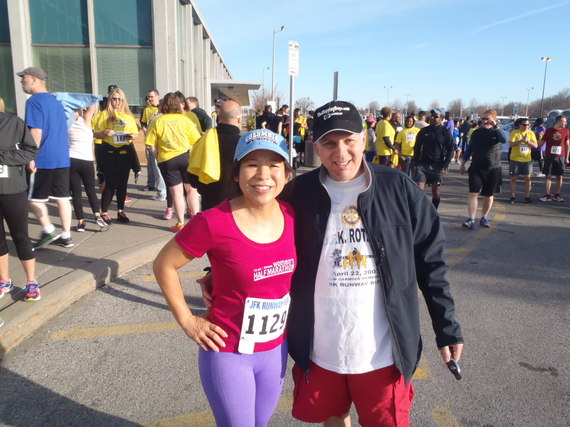 Dennis and I go way back -- we are both Rotarians and active Columbia alumni, except he attended Columbia right before it went co-ed, when I was there. Okay, he's only a few years older than I, but I am so grateful for his incredible hospitality at JFK Airport. I signed up the day of the race and knew that my $30 registration fee goes toward his Rotary Club's amazing causes, such as "Gift of Life," where babies and toddlers from overseas fly into JFK Airport and get whisked to nearby hospitals for open heart surgery -- "free of cost" thanks to funds raised by Rotarians such as in Rotary International Rotary District 7255.
Several years ago Rotarian Dennis Klainberg suggested to transform this original 10K run into a 5K race, which catapulted the starting line of 100 or so runners to approximately 1,000 every year since.
Before heading to the 9:00 a.m. start of the JFK Runway Run, I did not need my Global Entry card for TSA pre-check. My runner's bib (#1129) became my boarding pass, which cleared me thru the fence to pass the Port Authority security officer. Onto the tarmac and then onto the less trafficked runway at JFK Airport, we ambitious runners lined up according to our estimated pace time, and then took off!
I befriended Yan Wang and offered to take pics of him at the awesome airport, while he recognized my sky blue Columbia hat. As we jogged together and chatted, I learned that we both studied engineering at Columbia -- his PhD in electrical engineering is right around the corner and will launch his career as a software engineering developer at Bing. Yan is from China and happens to be a pilot enthusiast. We both experienced the JFK Runway Run for the first time and discovered the route so enjoyable.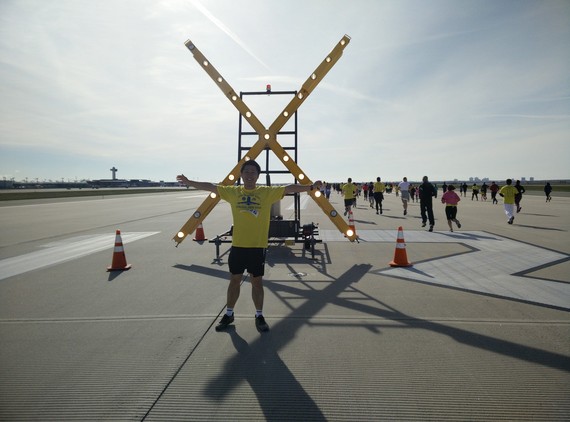 Later I bumped into Georgia Early (wife of Rotarian Brian Early) dressed in her ol' JFK Rotary's long sleeve shirt from an earlier JFK Runway Run.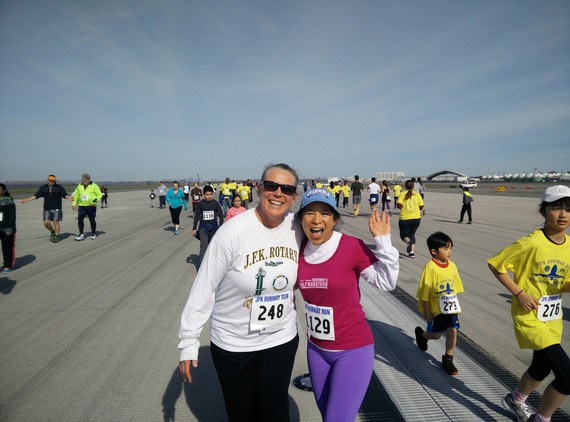 Then I had to pose and smile by a Japan Airlines plane taxiing from its departure gate.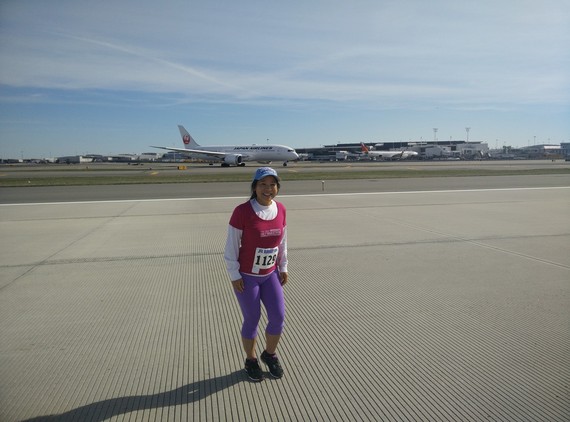 In most road races, the turnaround point is marked by orange cones. We recognized those safety cones, way after spotting the life-size Delta plane majestically parked diagonally on the JFK runway! We, therefore, all had to take selfies by this magnificent twin-engine aircraft.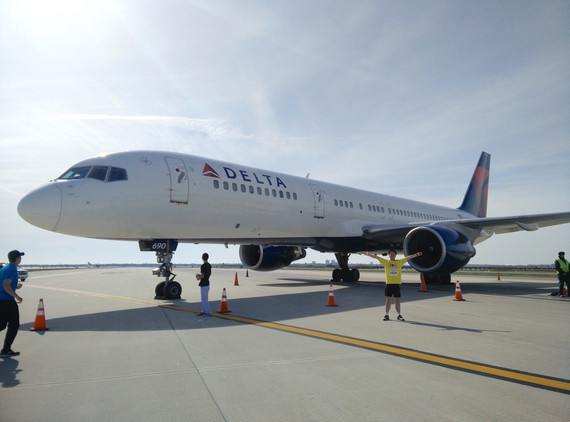 English is a funny language: You can't really drive much on a driveway, or try to park on a parkway, or attempt to fly a jet thru a jetway, but we got to run on a runway! We strutted our sneakers on 3.1 miles of FAA grounded bliss, and passports were not required.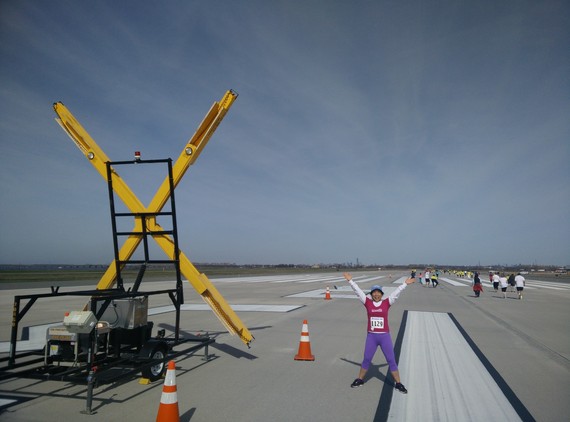 On our run back, we passed by not only tight security, but also a huge truck with blaring speakers. We then deciphered the sudden airport noise as actual live chitchat from the air traffic control tower!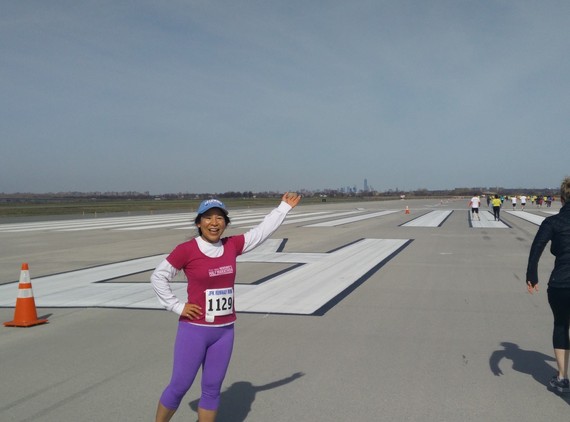 I could not resist to point out One World Trade Center off in the distance... Three days prior, I snapped a closer photo looking up at this new towering skyscraper, as I stood in the shadow of Architect Santiago Calatrava's ultra-cool World Trade Center Transportation Hub under construction in downtown NYC.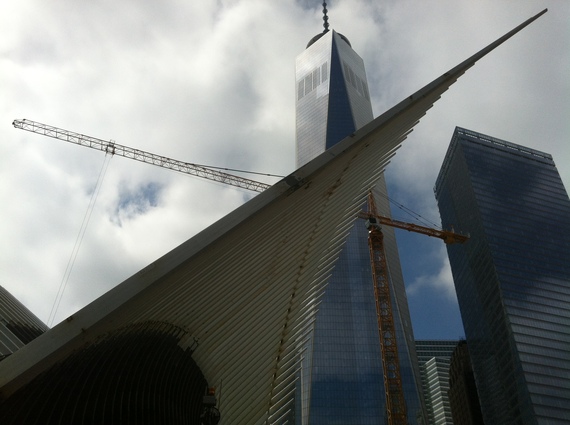 Gracious thanks to the JFK Rotary Club, TSA, FAA and Port Authority of NY & NJ! Officially, 979 runners got to run, walk or soar down the no-fly zone and cross the finish line, flanked by airport cops galore.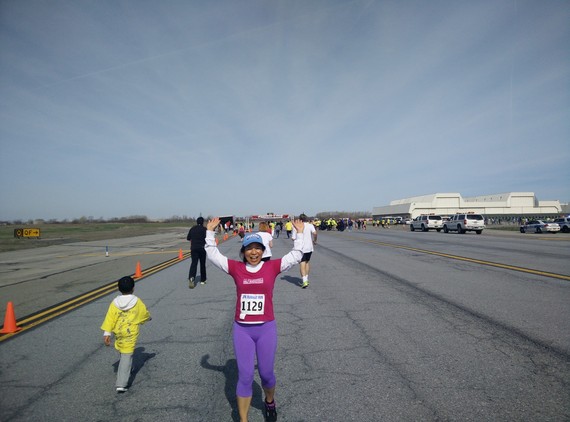 Even though there was JFK Airport Runway Reconstruction, we were never diverted. We got to our arrival gate with smiles - some passengers in much better time than mine! First place winner Anton Romashov (24-year-old Brooklynite) finished at 18:59 (pace of 6:07). Alvaro Santoma and Javier Santomo both hailed from Barcelona with an 8:40 pace. Chris Armbruster (311th runner) from Austin, TX was one second faster than Patricia Lu from Great Neck, NY, while Gillian Watson traveled in from Claremont, CA. I was the only runner from the Sunshine State.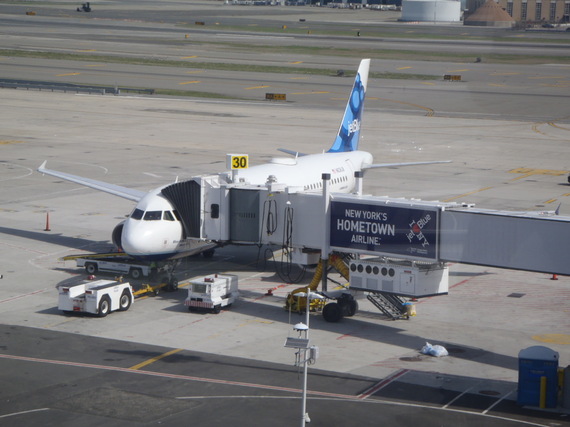 I had non-stop service to the eventual crowded line for bottled water, bananas and bagels. I bumped into two JetBlue employees (Madeline Garant and her colleague), who flew in from Boston for the JFK Runway Run, and told them "I JetBlue to SRQ!"
And then I re-joined my fellow runners Dennis Klainberg and Yan Wang for our victory lap in the parking lot, prior to boarding AirTrain and the #7 subway back to Manhattan.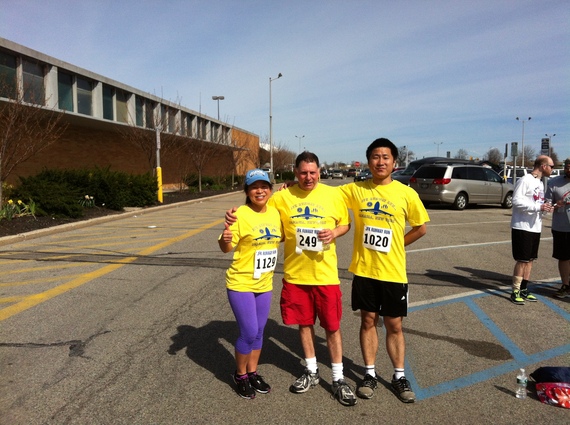 The day after the race I took a Zumba class at the New York Sports Club -- I'm more of a dancer than a runner, for sure. The following day I indulged in the much needed foot reflexology by the talented Kai Woo at Health Trail in the heart of Chinatown.
As I boarded JetBlue from LaGuardia Airport three days after the 5K race and headed back to the sunny shores of Sarasota,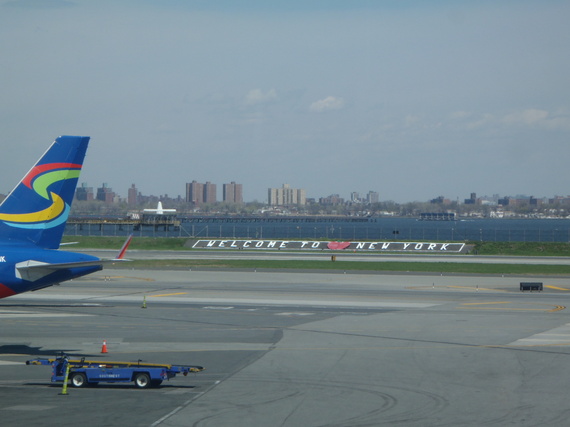 I was reminded of the JFK run and fun. I looked out my airplane window upon departure and spotted the island of Manhattan below (with the Statue of Liberty and the Freedom Tower clearly visible)...
And then from the NJ side looking at the West Side of Manhattan, I detected the outline of Central Park (the site of my last year's first-time half marathon)...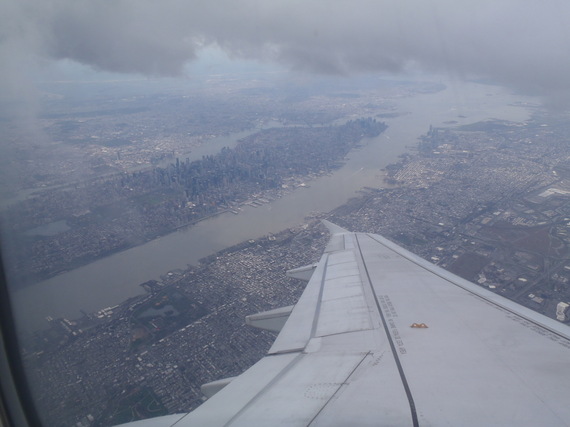 So when our jet navigated above the clouds...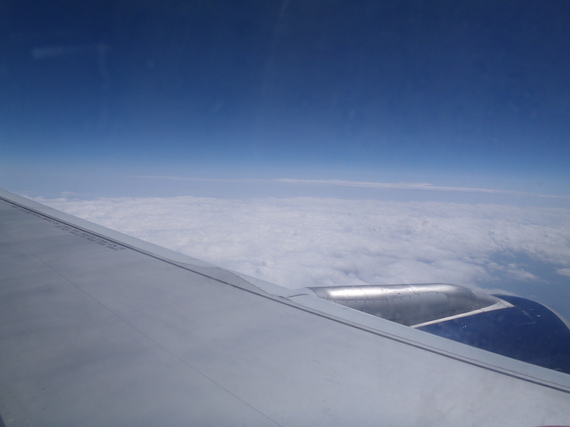 I appreciated airport workers in a totally new way. The following weekend, Yan Wang piloted over Long Island and sent me his perspective:
Yes, it's fun to fly. Perhaps next year, I will register for JFK Runway Run in advance and fly in again from Florida. Maybe Yan Wang will fly back from Bing's Bellevue headquarters, so we can share the runner's high on the runway cleared for only runners!