Brainiacs galore! I perused the 30th Annual Science Olympiad National Tournament on May 16-17, 2014 at University of Central Florida's campus in Orlando. Certainly these 2,000+ students competing for 120 teams were not thinking about Harry Potter rides or Disney's FastPass, but rather focused on their latest contraption and how it will succeed in record time.
Robo-Cross
These Robo-Cross miniature bulldozers were innovative: some with scoopers, others with pinchers, and one with a unique rotating paddle that smacked in Lego pieces. Perhaps the girl-and-boy team whose robotic apparatus had one of its two motors fail will someday ameliorate the design of a single or twin engine Cessna... Maybe the 2-boy middle school team - whose robotic front end loader was controlled by Blue Tooth from their smart phones and then choked during the gathering of one tennis ball, a few ping pong balls, AA batteries and tiny 1x4 Lego pieces - will re-engineer future John Deere tractors.
Rotor Egg Drop
In UCF's Engineering 2 Atrium, Clarissa's Rotor Egg Drop gadget departed the 3rd Floor stair's launch pad towards the ground floor below, but spiraled farther away from its original axis of rotation and then crash landed on the 2nd Floor landing. Clarissa was devastated! As she exited the stoic staircase, her family rushed over to comfort her. As an engineer standing nearby, I complimented her cool, aerodynamic design.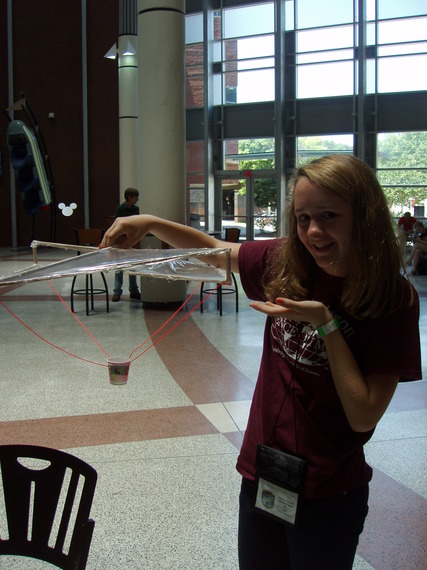 Through her creative genius, she assembled her Rotor Egg Drop's buoyant device with balsa wood, cellophane and a handy glue gun, and then spritzed with sprayed adhesive. I asked her if she ever thought about becoming an engineer. She said "No" but chimed about being a "neuropsychologist." I encouraged her to consider biomedical engineering at Columbia, though she uttered other schools like Stanford. So much for my alma mater recruitment...
As one of 90 classmates at Mount Vernon Middle School (Mount Vernon, Iowa) who made it to nationals, Clarissa competed in not only Rotor Egg Drop, but also Metric Mastery, Anatomy and Heredity. Her Mount Vernon Middle School had been to the national tournament two or three times before; however, this year the Sunshine State gleamed brightly on Mount Vernon, garnering its best ranking ever.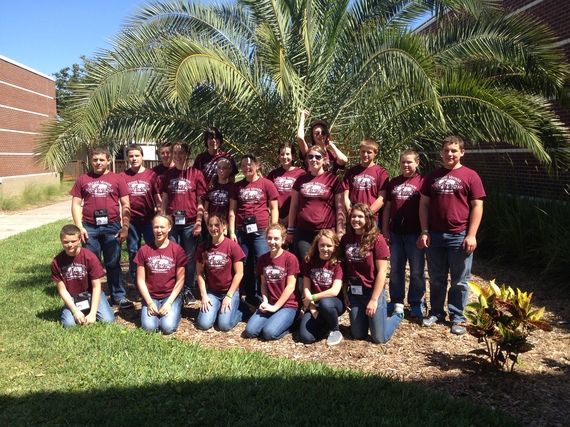 It turns out that Clarissa's dad and I are both civil engineers. He works for Braun Intertec in Cedar Rapids, Iowa and deals with heavy flat construction (highways), while I inspect mostly vertical new construction (office buildings, stores and recently seawalls for a new subdivision) in Florida. He and I shared a geeky common outlook: we both appreciated how these students were able to conceptualize, design and construct a device - with specifications, of course - to perform certain tasks, yet in a timed race. He boasted about how his daughter exhausted 20 to 30 hours per week recently to prepare for this contest. I hope to see this bright-eyed apprentice back again next year competing at the national Science Olympiad. With her civil engineer father by her side, Clarissa is sure to advance in the world of science.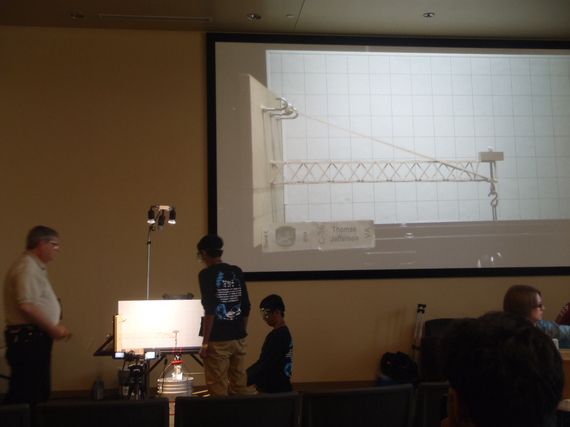 Boomilever
After watching a couple of experiments in the auditorium, I squinted my eyes and realized that the two boys of India descent are representing Thomas Jefferson High School for Science & Technology (Fairfax County, Virginia) - that's my older niece's school (which is ranked 4th in the Best High Schools by U.S. News & World Report)! As a structural engineer, I was mesmerized with Boomilever and later complimented the TJ boys on how structurally well-designed their bottom chord with trusses really is. These 10th graders did not think they would medal... Sitting in front of me, one of the boys' cousin Andrew is a Launch Engineer with Spacex and works in Cape Canaveral on "Rocket Road" - is that cool or what?! If only Andrew could be a visiting coach for the trial category Airjectory, where teams construct and calibrate a device that launches a projectile towards a target.
Helicopters
Later I scurried to the Arena a bit sweaty and discombobulated... I stood and watched patiently the Elastic Launched Glider competition. Protected by safety goggles, the two-girl team flung their glider up into the 38' high atrium. Their airborne vessel soared angelically around a few times, coasted and then made a gentle touchdown. Meanwhile, I got distracted by the herd of turquoise-shirted 13-year-olds barreling down the 3-story Arena stairs. Yes, that Longfellow Middle School (Falls Church, Virginia) team just set off its twirling non-motorized helicopters directly above me. Longfellow was the second to the last team to compete in Helicopters. I missed what I had raced over to watch.
Awards Ceremony
After dinner with my younger niece "N" and her Longfellow teammates at Sweet Tomatoes, I was back at the UCF Arena (a mini Madison Square Garden) where students were dressed up in suit-and-tie or lovely dresses. The Awards Ceremony was like a combination of the Oscars and American Idol finalists, except the presenters were accomplished engineers or scientists, yet the winning students were treated like rock stars! Even one presenting sponsor confessed that he had competed at the national Science Olympiad and was proud to award the Solar System's Top 6 (including cash prizes to the 1st Place team). He proclaimed that someday the first person to land on Mars may likely come from students competing at the 2014 Science Olympiad National Tournament.
As an anxious auntie in the bleachers, I think that my 11th grade niece "M" from Thomas Jefferson High is drained from her recent AP Exams, while my 13-year-old niece "N" at Longfellow Middle experienced the sobering 7th Place at nationals in 2013 - only the Top 6 students earn medals of honor...
Entomology category was up, and they announced Top 6 winning school teams in Division B (middle schools). My niece "N" won 4th - in the nation!! When Entomology was heralded for high schools (Division C), I quickly learned that my older niece did not medal - my heart sank...
When Longfellow's team was awarded a medal for Experimental Design, I jumped for joy because that was the team of my niece "N" - woo-hoo!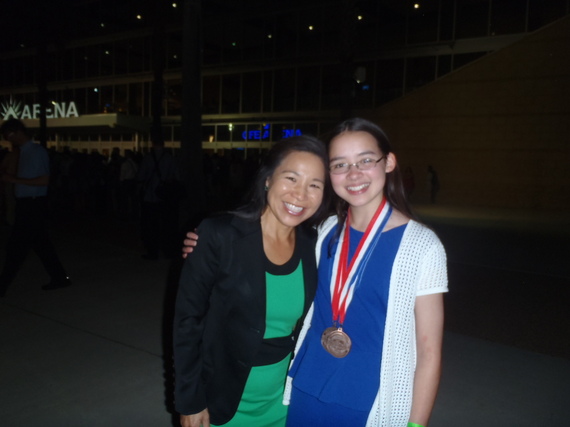 Congrats to the middle school teams who won Preakness-like trophies: Beckendorff Junior High (Katy, Texas) for 1st, Winston Churchill (Carmichael, CA) for 2nd, and Daniel Wright (Lincolnshire, IL) for 3rd! As a first time observer, I predicted that Harriton (near Philly), Mira Loma (Sacramento) and Troy (Fullerton, CA) would be ranked in the top ten overall high school teams. Sure enough, Mira Loma placed 4th, Harriton won 3rd and then the confetti showered over the grand trophy winners from Troy High School.
So the students from Munster High (Indiana), Frontier Middle (Washington) or Science & Arts Academy (Illinois) may not have seen Minnie Mouse or Shamu on this trek to Orlando, but their adventure was surely magical. Their eyes opened up more to the world of science and engineering. Hope more new teams form and take advantage of using Lockheed Martin volunteer mentors to coach their students. Perhaps we will see more techie aficionados and aspiring engineers competing at the 2015 Science Olympiad National Tournament at University of Nebraska-Lincoln!