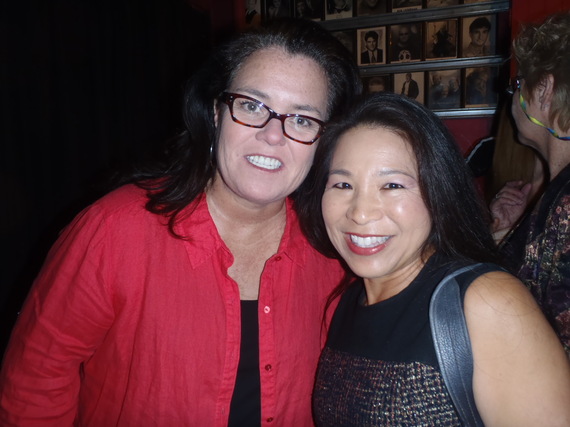 Rosie's back! I am so excited that Rosie O'Donnell will be back on daytime television, starting Monday, Sept. 15, 2014 -- she got her gig back on ABC's The View with Whoopi Goldberg and new co-host broadcasters such as Nicole Wallace and the petite, snappy Rosie Perez!
I even spotted comedienne Rosie in the front row of Barbara Walter's final appearance on The View on May 16, 2014 after Barbara's 800 episodes and 50 years in television. I'd like to salute Rosie O'Donnell before her next 50 laughs on television.
Just last weekend I watched Rosie O'Donnell, Madonna, Geena Davis and Tom Hanks in the 1992 movie "A League of Their Own," where Rosie stomped in the locker room and exclaimed "I'm so depressed - I could eat a cow!". Rosie wore the #22 baseball uniform and portrayed Doris Murphy, who had played third base in the A.A.G.P.B.L. (All-American Girls Professional Baseball League). I have always wanted to let Rosie know that Doris Murphy had lived in Sarasota.
I have interacted with Miss Doris at her assisted living facility prior to her recent death, and she used to throw a mean baseball even in her later years. The large black dog Shadow (who died this year) used to follow Miss Doris everywhere -- perhaps she was the only one who could make the dog really run to fetch. Rosie has recently made Florida's suncoast her new home, though not in time to play catch with Miss Doris, who was a star way before Rosie played her in the movie...
I had the delight of sitting in the third row for Rosie O'Donnell on her birthday back in March this year. She celebrated by performing her stand-up act in front of a sold-out audience at McCurdy's Comedy Theatre and Humor Institute (which just moved to its new digs in downtown Sarasota). My Columbia alumna friend Lois Lucek had an extra ticket and invited me to... yes -- the late night viewing -- usually raunchier, right? While waiting in line, I bumped into so many gal pals leaving the earlier show that I could tell everyone had a hilarious time.
Rosie was snarky (I love snarky!), self-deprecating (like the late Joan Rivers), original and real! On her 52nd birthday night, Rosie confessed her gratitude of surviving her heart attack, which is the #1 killer for women (1 in every 4 deaths in the U.S. is caused by heart disease, according to the Center for Disease Control). She even bellowed a hip-hop "HEPPP" chant of her five symptoms of a heart attack: Hot, Exhausted, Pain, Pale & Puke. She ended her routine by wishing "You all stay heart healthy," and then Les McCurdy (longtime owner of McCurdy's Comedy Theatre) brought onto stage a birthday key lime pie (a local staple) with two pink candles!
Funny how Barbra Streisand will be on NBC's The Tonight Show starring Jimmy Fallon on Monday night - the same day that Rosie will debut again on ABC's The View. Rosie is a HUGE fan of Barbra (me too when I lip-synched in the newly built Barclays Center during Streisand's "Back to Brooklyn" concert on October 11, 2012, which later appeared on PBS in 2013), so maybe Rosie can somehow get her beloved Barbra (not Barbara Walters) on The View and sing a duet...

I hope to bump into Rosie on the suncoast again -- maybe even at a Baltimore Orioles spring training game where she should throw out the first pitch! I would thank Rosie for continuing to share her heartfelt emotions with the world!