In the late 1960s, just before I was born, my parents began hosting inner-city kids for two weeks every summer at our house on Long Island in New York. My father had seen an ad in the paper for the Fresh Air Fund, and when he mentioned it to my mother, they decided to sign up.
My parents had moved to the suburbs shortly after the birth of my sister in 1963. Unlike most of their friends -- Brooklyn Jews who settled in Jewish enclaves like the Five Towns -- my parents bought our house in Bohemia, farther out on the island, based on a blueprint and its affordable $19,490 price tag. They had no idea who would buy the other houses on the block, but they spent many weekends driving on the expressway to park out front and watch the house being built.
Bohemia became a blue-collar town filled with mostly Italian and Irish Catholic families and a smattering of other ethnicities and religions. My parents were glad their children wouldn't be raised in what my mother called "a suburban ghetto," but instead would experience some diversity growing up.
Still, it was a surprise to our neighbors when Ricky, a scrawny black kid with hardly any teeth, came to stay that first summer. Ricky had never been on a bike, and as he learned to ride on my sister's purple Huffy with the silver banana seat, he crashed into parked cars on the street. One day, he zigzagged up and down someone's driveway. The owner confronted my mother, demanding to know why she had "brought him into the neighborhood." My mother said it was a good idea -- not only for Ricky, but for "our kids, too."
One year when I was little we had two kids, Sabrina, who was a year older than my sister, and Tony, who looked like The Buddha. By then, some of my parents' friends had signed on, too, giving kids a half-acre of suburbia to call home, at least for a couple of weeks in summertime. More than a few insults were hurled at our guests by other kids -- one boy, Jimmy, who stayed with the Jeslineks, even got into a fistfight after someone called him a name -- but we just got back to being fascinated by stories of what it was like to live in apartment buildings and walk to school instead of taking the bus.
Sabrina stayed with us the next summer, too. Her mother, who was raising a family on her own, took Sabrina on the BMT line near their apartment in Manhattan to Kings Highway station in Brooklyn, where my father met their train. There was a lot of excitement in our house on those July afternoons as we waited for the car to pull up in the driveway, knowing soon we'd see Sabrina again. She spent the next few summers with us, for longer stays each time, and some Christmas vacations, too.
During her visits we ran around outside with other kids or played board games in the yard. There were conversations about tans and skin tones and whether hair was naturally curly or straight. Then, we got an above-the-ground swimming pool, and Sabrina learned to swim. We spent every sunny day in that pool, although one of our neighbors wasn't allowed to swim with us. I knew it was because Sabrina was Black, but I didn't understand what that had to do with anything.
Everything began to make sense when my family watched the miniseries Roots with the rest of the country in January 1977 and I learned about slavery in America. I had recently turned 7, and at first I was excited just to stay up late. But as the week went on, I remember feeling empathy for the first time in my life. In another time, Sabrina might have been Mathilda or Kizzy. I imagined how angry I'd be if someone hurt her. I worried about Kunta Kinte, Fiddler and Chicken George, and hoped they'd be set free before the show ended. I learned the meaning of poetic justice when Kizzy spat in Missy Anne's water. And then I thought those parents who didn't want their kid to swim with Sabrina were like those horrible slave owners. I decided I didn't want to be friends with anyone who wasn't allowed to play with Black kids or Hispanic kids -- or Jewish kids like me.
By the late '70s, my brother, sister and I started going to camp and Sabrina stopped staying with us. Eventually, we lost touch. But I still think about those summers, especially when I hear about people taking in foster kids or being generous to people less fortunate than themselves. As much as Sabrina's visits might have been a gift to her, they were a gift to me.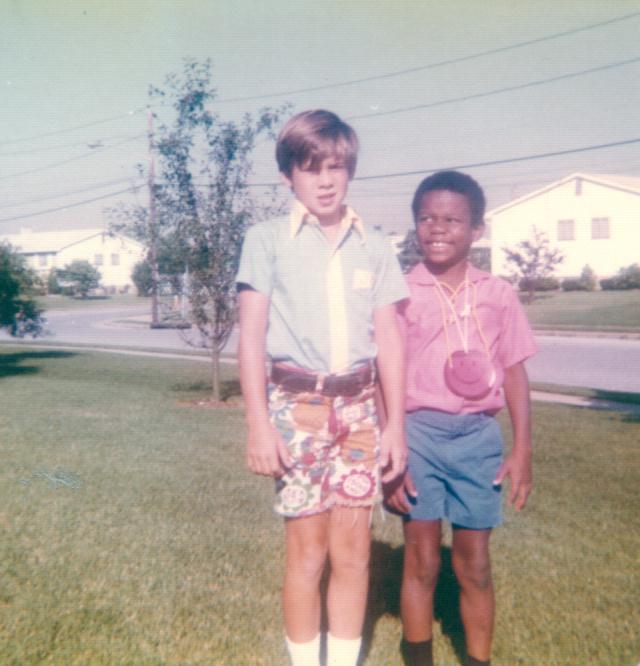 Michael Jeslinek and Jimmy, 1973. Photo courtesy of Michael Jeslinek.