Last week, I had the opportunity to spend several days in NYC, and I noticed a growing epidemic of loss of smiles on nearly everyone in the city. Person after person that I passed barely made eye contact, let alone smiled at those that they drifted by.
Having grown up in New York, and having spent plenty of time there in the years since I moved away, I suppose the lack of smiles is nothing new. It's something that saddens me to see though, in a city so beautiful, so many people looking devoid of joy. And New York is not the only place for the anti-smile movement; look through your city and count the number of smiles you pass by. You, too, will notice an alarming rate of frowns, or lack of any expression on the people you encounter.
In a country seemingly overwhelmed by acts of hatred, it's a surprise to me that acts of kindness aren't something we all practice, to combat the negativity. An act of kindness can be as simple as smiling at the people you pass throughout your busy day.
In a cab heading to a work function at The Javits Center downtown, I discussed my findings from the city with my outgoing cab driver. He was a friendly man from the South of Spain who told me that New York was a hard place to stay happy.
I told him that when I smiled at people passing by, most people literally looked at me like I was crazy or looked away quickly. Then he said something that struck me sideways:
He said, "Do yourself a favor, when you come here, don't bring your smile. Leave it at home. There are many people here who don't deserve it."
Without hesitation I responded, "But I deserve it. I bring my smile everywhere I travel, because it makes me happy. And I won't leave it behind to suit the unhappy. Because more than anything I choose to project my joy wherever I go."
In this day and age, it seems so easy and common to project our negativity on others. Why shouldn't it be just as common to project our joy onto those we see?
With that in mind, I set out on a mission to make people smile in the Big Apple. One of my dearest friends met me downtown, where we scooped up 75 long stemmed roses from the flower district, and proceeded to Central Park to complete our mission.
From the moment we stepped on the first elevator, people began smiling at the large armful of flowers we held. Immediately we began to pass out joy, via flowers, to the strangers we passed by. Almost every person gladly accepted the flower, many shocked that they were free, without agenda, other than goodwill unto others.
Each person we handed a rose to smiled bright, and many commented on how beautiful they were and how happy the gesture had made them. Suddenly a city I had trouble finding smiles in seemed to be full of them beaming back at me. It was as simple as that small act.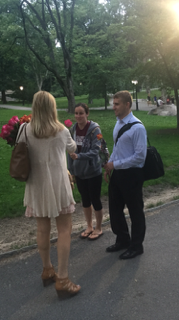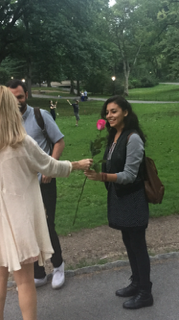 While I know not everyone plans to hit the streets distributing flowers, you have something just as beautiful to give away: your smile. It's easy, it's free, and you always have a choice to wear it, everywhere you go. If we all choose to start with a smile, the easiest gesture of kindness we can extend to others, we will turn our minutes into moments.
As for New York, the days I spent there allowed me time to spread my joy around the city. From dancing on the corner (thanks to those who danced along with me), serenading random people in traffic (shout out to that couple who sang along with me to Billie Jean by Michael Jackson), and handing out snacks to homeless folks, I gave away as much joy as I could.
I hope you, too, choose to share your joy with others, and I hope you're smiling right now. Look up, and share that smile with someone else. This world can use all of the positivity we can provide.
To see more smiles from this beautiful evening in the park. Check out the Video on YouTube