Jackdaniel Calvillo - Age 9 - Los Angeles, California
For the past several weeks, we've taken a look at outstanding kids who are making a difference in this world with their positivity. We've been inspired by their desire to make the world a nicer place. In this, the fourth and final installment of the Incredibly Kind Kids series, we meet a very special young man: Jackdaniel Calvillo, age 9, of Los Angeles, California. He is consistently motivated to do the right thing and is always finding new ways to give back to those around him. Despite his autism, he lets nothing stand in his way. Moreover, he is one of the most compassionate human beings to those around him and the world at large.
An example of Jackdaniel's kind nature comes from a story from his mother, Sway Esparaza. She explains, "One day I was driving my kids home from school and it was an extremely hot day. Jackdaniel noticed a homeless man walking down the street and collecting bottles. My son exclaimed, 'Mom, look at that man! He looks so tired and thirsty."remembering that they had just purchased a case of water and that it was still in the car. He asked, "Mom, can we please give him some of our water." Sway stopped the car, waiting while Jackdaniel personally delivered cool water to the grateful man, who thanked the boy profusely.
Jackdaniel is always looking for ways to be helpful and kind to others. He often spends time with his grandfather, helping him tend to his garden and other chores. He also helps his Uncle with his cleaning business, and is always eager to do anything he can for his family. Sway said "Jackdaniel shows love every day-- always telling everyone he loves them. And he's always trying to help and make others feel loved. For example, when i am sick, he tells me "here is some water, mom, just in case you get thirsty," or he will cover me with a blanket and tell me he loves me and to feel better."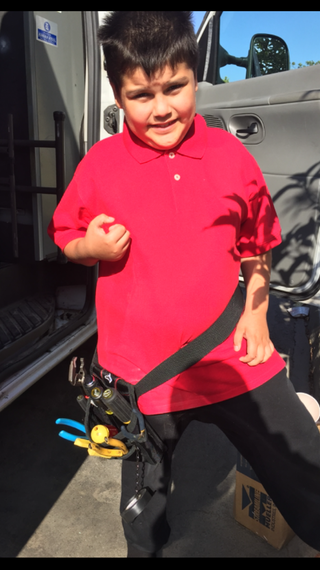 Here he is helping his Uncle with his cleaning business
Jackdaniel plans to continue to help others when he grows up. His goal is to become a law enforcement officer and to serve and protect his community and the world around him. His mother says, " It's is a beautiful thing to watch your children grow and see the beauty in life and always try to help others. I love the fact he's so kind. I guess that's why he wants to be a police officer when he grows up-- to help others be ok and safe." She says that Jackdaniel is always looking out for others and making sure that he takes care of their needs.
When asked if Jackdaniel could inspire the world with just one message, he simply replied, "It's okay to be different. We are all different. The only thing that we need to be is nice and to help others."
Jackdaniel is a shining example of incredible kindness. He allows his differences to be part of his uniqueness, and not a factor of limitation. He creates a better world with his positive outlook, beautiful heart, and endless smiles. Keep up the good work Jackdaniel. We need more people like you, making this world a better place to live.
It's been a privilege to share his story, and the stories of other incredibly kind children and to give a nod to the parents who raise them--instilled as they have, such values of compassion. The children are our future and their positive actions will create a legacy of love that all future generations will benefit from. The world could use more kindness, and with these kids in it, we are on our way.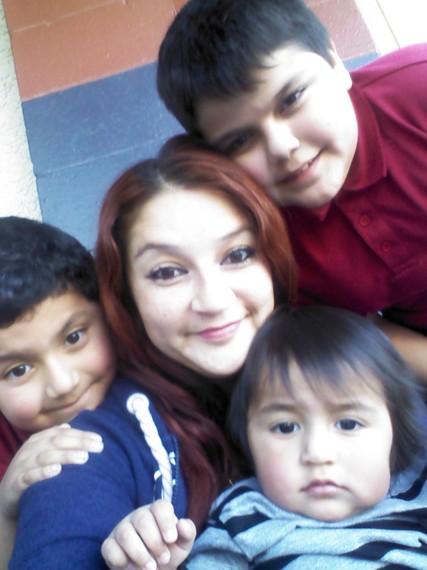 Jackdaniel with his Mom Sway Esparza and his siblings Remymartin Esparza and Jameson Esparza