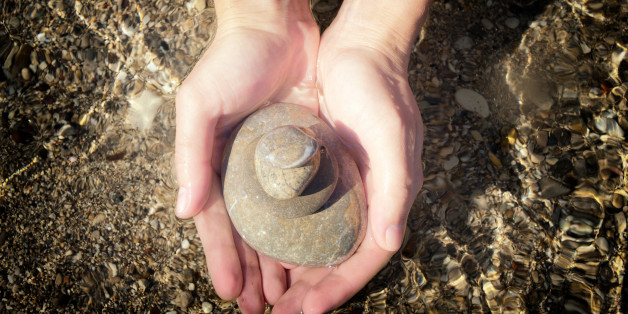 In the garden of gentle sanity may you be bombarded by coconuts of wakefulness.
-- Chögyam Trungpa Rinpoche

It has been said that enlightenment is the ego's ultimate disappointment. That is true, indeed. I was certain I had been edging closer toward enlightenment (but all I got was a lousy T-shirt). Things in life fluctuate, and there really is nothing permanent to grasp onto that will give us anything secure in life. Having that awakening is humbling. We can try fruitlessly to hold onto pleasant situations, people we care about, our social status, things we amass, and even jobs, but life has plans that requires us to let go. The only thing we can grasp onto is the glaring fact that life is uncertain; accepting that isn't about giving up. We can heed the uncertain nature of things or deny it. In 12-step programs, this is Step Three: Made a decision to turn our will and our lives over to the care of our Higher Power. The challenge of genuinely letting go and trusting that there is a bigger plan can be terrifying, but also very freeing.
The more things change...
There I was, merrily working on a book, The Noble Sk8Fold Path, on skateboarding as a metaphor for facing life and all of its challenges, thinking I could offer others lots of helpful wisdom and insight into life's difficulties. I had no idea just what was going to unfold in my life, as is generally the way it plays out. There I was with all the answers. And everything fell apart. Reality hit me over the head with blunt force, perhaps because I was finally paying attention. My sister got a cancer diagnosis and then lost her job. My father died. Eight months after losing my dad, my father-in-law's health deteriorated and he died. Then suddenly during routine surgery, my sister-in-law's father suffered horrible complications, which resulted in his death.
My husband and I had shut down our business and I re-entered the workforce in an entry-level position at age 48. Stress and financial difficulties continued for us. Kids badgered our daughter in person and online, which included kids advising her to kill herself. Our son had his own problems with peer harassment. Additional things continued to unravel for myself and others close to me, some of which I need to maintain confidentiality. Day to day, sometimes minute to minute things change.
This all brought me to now, and to the understanding that there is much I need to learn before I can make any reasonable claim to give advice. I was bombarded by coconuts of wakefulness. I began re-reading Pema Chödrön's masterpiece, When Things Fall Apart: Heart Advice for Difficult Times through a new lens.
Where are you in this moment?
We can't contract and try to hold things in one place, to keep things just as we like. Life moves along whether we like what is happening or not. So in regard to wakefulness, in any given moment, we need to think about what we are feeling, what is happening around us and inside us. We can become awakened when we become more aware, more tuned in to our consciousness. It is a process, and I am just a person on the path; you might have more or less spiritual wakefulness than I do, but we are all here to help each other on our path.
My book I've been writing is on hiatus. One thing is certain: When I resume, it will be with renewed mindfulness, strength, and humility, and also more experiences from which to draw upon that I will be able to share. I have collected contributions, thoughts and insights from skateboarders who describe ways that the sport / artform has helped them in life; reading about their experiences can be enlightening and helpful for anyone seeking ways to balance, to navigate life's path.
This post originally appeared on Leigh's blog, The Noble Sk8Fold Path.