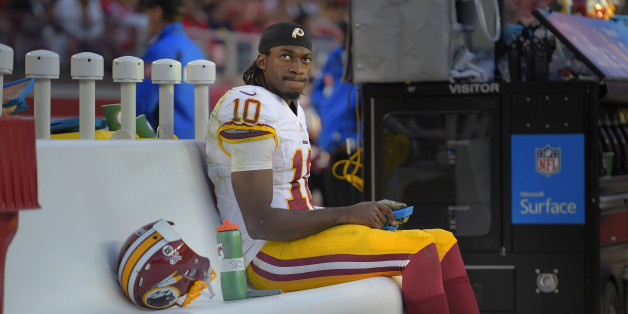 Few players have come into the NFL with so much fanfare and succeeded as quickly as Robert Griffin III. He was featured on national ads like "Subway," his jersey was a red-hot item throughout the country, and he was treated by Washington Redskins fans as the second coming.
His rookie season was a revelation. He took the long-suffering Redskins to the playoffs. He had a QB rating of 102.4, threw 20 touchdown passes with only five interceptions and ran for 815 yards. Griffin-mania excited the entire NFL. And now, in his third season, he is benched, with speculation that he may never play for the Redskins again. Is it his fault, or is he a sacrificial lamb?
The Redskins paid an unheard of price of draft picks in 2012 to move up only four spots in the draft and select Griffin. The St. Louis Rams received three first-round draft picks and one second-round pick from Washington to move down. As massive as the draft pick surrender was, franchise quarterbacks are difficult to find. Had Griffin continued to develop and enhanced the Redskins' chance to win over the next ten years, the trade would have been judged more favorably. Griffin is under contract with the team through the 2015 season and, in May, the team can choose to exercise an option for an additional season salaried at roughly $18 million.
Griffin was the Offensive Rookie of the Year for 2012, playing in an offense specifically designed for him by head coach Mike Shanahan and offensive coordinator Kyle Shanahan. It borrowed elements from his college game. It had option-style running plays and the pistol offense. He needed to learn how to protect his body better by throwing the ball away more quickly and by sliding at the end of runs.
The evolution to being a better pocket passer with an escape dimension has been mastered by a number of young quarterbacks. Colin Kaepernick and Russell Wilson are two examples. Griffin suffered a major knee injury during the Redskin's playoff loss in 2012. That and a coaching change hampered his progress.
When Jay Gruden and his new coaching staff took over, they stripped the Baylor type plays out of the offense and took away what RG3 did so well his rookie season. He has been forced to adapt too quickly to a classical pocket passer role.
The Colts have done everything they can to make the transition of Andrew Luck, a very successful young quarterback drafted just ahead of RG3, easier. They drafted Coby Fleener, Luck's college tight end from Stanford. Last year, they hired Pep Hamilton as offensive coordinator, the same role he played for Luck at Stanford. Luck is running the same offense he did in college. Of course, RG3 ultimately bears the responsibility for his performance, but supportive coaching and game plans can cushion the early years. It is critical not to prematurely break the confidence of the young player or the team's confidence in him.
The performance of Kirk Cousins in training camp seemed to dim Griffin's desirability. Cousins went quickly this year from "next great star" to the bench. A fundamental principal of quarterback development is allowing that player the confidence of knowing he is the starter and sticking with him through the rougher patches. With time, a young quarterback will develop more field command and proficiency. But in the contemporary, "nothing matters but this game" NFL, spurred on by constant criticism in talk radio and social media, the slow development of a quarterback is not allowed. Win or be benched is the new mantra. How many great quarterbacks would have been thrown on the trash heap of history with this philosophy?
Questions are being raised now about Griffin's work ethic, the same thing that was praised his rookie year. Speculation on diminished trade value runs rampant. If it does not work out in Washington, some fortunate team is going to end up with a young quarterback with rare gifts. A patient coach will devise a system that takes advantage of intelligence, a strong arm and escape dimension.
Over time, RG3 will return to build on his first-year performance and end up being a star in the NFL.