Jos Mattias is a 41-year-old woman who lives in the town of Bo in Sierra Leone in West Africa. She loves to cook and take care of children. Jos used to earn her income -- about $3 a day -- by working as a nanny for a family with two young children. That all changed when she gave birth herself. Because she happened to live in a country where almost no women can afford adequate maternal care, Jos developed a debilitating condition -- obstetric fistula.
Obstetric or vaginal fistula is a tear between the vaginal canal and either the rectum or the bladder that can occur in severe or failed childbirth. It deprives women of the ability to work or socialize, and leads to severe and painful infection or death. Jos could not afford the $400 required to fund a fistula repair surgery, so she was terminated from her job and unable to earn a living elsewhere. Jos dreamed of getting better and getting back to work so she could eventually start a business to trade vegetable oil and salts for additional income to sustain her family.
Last year, I traveled to Sierra Leone with the Women's Technology Delegation, a group organized by the U.S. State Department. I was invited because of my work founding Samasource, a nonprofit social business connecting poor women and youth to work via the Internet.
It became evident that Samasource wouldn't work in Sierra Leone in the short term -- few places in the country had reliable power and internet access. So I decided to keep my eyes peeled for other opportunities. When we passed through Bo with the U.S. Ambassador a few days later, I met a doctor performing fistula surgeries for women in the town of Bo. Dr. Darius Maggi, a renowned obstetrician and gynecologist from Texas and founder of the West Africa Fistula Foundation, travels to this community every year to perform surgeries at no cost to the patient. Jos is one such patient. After receiving her fistula repair surgery, Jos was able to get back to work, care for her family and be a productive member of the community.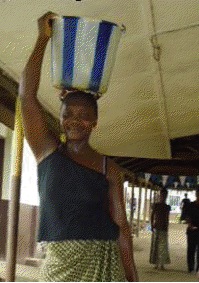 Jos is lucky to be alive today. In Sierra Leone, one in eight women die in childbirth, and staggeringly few women give birth in hospitals with any kind of maternal care. Imagine facing that kind of risk just to be a mom. Across Africa, only 42 percent of births are attended by skilled personnel. Many mothers and children in developing countries suffer serious injury, disability or death due to complications at birth that would be preventable or treatable in developed nations.
Inspired by Dr. Maggi's work, I had an idea: what if we could start a crowdfunding website for surgeries, like fistula repair, for people who cannot afford them? Crowdfunding is an established model for collecting donations, and several websites have used the model to grow to over $100 million in contributions. Kiva has shown that it can work to fund small loans to entrepreneurs around the world. Using the same model, DonorsChoose allows anyone to fund a classroom project. GlobalGiving's crowdfunding model lets donors contribute to international development projects around the world.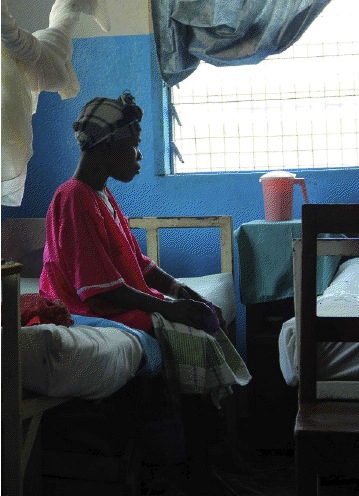 Photo of WAFF ward
I came back home to the United States and connected with Shawn Graft, a volunteer who'd built Dr. Maggi's website, and developed the idea with him. I figured we could launch the site as an experiment under Samasource, but keep the two operationally and financially separate. He built the prototype for Samahope, which applies the crowfunding model to global health, starting with conditions that affect women and children living in extreme poverty.
Sama means "equal" in Sanskrit and reflects our desire to provide equal access to basic medical care to low-income people. Focused initially in rural Sierra Leone, we are helping to fund fistula repair surgeries with our initial partner, the West Africa Fistula Foundation. Over time, if our experiment works, we will expand Samahope's coverage to surgeries and conditions affecting those in the poorest areas of the world.
One of Dr. Maggi's volunteers traveled to Sierra Leone, photographed over 45 patients and took down their stories, which appear on Samahope's site. This Mother's Day, we are offering gift cards on our site to fund surgeries for women in need. In honor of mothers all over the world who work hard to take care of their families each day, Samahope enables anyone to give the gift of saving a woman's life. The donations fund the surgeries and required post-surgery medical care. Visit Samahope to learn more and to join our list of donors.
About Samahope
Samahope is a non-profit that helps fund life-saving surgeries via its crowdsourcing platform. Samahope partners with local charity hospitals and global health organizations with a track record of excellent care and fiscal discipline. These partners have highly accomplished medical volunteers who travel to poor places to perform surgeries and other life-saving interventions.
Samahope is a project of Samasource, a 501(c)(3) non-profit that connects people living in poverty to work over the internet.
Leila Janah, founder and CEO of the groundbreaking non-profit Samasource, was recognized as Entrepreneur of the Year by the Social Enterprise Alliance, one of Fast Company's 100 Most Creative People in Business, one of the "people about to change the world" in WIRED's Smart List, and a Woman to Watch by Marie Claire Magazine. Samahope is funded through private donations. Learn more at.