My mother comes from a long line of adventurous women. Christiane, her Belgian mother, left Paris in 1948, when she was in her early 20s, to hitchhike around the world. She started with just $5 and traveled overland in a route that spanned Europe, the Middle East, South Asia, and the US for five years. Along the way, she met my grandfather in Calcutta and began an epic romance and business partnership -- they became India's first art ceramists -- that lasted half a century.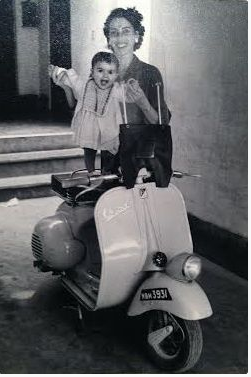 Mom split her childhood between Nice and Calcutta. After college in Bombay, she moved to Buffalo with my father to build a better life for her future family. It wasn't easy going from the tropics to a city with 10-foot-high snowdrifts. She struggled in the early days -- no employers recognized her college degree from India, so she had to start over, working at Wendy's. Finally, years later, she completed her second bachelor's degree in computer science at a local community college, and got hired by United and Honda.
Emboldened by the women's movement in the seventies, mom became a feminist. Barbies were banned at our house, along with television other than PBS. As a kid, I found this horribly embarrassing. But today, so many years later, I see how profoundly her example affected my life and work at Samasource and Samahope. Our family of impact enterprises creates work, health, and education opportunities for some of the world's poorest women and youth. Her example left a deep imprint on me.
I know my mom will be proud of me for choosing to support women on our #HonorYourMom campaign instead of buying her flowers. She's told me countless times that she already has enough stuff. So I made video describing why she's awesome, uploaded a picture that she'll love and wrote her an adoring message. On May 11th, she'll receive this dedication, which lives forever on our site, plus a card in the mail with my picture and message. Check out my dedication here.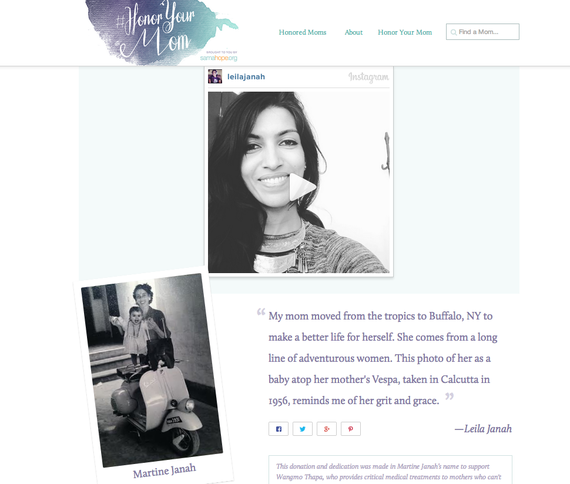 The best part? One hundred percent of #HonorYourMom donations directly fund doctors to provide critical medical treatments to other moms in need. My Mother's Day gift has been matched to support Dr. Darius Maggi, an amazing surgeon I met in Sierra Leone. He's delivered over 15,000 babies and performs life-changing birth injury repairs for hundreds of Sierra Leone's poorest women each year.
When I spread the word about #HonorYourMom, many of my friends joined in. Women like media personality Randi Zuckerberg, Helene Gayle (CEO of CARE USA) and Julia Hartz (President of Eventbrite) immediately signed up. (Where are the men? I'm not sure.) Check out some of my favorites and join us!