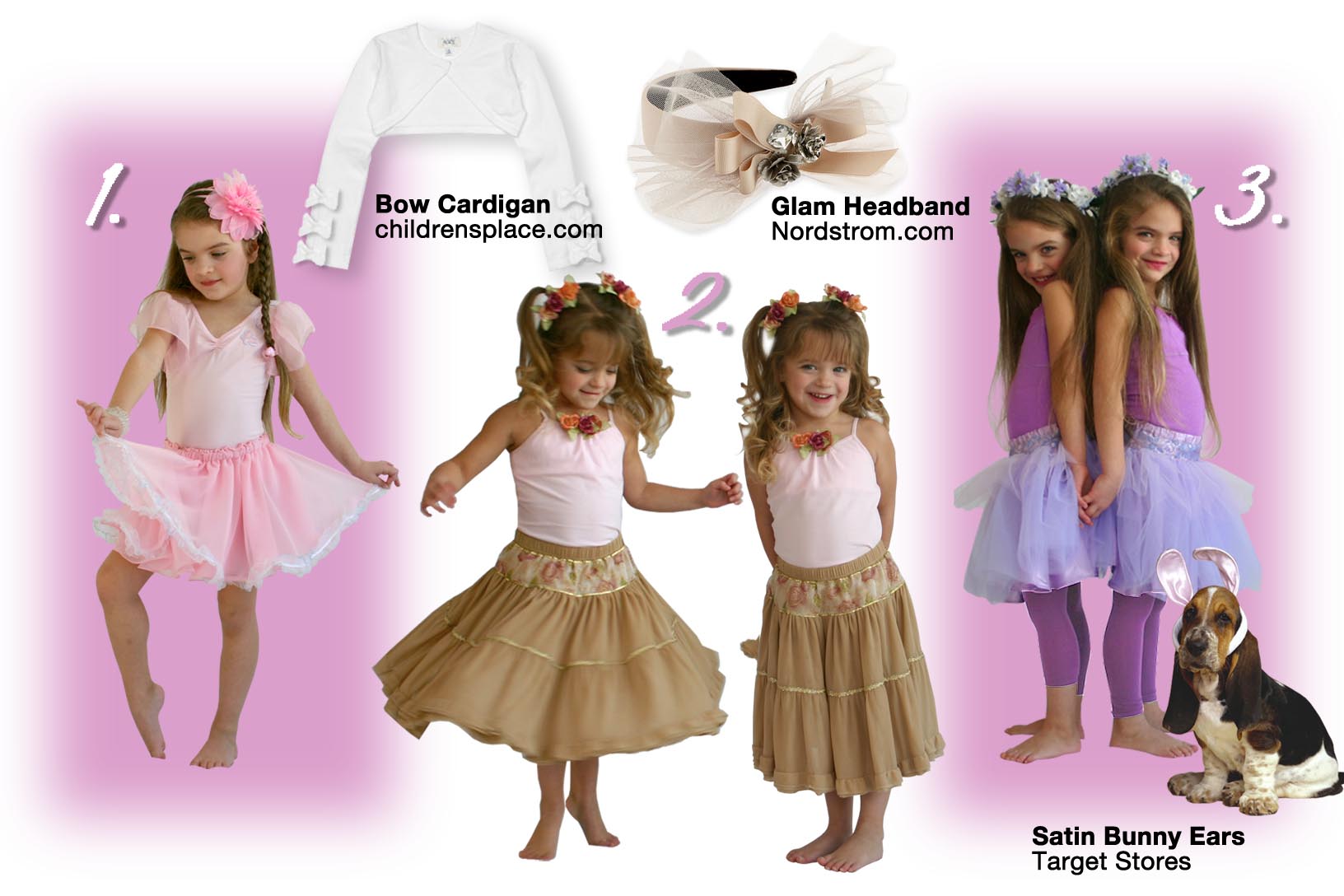 A FASHION GUIDE FOR LAST MINUTE EASTER SHOPPING
As a mother of four little fashionistas, I fully understand the pressure of finding the perfect Easter dress. However, I think there is one thing parents overlook when shopping for that perfect outfit for holidays like Easter: Putting together an outfit for your daughter is no different than putting together an outfit for yourself. When we go on a quest for an extraordinary outfit for ourselves, we might look for a new top to go with a skirt we already have. We might look for a stunning piece of jewelry and an eye catching hair accessory to add some glamour. Accessories can make or break an outfit, whether you are five years old or 35. It's all about how you put it together. You can buy the most expensive dress for your little girl at an exclusive boutique, but it doesn't mean that she'll look like a million bucks.
You don't have to spend a fortune on a dress that she will wear one time. This Easter, think beyond the traditional Easter dress & hat. Think about creating a look for her that captures an invigorating vision of Spring by pairing flowing skirts with delicate tops. Shop smart by looking for fun twirly skirts that she can wear again and again to birthday parties or special outings. Be adventurous this Easter and have fun with your daughter creating her own look. For those who have waited until the final hour to shop for Easter, here are three looks that you can easily create for your little fashionista without spending a lot of time or money.
1. Pretty in Pink - Girls of all ages love skirts that swing back and forth when they walk and twirl when they turn. To duplicate the first look in the picture, try to find a skirt that has layers of chiffon and lots of movements. A dance leotard is paired with the skirt for a very feminine look. Tops can be problematic as they don't stay tucked in, so leotards are a great choice to give a neat, finished look. Fancy leotards can be found at any dancewear store or even select Target stores. Leotards are very versatile pieces for girls, as they most definitely can be worn outside of dance class. Try to look for a leotard that has a chiffon sleeve or sparkle to it. Your little girl may already have a fancy skirt in her closet that she loves. Add a fancy leotard and voila -- you have a new look! Add a dramatic flowered headband in place of the Easter hat. The headband featured in the picture is from Claire's and was very reasonably priced under $15. If it is a chilly Easter day, don't forget a fashionable shrug. The shrug in the picture is from Children's Place and would look darling over any Easter outfit. Adorned with bows along the sleeves, it can be worn dressy or casual. A must have for this Spring.
2. Rose Angel - This skirt is a favorite among all of my girls and can actually be found on my website. This skirt is a a soft mesh material, very comfortable and light. It has a simple elegance and looks great with a dressy tank or cami. Dressy tanks can be challenging to find, but it is quite simple to design your own. Make sure the tank or cami is fitted, so it portrays a dressier look. You can find small flowers at any craft store and sew them around the neckline of any tank or cami. You can even find small flowers with rhinestones in the center for some added bling! If you find a plain tank that fits well, you can dress it up for Easter by adding a layered crystal necklace. When you are shopping for jewelry for young children under age five, look for lead free jewelry. It will usually indicate if it is lead free on the packaging. If it does not say, it most likely contains lead. More and more companies are making safer jewelry for children. The headband in the picture is the Glam Headband and can be found at Nordstrom in the women's section. Yes - the woman's section. Many adult headbands fit children. There is nothing wrong with buying a headband you like and sharing it with your daughter. After all, she will be raiding your closet for the next 15 years!
3. Pretty in Periwinkle - Some of the best skirts can actually be found at your local dance store as they carry costumes and fancier tutus. The third look in the picture is a tutu skirt. The key to avoiding a major fashion faux pas when wearing a tutu for a special occasion is to make sure you can't see through it. You want to shop for a tutu that has several layers and has a satin lining underneath, so it takes on the look of a fancy skirt. Also make sure to look for the longer tutus. The short practice tutus will have people thinking your daughter just stepped off the stage, which is what you don't want. Look for tulle skirts with soft shimmery tulle rather than the stiff tulle that looks like a net. Tulle skirts look fabulous with a simple lace trimmed tank. The tank featured in picture #3 is from Justice for Girls. It has a nice slim fit and looks great with any fancy skirt.
Of course we can't forget our four legged friends this Easter. Your puppy will stop traffic in pink satin bunny ears that can be found at any craft or fabric store. Bunny ears featured in this picture are from Target.
Reinvent a new Easter look this year with your children. You will be surprised how the spontaneous choices of your child during one shopping spree can inspire you to become more creative with your own wardrobe!