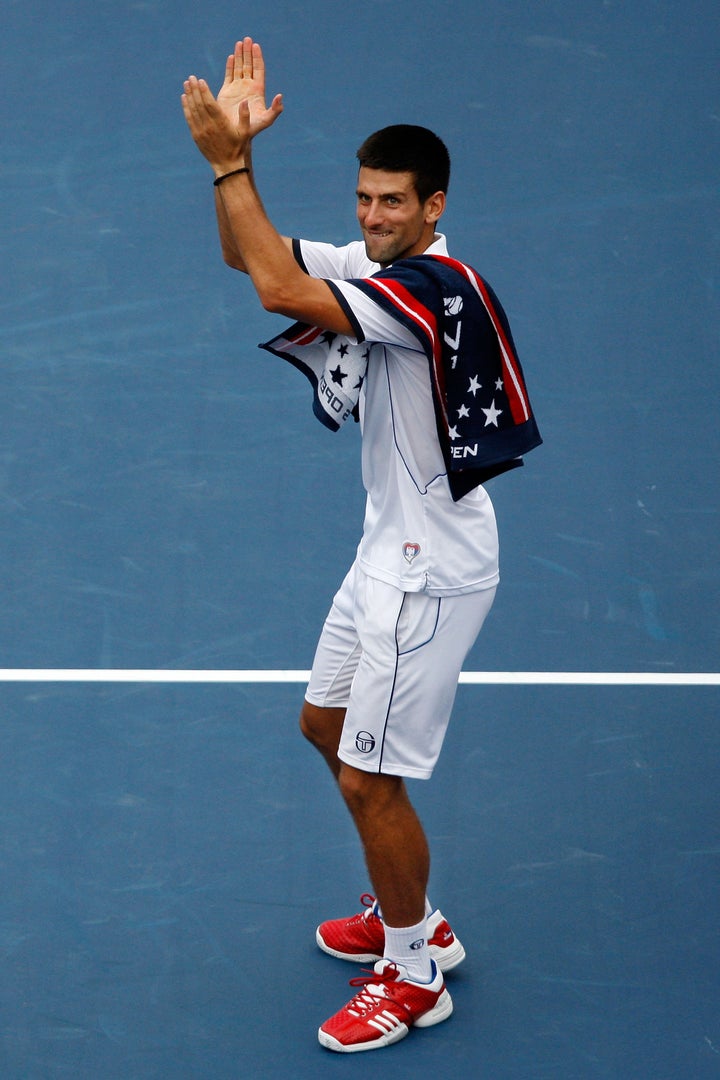 Happy Monday everyone, vacation is over. Here's my Top 5 for September 12, 2011 from Len Berman at www.ThatsSports.com.
As the NFL gets underway in full swing, the Jets win a Sunday night thriller against Dallas 27-24.
Carolina rookie quarterback Cam Newton set a rookie debut record with 422 yards passing, but the Panthers lost to Arizona 28-21.
Monday night football: New England at Miami. Oakland at Denver.
Australia's Samantha Stosur is the surprise U.S. Open women's champ after trouncing Serena Williams 6-2, 6-3.
The U.S. Open men's final will be played today at 4 pm Eastern. Rafael Nadal against Novak Djokovic.
Yankees reliever Mariano Rivera earns his 599th career save in Anaheim.
Hmm, are the Red Sox in trouble? Their wild card lead over Tampa Bay has been sliced to just 3 1/2 games.
The only hockey player to survive that Russian plane crash has now died.
2. There's No "I" in Team?

Does one player make a team? In the case of the Indianapolis Colts it sure seems that way. The Colts were listed as a one-point favorite over Houston before Peyton Manning underwent more neck surgery. They then dropped to an 8 1/2 point underdog. Indy proceeded to get blitzed by the Texans 34-7. I can't remember the loss of one player meaning so much in the NFL.

3. You Betcha

Speaking of betting, the house always wins right? Well the other night USC beat Utah 17-14. USC was favored by 8 1/2 points. So all those Utah fans collected their winnings at at least one Vegas casino. Two hours later, USC won the game 23-14. A late touchdown was allowed to stand. So now USC covered the 8 1/2 points, and USC fans showed up to cash their tickets. So everybody won. Except the casino.
By the way, there are legions of college football fans around the country who root for two teams: their alma mater and anyone playing Notre Dame. So if you missed Michigan's incredible last second win against the Irish, enjoy!


4. Point Taken

What's the most memorable point in tennis history? Uh, is there one? You can argue for years over the biggest home run, or most dramatic touchdown, but a single tennis point? I remember Jimmy Connors in 1978 hitting a great shot around the net post, not over it. It counted. But how about Novak Djokovic's cross-court winner when he was facing two match points against Roger Federer in the semis? A lightning bolt that turned around the match and propelled Djokovic into today's final.

5. 9/12

Ten years ago today my wife and I went to the hospital to donate blood. We couldn't think of anything else to do. Lots of others did the same. Sadly, it turned out none of the blood was needed. That was the most haunting part of 9/11. Emptiness. And that's what the sports schedules should have reflected. The NFL and MLB made sure that all the missed games were played. To me, that was equating a terrorist attack to a rainout. I always thought the record books should remain blank, as a lasting tribute to all those brave souls we lost 10 years ago.

Happy Birthday: Retired NBA center Yao Ming. 31.
Bonus Birthday: Singer Jennifer Hudson. 30.
Today in Sports: 19-year old Mets pitcher Dwight Gooden breaks the rookie strikeout record with his 246th. His 276 still stands. 1984.
Bonus Event: English explorer Henry Hudson sailed down a certain river for the first time. Coincidentally, it was later named the Hudson River. 1609.
To sign up for Len's free daily Top 5 email click here.