TGIF everyone, here's my Top 5 for November 5, 2010 from Len Berman at www.ThatsSports.com.

1. Quick Hits
* The first manager to win World Series in both leagues, Hall of Famer Sparky Anderson, is dead at the age of 76.
* The Red Sox pick up their $12.5 million option on David Ortiz.
* The Giants do not pick up their option on World Series MVP Edgar Renteria. He's expected to retire.
* The Mets suspend their long-time clubhouse manager Charlie Samuels in an illegal gambling investigation. It reportedly doesn't include betting on baseball.
* Shocking! Stories are circulating that a Heisman candidate, Auburn quarterback Cam Newton, was offered to the highest bidder when he left junior college.

2. George "Sparky" Anderson, 1934-2010

It's a sad day in the sports world as we mourn the passing of Sparky Anderson. I have a picture of me interviewing Sparky on the field at Riverfront Stadium in Cincinnati. He stopped to talk after game 6 of the 1972 World Series.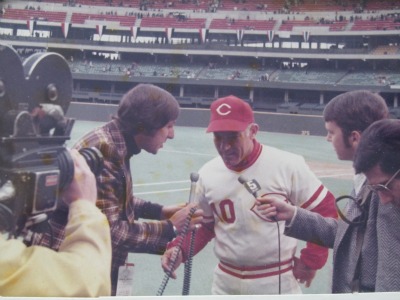 That wouldn't happen now, not with the thousands of reporters who cover sports events these days. Then again, Sparky might have stopped to chat anyway. I also covered him during the 1975 World Series won by his Reds and the 1984 World Series won by his Tigers. I've never heard a bad word spoken about him. That's quite a legacy.

3. 19-0

The great 6-year-old mare Zenyatta will supposedly race for the final time tomorrow at Churchill Downs. It's the $5 million Breeders' Cup Classic. I'm guessing more than an undefeated record is on the line. If she goes 20-0 by beating the boys, I can foresee Zenyatta books, movies, video games, action figures, hay endorsements...

4. Friday eMailbag

Subscriber E.S. nailed it when it comes to the low World Series TV ratings. (Written before game 5.) "There is absolutely no feel of an 'Event' going on. MLB has killed off a generation of fans with late night playoff games. Today's seat-paying, TV-watching fan was the kid who had to go to bed at 10pm when a World Series game was in the third inning."

When asked on Facebook at "Len Berman's Top 5" why the politicians were nowhere to be found during the World Series TV blackout mess, N.D. wrote, "And you're complaining? Blacking out politicians is even better than blacking out sporting events"

L.K. pointed out that the World Series wasn't just a TV mess, "Even worse--you could not find the Series on radio in this area (New York) Saturday night. Up and down the AM and FM dial. Nobody carried it!"

Attorney J.F. has some questions for Jenn Sterger in case the former Jets hostess is contemplating a suit over the Brett Favre affair, "What were the damages? Did she suffer physical, financial or legal injuries? If not, she should shut up and leave the courts for those who have suffered real injuries."

And when I suggested that Randy Moss joining Terrell Owens and Ochocinco on the Bengals might be the "latter day Three Wise Men," K.C. countered, "or the three stooges."
5. Spanning The World

This week's Spanning the World highlight comes from a South Dakota high school football game. The punt gets a little help from the wind.
What's more interesting? The field position or a sportscaster inventing the word "comedical."
Have a great weekend everyone.


Happy Birthday: Basketball Hall of Famer and Deadhead supreme, Bill Walton. 58.
Bonus Birthday: Half of Simon & Garfunkel, singer Art Garfunkel. 69.

Today In Sports: He may have been one of the all time greats, but pitcher Walter Johnson strikes out in his Maryland Congressional race. 1940.
Bonus Event: Boardwalk and Park Place become famous. The birth of Monopoly. 1935.