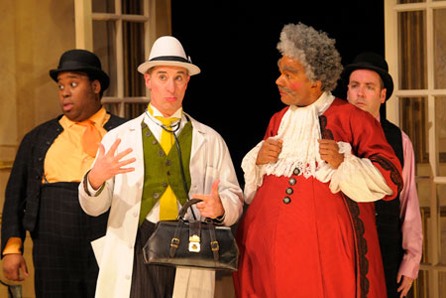 Jacob Ming-Trent, Steven Epp, Allen Gilmore and Liam Craig in Doctor. Photos courtesy of kevinberne.com
In 1666 Moliere dashed off A Doctor in Spite of Himself in a few days to compensate for the stony reception that had just greeted The Misanthrope. The play was pure froth, stripped of the kind of sharp satire that had enraged powerful people, and was aimed directly at the Parisian funny-bone. Moliere knew his audiences, knew how to make them roar, and fashioned a hit.
Some 350 years later, Steven Epp and Christopher Bayes reinvented Moliere's froth for contemporary American audiences. Epp and Bayes, long-time collaborators, know what makes us laugh, and their Doctor proved it first in Seattle, then at Yale and now at Berkeley Rep.
For some 90 minutes, the show employs puppets, sight gags galore, pop-culture references, political barbs, and all manner of music and physical comedy to dispense pure hilarity. It's nonsense, to be sure, but this nonsense is spectacularly inspired.
The flimsy story abounds with standard elements of commedia dell'arte, as lifted by Moliere: squabbling spouses, troubled lovers, a tyrannical father and lusty urges, among others.
The squabbling spouses are Sganarelle (Epp) and Martine (Justine Williams). He's a wood-cutter who swills booze from his hollow-handled axe and she's a screechy scold who punctuates virtually every scream by heaving extravagant beanbag boobs from her waist to shoulders and back.
When a pair of servants stop by and ask if she can help them find a doctor, Martine exacts her revenge on Sganarelle and sets the plot in motion. She tells the men -- charming simpletons played by Jacob Ming-Trent and Liam Craig -- that her husband is a medical genius who won't admit his skills without persuasion. That persuasion has to take the form of a beating, administered with sticks.
The servants oblige, Sganarelle accepts his new calling and quickly falls comfortably into its perks at the chateau of the tyrannical father (Allen Gilmore) and his mock-ailing daughter (Renata Friedman). Confined to a wheelchair and seemingly unable to speak, she's a punk-goth fright who suffers from an affliction that surfaces frequently in Moliere: separation from a lover whom her father disdains.

The lover turns out to be a deliciously vain dandy, played and sung to glorious excess by Chivas Michael.
One more resident of the estate also deserves mention: Julie Briskman, as the maid whose ample bosom draws Sganarelle's undivided attention at times. She's a bright and cheeky sort, much more than eye candy.
That's the framework. No much, not fresh. But the dizzying giddiness that fills the framework is its own wonderful reason for theatrical existence.

The show opens and closes with a small, charming Punch and Judy show, with the characters replicated by figures in a tiny puppet theater. Befitting the rural setting, that "theater" looks like an outhouse.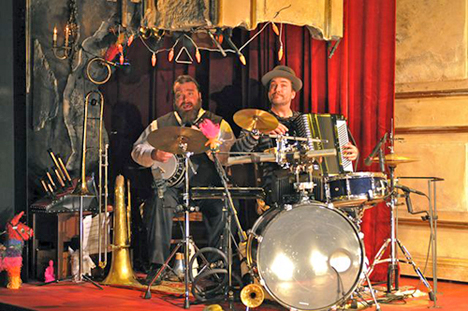 Greg C. Powers and Robertson Witmer punctuate the antics with music
That's a clever touch, but only a pale shadow of the vitality and inventiveness of the live performances, as envisioned by Epp and Bayes, and directed by Bayes. The gags flow in non-stop profusion, supported by music that runs from pop and rap to choral and operatic, with lots of Broadway tossed in. If you take five seconds to recall the title of one number -- say, one from Music Man -- you're likely to miss another from Oliver!
The score was composed by Aaron Halva and played with panache on at least a half-dozen instruments by Robertson Witmer and Greg C. Powers, ensconced very visibly in a corner of a crumbling proscenium arch.
Kristin Fiebig's costumes pay extravagant, colorful homage to Moliere's era for the most part, but include a few contemporary references -- like buckled, high-top boots for invalid daughter Lucinde -- that add to the fun.
One note of counsel for the linguistically squeamish: Especially in the early going, characters seem to struggle to outdo each other in flaunting the "F" word. It's funny at first, but quickly wears thin.
A Doctor in Spite of Himself runs through March 25 in Berkeley Rep's Roda Theatre, 2015 Addison St., Berkeley. Tickets are $14.50 to $73, from (415) 647-2949, (888) 427-8849 or www.berkeleyrep.org.