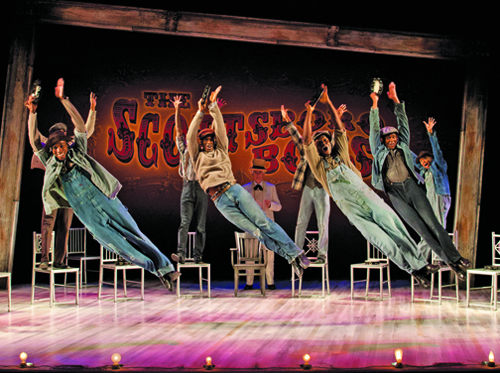 A soaring start for the cast of ACT's 'The Scottsboro Boys'
Photos by Henry di Rocco
John Kander, Fred Ebb and their collaborators edged American musical theater into unusually dark waters in 1966 with Cabaret and nine years later with Chicago. But those shows were artfully crafted fictions that focused on relatively remote periods and places: Germany during the rise of Nazism in the early '30s and the Windy City in the '20s, afloat in corruption.
With The Scottsboro Boys, the composer and lyricist turned their eyes closer to home, at a horrendous travesty of American justice. And they set out to reveal not only the event in its social context, but also to give some individuality to the people involved: nine black teenagers whose only crime was to be riding the rails in the wrong place at the wrong time, two young white women who accused them of rape to save themselves from petty charges, and many of the law officers, lawyers and politicians who took part in a legal odyssey that ran from 1931 through the early '50s.
It's not a pretty story, certainly not one that cries out for enactment on the musical stage. But Kander and Ebb (who died before the play was completed), along with director-choreographer Susan Stroman and company turned it into a musical that cries out to be seen, and rewards viewers hugely in both entertainment and enlightenment.
The show is receiving its regional premiere at American Conservatory Theater in San Francisco, in a production that was jointly mounted with San Diego's Old Globe, and directed by Stroman.
To unfold their tale, the creators turned to the oldest of truly American forms of theatrical razzmatazz: the minstrel show. And they displayed its absurdities and charms in authentic form, through performers who can sing, dance, act and crack dumb jokes with skill and energy that probably was never matched on any minstrel stage.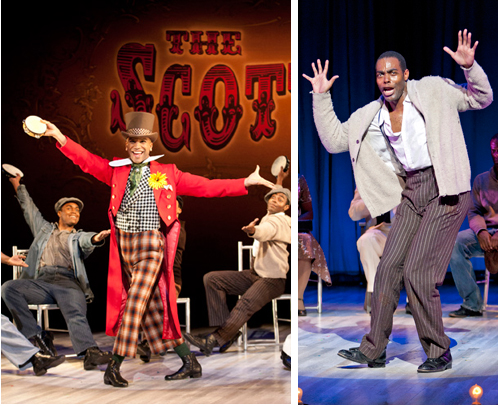 Jared Joseph leads a cheery number; Clifton Duncan reveals a darker mood.
They make you laugh, they make you cringe, they make you wonder how the events sketched on stage could ever have happened.
Unless you are old enough to recall something of the era -- I am -- and lived in a community where the events captured attention -- I did -- it's doubtful that you ever heard of the Scottsboro Boys before their theatrical resurrection. Let's thank Broadway for filling that gap in America's collective knowledge.
Here's the story in short form: The nine blacks were charged with raping two white women, an accusation that normally brought lynch-mob treatment in Jim Crow Alabama. But the governor intervened, to display the state's commitment to justice. A brief trial was held and all nine were swiftly sentenced to death. Thanks to a fervent appeal promoted by northern leftists, the verdict was overturned by the U.S. Supreme Court, which found their "defense" to be a farce. In the years that followed, Alabama repeatedly tried and convicted the nine, even after their accusers admitted that they had lied. Legal deals eventually led to release or parole for eight, and one died in prison.
How's that for a yarn to make performers soar while grinning from ear to ear?
That's how the show opens, with the troupe cavorting down the aisles and kidding with each other and the customers before settling into the standard format of minstrelsy. The dark undercurrents beneath the fun and games is only thinly disguised, of course. At times it's not disguised at all.
Probably the most grotesque example of mock hilarity is an electrocution nightmare suffered by a terrified Eugene Williams (Nile Bullock), who was 13 when he was arrested. Strobes flash, sounds crackle and clownish guards serenade him with lyrics like "your hair frizzles out and your eyes disappear."
Those clownish guards are staples of minstrelsy, known as end men because they sit at the flanks of the cast when all are assembled on stage. One is Mr. Bones (Jared Joseph) and the other is Mr. Tambo (JC Montgomery), and both assume many roles -- usually as policemen, prison guards or authority figures of some other sort.
In one incarnation, though, Montgomery becomes the prisoners' chief defender, a Jewish New York lawyer named Samuel Leibowitz. The role is the straightest of any filled by the comics, and provokes broad Southern ridicule for both his ethnic and geographic background.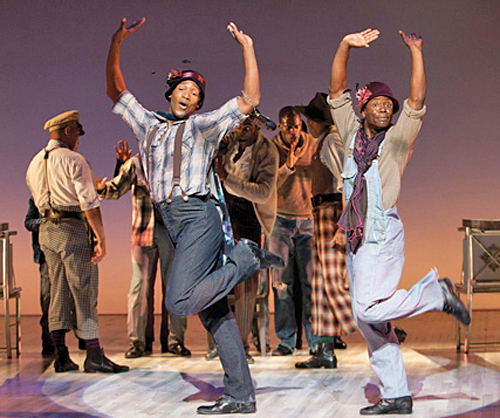 Clifton Oliver, left, and James T. Lane squeal the virtues of southern lasses
Another traditional minstrel riff is the use of male performers in caricatured female roles. Clifton Oliver and James T. Lane do the honors here as the accusers, mincing and squealing while proclaiming their purity as Alabama ladies, and later squabbling over the thought of recanting their lies. You can't help but laugh at their antics, even as you watch them shatter nine lives.
Like most of the cast, Oliver and Lane fill several roles, including those of prisoners.
The most important exception to the pattern of multiple casting is Clifton Duncan as Haywood Patterson, the one prisoner unwilling to make any compromises or admit to any crime, even if his dogged honesty keeps him from winning a connived parole.
"I'm Free, I'm Free" he declares in a huge tenor voice, but the only freedom he wins is in his own mind.
The show's lone white actor is Tony and Emmy winner Hal Linden, playing a kind of emcee/ringmaster called The Interlocutor. Looking rather like Colonel Sanders in white suit, top hat and neatly trimmed beard, he drifts smoothly between narration, participation and observation.
And the show's only female performer is C. Kelly Wright, who moves silently through the background for most of the evening as a source of comfort to the boys, then utters her only words in the crisp final scene. I'll refrain from describing it, but feel it was an arbitrary addition designed to close the show on a positive note. First-nighters cheered.
That's a tiny reservation in the context of a tremendously innovative, tremendously engrossing and tremendously entertaining triumph of musical theater.
The Scottsboro Boys runs through July 22 at American Conservatory Theater, 415 Geary St., San Francisco. Tickets are $20-$95, from 415-749-2228 or www.act-sf.org.
PHOTOS USED BY PERMISSION