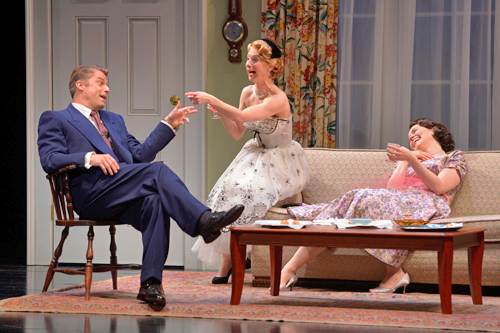 Jamison Jones as Dean, Julia Coffey as Ellen, Emily Donahoe as Katha have something to roar about in their re-created 1955 surroundings.
Photos by Kevin Berne
There were "good old days," weren't there? Times before anyone had coined the term "24/7," times before incessant tweets and texts, times when life moved at a relaxed pace and people knew their neighbors and hubby went to work while his better half stayed home and cheerfully took care of the kids and the cooking?
Sure there were. To listen to some 2012 politicians, they were real and they were better and we ought to do our best to bring them back.
In Jordan Harrison's Maple and Vine, the breezy fantasy that's earning loads of laughs at American Conservatory Theater, that's more than a dream. It's a possibility. If you're sick and tired of today's rat race, just step right back into 1955.
Making that jump doesn't demand a time machine. It demands only a willingness to join the Society for Dynamic Obsolescence, a self-styled community of escapees from the constantly changing present to a rock-solid past, anchored in '55.
The five principal characters of Maple and Vine all make that jump, and ultimately discover that their paradise found may not be heaven on earth. But for some -- not too persuasively -- it's a workable change of scene.
Maple and Vine opens on a loving couple with serious problems. Katha (Emily Donahoe) is a New York publishing executive who is doubly stressed because of her job and the lingering anguish of a miscarriage. She lost a baby six months earlier and has lived with nightmares, and has refused sex, ever since. Her Japanese-American husband, Ryu (Nelson Lee), is a plastic surgeon who does his best to calm her, despite admitting to substantial pressures that come with his occupation, too. (I mention his ethnicity because it's important in the play.)
Their door to the re-created past opens via a chance meeting between Katha and Dean (Jamison Jones), whose double-breasted suit and wide-brimmed fedora inspires conversation, reflection and ultimately a huge change of life for Katha and Ryu. Making that change is no casual undertaking, however. To live in the resurrected '50s, they have to know the '50s, from Pat Boone to Ike to Tupperware. The SDO insists on authenticity in speech, in dress, in tastes, in attitudes.
Dean and his perky, prim wife (Julia Coffey) make it easy for audiences to bridge the years, though. In short scenes that alternate with "live" action, they lecture the house as if viewers were would-be recruits, and explain the quirks of the era as defined by the The Adventures of Ozzie and Harriet, Father Knows Best and their ilk.
Harrison's text, Mark Rucker's direction and ACT's performers deliver the material with an essentially frothy tone throughout Act One, then temper the silliness after intermission, which takes place in the archaic community.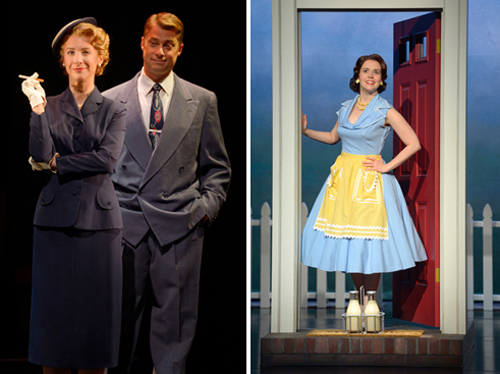 Jones, Coffey and Donahoe: picture-perfect returnees to the '50s
Katha and Ryu find themselves assigned to a house in the town's "liberal" enclave, since that's the only area where mixed-race couples fit comfortably. And Ryu, despite his skills as a physician, has to work in a box factory, under a boss whose patronizing facade turns crudely hostile to Asians when Ryu asks for a raise.
Chalk up racism as obvious target No. 1.
Then we find Dean's ever-chipper wife, Ellen, waiting and waiting for her husband's belated return, duty-bound to greet him with a smile and a hot meal whenever he arrives. The cause of his delay is an affair that she tolerates in silence.
In that context, we can chalk up sexism as target No. 2.
And, since Dean's partner in extramarital sex is male, a fact that can't be revealed to a community with 1955 sensibilities, we can chalk up homophobia as target No. 3.
There's nothing subtle about the social commentaries, or about a twist that finds Dean and his lover (Danny Bernardy) vanishing from their anachronistic town because they refuse to live a lie.
And there's nothing credible about a conclusion that finds Katha -- renamed Kathy -- and Ryu settling into domestic bliss in their pseudo-idyllic 1950s environs.
But Harrison's theatrical craftsmanship, and ACT's superb staging -- the costumes and sets alone are worth the price of admission -- make Maple and Vine as tasty as a Twinkie, with just about as much intellectual nourishment.
Maple and Vine runs through April 22 at American Conservatory Theater, 415 Geary St., San Francisco. Tickets are $10-$95 (subject to change), from www.act-sf.org or 415-749-2228.