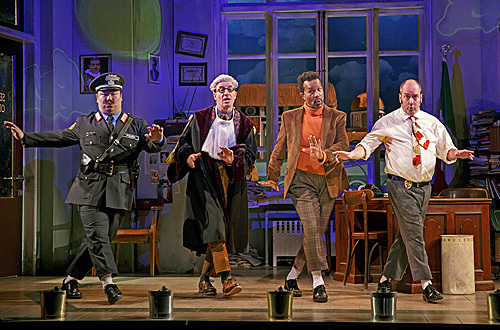 Photo by Joan Marcus
In step for an investigation: from left, Eugene Ma, Stephen Epp, Allen Gilmore, Liam Craig
Wackiness and indignation travel in constant tandem in the plays of Italian satirist Dario Fo. Finding the most effective balance between them is the challenge that faces anyone who directs his works.
For the current staging of Fo's internationally acclaimed Accidental Death of an Anarchist, director Christopher Bayes tilted heavily toward the goofy side, with spectacularly hilarious results. It was a described as a laugh-after-laugh riot when it premiered at Yale Repertory Theatre last fall; the same description fits the response at Berkeley Rep, where it opened a few days ago. The two companies produced it jointly.
Whether that level of giddiness dilutes the strength of Fo's parody of corruption in the Italian system of justice -- and by extension his rage at injustice under any flag and any political system -- can be argued. There's no arguing, however, about the cast's genius at extracting laughs from bleak encounters.
Its six members pull out all the stops of physical comedy: mugging, pratfalling, colliding, tripping over each other, singing, dancing and flaunting the flexibility of acrobats while propelling the story with breakneck abandon.
Fo wrote and staged Accidental Death in 1970, in a fever-pitch response to events that shook Italy and made worldwide headlines in late 1969. Bombs exploded in Milan and Rome, killing 16 and injuring many more, according to news reports. Police arrested over 4,000 people, including a Milanese railroad worker with anarchist sympathies. After three days of interrogation, he fell to his death from the fourth floor of police headquarters.
Did he slip, as reported? Did he jump? Was he pushed?
Fo, who won the Nobel Prize for literature in 1997, opted for the last explanation and fashioned his story in a lively style that tickled Italian audiences and later inspired productions from London to Beijing to San Francisco. Among the enticements to remote theaters was his suggestion that adapters feel free to fit the tale to their own time and place.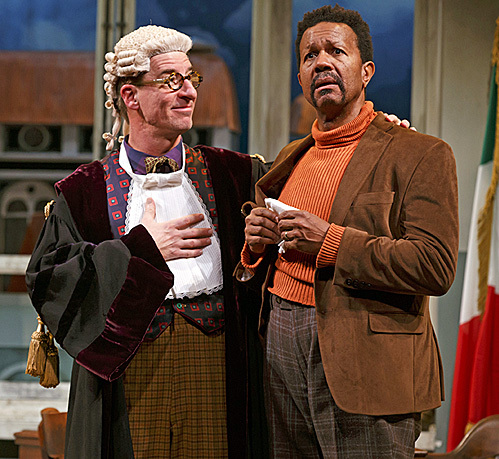 Photo by Joan Marcus
The judge perplexes the inspector: Stephen Epp, Allen Gilmore
The Berkeley-New Haven adaptation is credited to Gavin Richards, working from a translation by Gillian Hanna. But it's a good bet that director Bayes and everyone else involved in the show has had a hand in the text, showering it with references from popular culture and current events. Among them are The Sound of Music, A Streetcar Named Desire and Dancing With the Stars on the light side, waterboarding, drones and Dianne Feinstein on the weightier.
Reflections about such matters are secondary in this Anarchist. Laughs come first.
Stephen Epp provides the sizzle that touches off the nuttiness, as a character simply called Maniac. He enters as a certified psycho who has been busted for impersonating a psychiatrist, then drives a police inspector (Jesse J. Perez) to distraction. When the inspector departs and opportunity presents itself, Epp's Maniac disguises himself as a judge who says he intends to prove the cops' innocence, and proceeds to do just the opposite.
Getting to the moment of truth and a literally explosive climax involves a chase, a Perils of Pauline dangle at the wide window that fills the center of the set, loads of expressive double-takes, a few psuedo-operatic quartets and far more dizzy antics than words could ever capture. All combine to build a case against lies and hypocrisy perpetrated by Italy's defenders of justice, played to the hilt by Liam Craig, Allen Gilmore and Eugene Ma.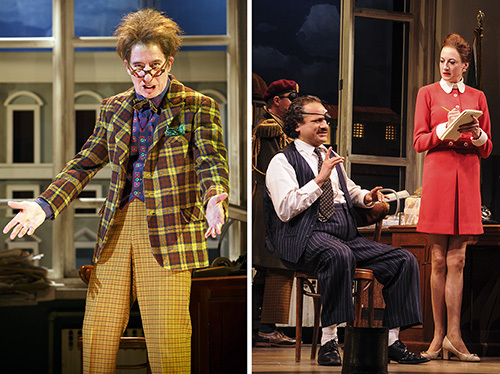 Left photo by Joan Marcus, right photo by Jared Oates
Epp, a very manic Maniac; journalist (Renata Friedman) vs. inspector (Jesse J. Perez)
Act two brings in one more character, the cast's lone female, who also hopes to uncover the facts. Crisply and amusingly played by Renata Friedman, she's named Feletti, presumably as Fo's homage to the famed Italian investigative journalist Oriana Falacci.
The production shuns any theatrical conventions that ask audiences to believe they are watching real people enacting real events. Kate Noll's set occupies no more than three-fourths of the Roda Theater's stage, leaving all manner of structural and lighting elements exposed. And actors frequently address themselves directly to the audience.
They constantly remind us that they're clowns, doing things that only clowns can do. If we want to take more than laughs from their efforts, that's up to us.
Accidental Death of an Anarchist runs through April 20 in Berkeley Repertory Theatre's Roda Theatre, 2015 Addison St. Berkeley, Tickets are $29-$99, from 510-647-2949 or www.berkeleyrep.org