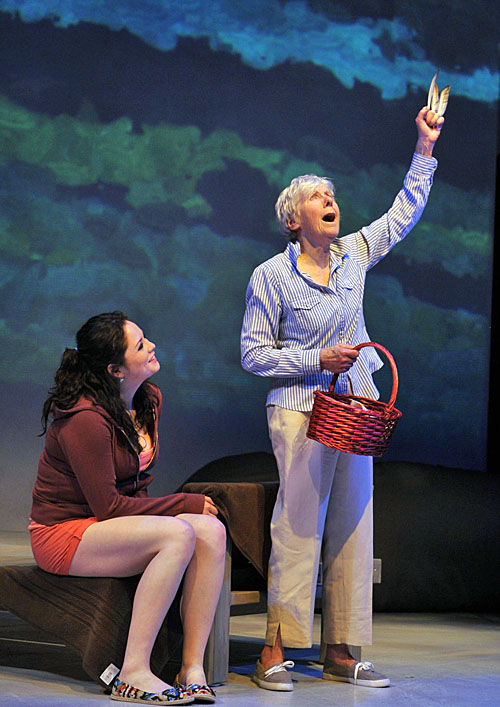 Vera (Joy Carlin) explains the role of feathers in birds' flight to Leez (Adrienne Walters).
Photo by David Allen/davidallenstudio.com
Playwright Anthony Clarvoe credits Anton Chekhov with providing much of the inspiration for his drama Our Practical Heaven, which is receiving its world premiere at Aurora Theatre in Berkeley. It's doubtful that the Russian master would be flattered.
While Clarvoe's Heaven does employ some structural forms that Chekhov used, focusing on multiple generations of intertwined families and avoiding melodramatic events, it lacks the crucial element that turned The Cherry Orchard, Three Sisters and other masterpieces into classics: strongly defined characters capable of making us care.
Clarvoe's drama takes place at a remote oceanside home where six women gather to muse and bicker about the fates that life has dealt them, or the fortunes that they fear lie ahead. They comprise three generations and share a few interests and convictions: All are birders, all voice concerns for an imperiled natural world and all are certain that their idyllic retreat will vanish beneath rising seas within a few decades.
A birder himself, Clarvoe introduces this element in the early going, on a trek through the nearby shore and woodlands, which are attractively suggested by semi-abstract projections. But his play is no environmental treatise, and its focus quickly turns in more personal directions.
The elders of the group are matriarch Vera (the agelessly marvelous Joy Carlin), her middle-aged daughter Sasha (Anne Darragh) and an informally adoptive daughter, Willa (Julia Brothers), who latched onto the family years earlier because she couldn't get along with her own parents. The younger generation includes teens Leez (Adrienne Walters) and Magz (Lauren Spencer), and twentyish Suze (Blythe Foster).
Their thinly sketched relationships are complex, their personalities vastly disparate and their worries cover a gamut of health, occupational and emotional issues.
Vera is easily the most lucid and level-headed of the group, though the others express worries about her physical frailty and slipping memory.
In contrast, Sasha tends toward hysteria, a trait demonstrated by her trembling terror at the prospect of opening a letter from a medical institution. The source of her fright: that five years after undergoing treatment for cancer she is going to get horrible news about her health. Bad news in the mail? Come on! After five years of follow-ups that have presumably found no problems? Absurd, even for a nervous Nellie. (I say this from the perspective of someone who has had cancer and treatment.)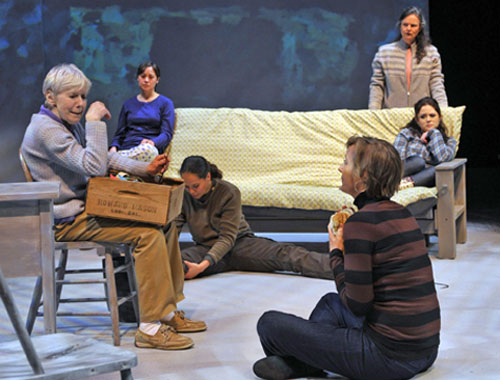 Vera rummages through mementoes, observed by her extended family.
Photo by David Allen/davidallenstudio.com
Willa, who shares a sister-like relationship with Sasha, is a hard-driving executive who displays forcefulness and cynicism when she takes a break from family matters to scream at some subordinate via cellphone. Her diktat: Fire anyone who would dare try to organize a union. She's not one-dimensional, though. On another occasion, she lectures young Suze on the importance of sticking to her ideals, at least for a while, even if they have a leftish tilt.
As for the younger women, they're most distinctive for their use of ever-present smartphones to text smarmy messages to each other, reflecting on the adult conversations. The cryptic texts are projected for the audience to read, a clever device that quickly becomes routine and distracting.
Clarvoe provides a bit of background about each of them, but too little to create any meaningful depth. Suze, we learn, quickly became disillusioned by her failure to connect with poor people she had hoped to help, in Appalachia; Magz suffers from some sort of chronic illness that strikes her with agonizing pain, though she moves with grace when the pain is gone; Leez worries about being able to go to college. In each case, the sources of anxiety are credible, but the characters are fail to make them compelling.
Our Practical Heaven was written for Aurora's Global Age Project, a contest designed to prod playwrights to focus on life in the 21st century, today and in the future. Clarvoe clearly fulfilled that mission by introducing cellphones, texting and worries about disappearing wildlife and rising seas. But those externals don't compensate for his failure to embody those issues in personalities who can command interest and emotional engagement.
Our Practical Heaven runs through March 3 at Aurora Theatre, 2081 Addison St., Berkeley. Tickets are $32-$50, from 510-843-4822 or www.auroratheatre.org.
PHOTOS USED WITH PERMISSION