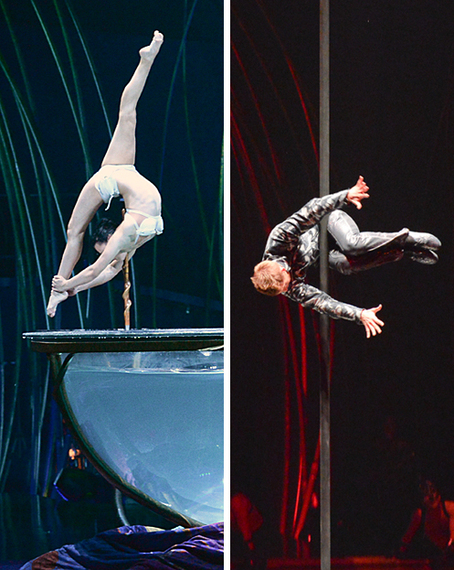 Iuliia Mykhailova and Evgeny Kurkin: Being a lover isn't easy in Amaluna.
Photos by Laurence Labat
Words fail me. Since the subject of today's dissertation is Cirque du Soleil's Amaluna, which is currently occupying a huge tent near San Francisco Bay, that verbal shortcoming is hardly cause for embarrassment. Theatrical spectacles don't always lend themselves to meaningful description.
Amaluna does have something of a narrative thread, or so the folks of the Montreal-based troupe would have us believe. Shakespeare's The Tempest provides something of a core, supplemented by suggestions of a few other myths. And viewers are certainly free to hunt for them and anything else symbolic that might lie under the high-speed gymnastics, slow-motion balancing acts and antic clowning.
But that multitasker's search, I fear, would only distract from immersion in the essence of Cirque due Soleil: exploits of athleticism, physical control and invention that are hard to imagine, let alone to conceive of doing.
Probably the easiest to describe is a routine called the Chinese Pole, since it uses only one prop -- a vertical black pole, perhaps 30 feet tall -- and employs only one performer. On opening night the performer was Evgeny Kurkin.
All he does is climb up the pole and slide down it several times, each time wrapping his hands, arms, feet, legs and/or torso around it in different ways. For a piece de resistance he merely plunges down the pole head first, about as fast as gravity will allow, and brakes to an abrupt stop with his hair about a foot from the unpadded stage. Did 2,500 viewers gasp? Don't ask.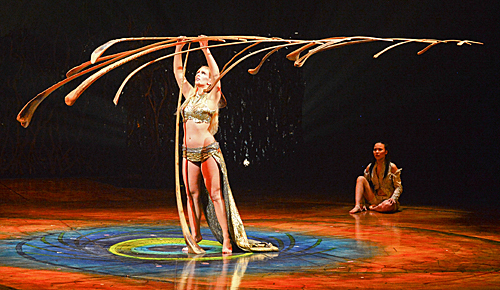 Lara Jacobs is the Balance Goddess: Only gravity holds her canopy together.
If that bit of risky derring-do was amazing, its distinctiveness and impact were easily matched by a feat performed at a speed that would make the flow of cold molasses seem fast. Its called the Balance Goddess: Lara Jacobs is that deity.
Standing in the center of the circular stage, she lifts thin objects that look like the spines of palm fronds of various lengths -- probably two to eight feet -- and assembles them over her head into a kind of curved canopy. What's so tough about that? Only that most of the picking and lifting is done with her feet, and the resulting canopy is held together only by the perfect balance of its pieces. Can 2,500 observers hold their breath in unison? Only until she extracts one small piece and all the others come crashing to the stage. Then pandemonium, well deserved.
The show's title derives from "ama," as in the female warriors known as Amazons, and "luna," as in the Roman goddess of the moon. Fittingly, "Amaluna" is dominated by women, including the first all-female musical ensemble in the company's 19 years. The production was directed by stage veteran Diane Paulus.
Presiding over the proceedings is a queen called Prospera (Julie McInnes), who conjures up a storm that brings males to her all-female domain. She has a daughter, Miranda (Iuliia Mykhailova), who quickly falls for one of the washed-on males, named Romeo (Kurkin). Since the path to true love has to be lumpy, there's a lizardlike mischief-maker called Cali (Viktor Kee) to be confronted. That's Cali as in the villainous Caliban, from The Tempest.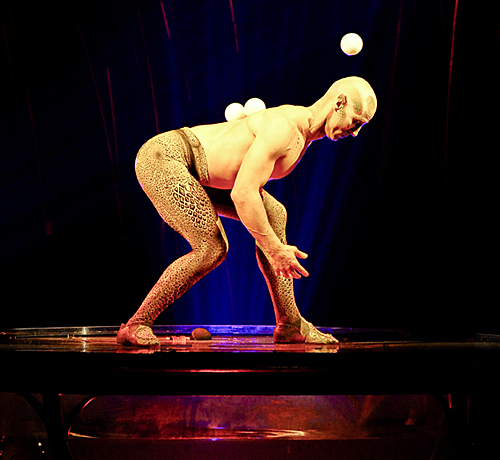 Viktor Kee is the tale's villain: a slinky juggler who uses his head.

Since this is a circus, after all, none of these characters is portrayed by a mere actor. Mykhailova holds the spotlight while doing a one-hand handstand as she twists above a hemispherical bowl filled with water; Kee quits slinking long enough to use his head, feet and back, in addition to his hands, as tools of juggling; Kurkin does the aforementioned pole climbing; and McInnes merely sings in addition to playing cello and sax.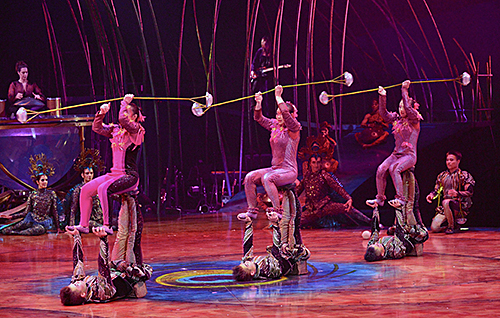 Disks whirl, performers spin and music rocks in production numbers.
Abetting them are a couple dozen lasses and lads who soar, spring and tumble in small groups and big production numbers which have little if anything to do with story-telling but much to do with pure astonishment.
It's Cirque du Soleil in a new guise, but as awe-inspiring as ever. Words can't do it justice.
Cirque du Soleil's Amaluna" runs through Jan. 12 in the company's huge tent at Third Street and Terry Francois Boulevard, near AT&T Park, San Francisco.