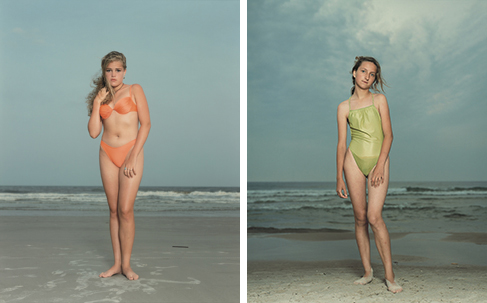 Hilton Head Island, S.C., USA, 1992, left; Kolobrzeg, Poland, 1992
Portraiture has always been the most ubiquitous genre of photography. Sometimes it results in art; most often it doesn't. But among contemporary portrait photographers who have earned wide respect as artists, one thread frequently stands out: the need to flaunt the uniqueness of his or her own vision and his or her command of the medium. View the art; see the artist.
Rineke Dijkstra, whose radiant portraits and videos went on display recently at the San Francisco Museum of Modern Art, reveals no such self-consciousness. To look at her image of a teen-aged girl on a South Carolina beach or a young mother in the Netherlands or a Portuguese bullfighter who has just emerged from the ring, slightly bloodied, is to see the subject. The person in front of the camera is all that matters, not the person who set up the lights or released the shutter. If questions or reflections about technical issues ever emerge, that will happen later.
Dijkstra, who was born and educated in the Netherlands, has been making these portraits since the early '90s, but the San Francisco show is her first in the United States. It was jointly organized by SFMOMA and the Guggenheim Museum in New York, where it will move in June. It includes some 70 large photographs, made with a 4x5 camera, and five video installations.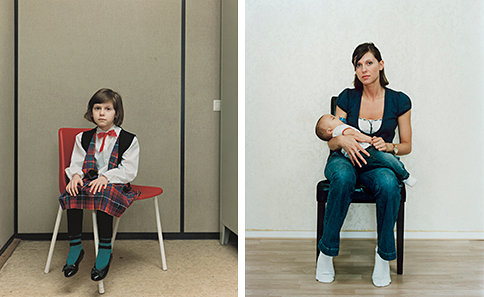 Amerisa, Leiden, Netherlands, 1994; Amerisa, Zoetermeer, Netherlands, 2008
She sometimes finds her subjects by chance, as in the images of teen-agers on beaches, and sometimes by choice and pre-arrangement, as in the case of new mothers whom she photographed, nude and with their babies, within hours of giving birth. Regardless of how the photo session was conceived, however, Dijkstra's visual approach is consistent: her subjects face directly at the camera; she lights them frontally, allowing only a minimum of facial shadow.
Dijkstra, who is 52, started her professional career in the mid-80s, doing portraits of businessmen who knew the traits they wanted to project. By 1990, after a months-long layoff caused by a bicycling injury, she quit the commercial world in favor of one in which she could present people who didn't care to exert such control, or didn't know how.
Youngsters, especially teens, fit that criterion. In the show's excellent catalog, Dijkstra is quoted as saying "The emotions of younger people seem to be very much on the surface. They have no defined image of themselves yet." She sought to bring to the surface "something roughly present but barely defined in their personalities."
Dijkstra's quest took her to the United States, Poland, Belgium, England, Israel, Ukraine, Portugal, Germany and elsewhere. Some of the resulting images suggested cultural differences, probably related to the level of exposure to mass media and paradigms of glamour that the youngsters had experienced.

The exhibition's American girls clearly look more self-aware, more conscious of their blossoming sexuality, than their Polish and Ukrainian counterparts; the American boys seem to be working at projecting toughness, an attitude absent in boys photographed along the Black Sea or the Baltic. But in virtually every case, it is easy for a viewer to infer some measure of vulnerability, uncertainty, awkwardness in her subjects.

Most of the show's early works were shot on beaches, with the individual or group posed against the horizon, which crosses at thigh height. The background never competes with the personality. The same is true in virtually all of Dijkstra's pictures, whether made indoors or out. Indoors, she sets her subjects against light colored walls, where the closest thing to a visual distraction might be the edge of a carpet or the frame of a door.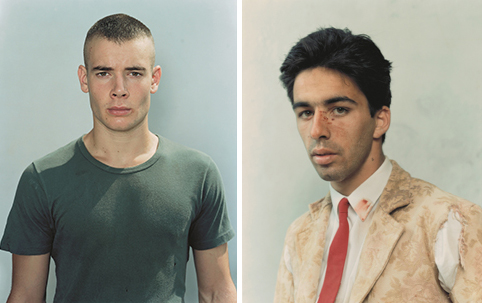 French Foreign Legion, Djibouti, 2003; Vila Franca de Xira, Portugal, 1994
Central to Dijkstra's aesthetic is the concept of malleability or transition, whether it is embodied in a single image or a series.
In 1994 she received a commission to photograph children at a Dutch center for asylum seekers. One of them, a Bosnian named Almerisa, provides the strongest example of Dijkstra's commitment to recording change. When first seen, Almerisa is 5 years old, seated on a red plastic chair, her feet dangling well above the floor. In later images, taken at intervals ranging from a few months to two years, she grows through edgy adolescence to maturity, ultimately appearing in 2008 as a poised young mother, holding an infant across her lap. She is clearly a different person from the one represented earlier.

Dijskstra's quest also took her to young people's night clubs and to schools, with their varying opportunities for expression, and saw her supplement mastery of still photography with newly developed expertise with video. Still, even with the addition of motion, her concern remained human, not technical.

Whether showing off their dance moves or just sitting on the floor and drawing, the young people in front of Dijkstra's lenses remain front and center, attesting to artistry that is totally free of ostentation.
Rineke Dijkstra: A Retrospective runs through May 28 at the San Francisco Museum of Modern Art, 151 Third St., San Francisco. It is open 11 a.m. to 5:45 p.m. Monday, Tuesday and Friday-Sunday and 11 to 8:45 Thursday; closed Wednesdays. Admission ranges from free to $18. For details, see www.sfmoma.org/visit or call (415) 357-4000.
All photos © Rineke Dijkstra