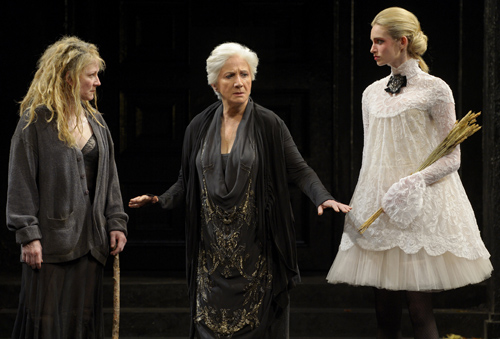 René Augesen as Elektra, Olympia Dukakis as the Chorus, Allegra Rose Edwards as Chrysothemis. Photo by Kevin Berne
How little the human race has changed in the 2,500 years since Sophocles' Elektra emerged on the Athenian stage. Her drive, her obsession, her fury had a single focus, expressed in one word: justice.
Precisely the same drive re-emerged into public view in this election season in California, in the battle over a proposition to determine the fate of several hundred men on the state's death row.
"Justice," to Elektra, took only one form: revenge. Killing must be redressed by killing. Justice, to the opponents of Proposition 34, means precisely the same thing.
But the fury and anguish of Elektra, as displayed in American Conservatory Theater's contemporary re-imagining of the ancient classic, eclipses anything we're likely to see on the streets or newscasts of California. It is all-consuming, manifested in wails and screams and tears; in contempt for anyone who chooses a different path; in the icy rejection of appeals from a chorus that represents concern for her as a person and as a member of society.
The chorus is superbly embodied in the intelligent and compassionate presence of a single woman, Olympia Dukakis.
Elektra's rage can certainly be justified. The murder victim whom she mourns is her father, Agamemnon, who had just returned from the Trojan War when he was butchered; the murderers were Elektra's mother, Clytemnestra, and her lover, Aegisthus. Whether Elektra's expression of that rage can be endorsed is another matter entirely, as she repeatedly hears.
ACT's Elektra is core company member René Augesen, who paints a portrait of grief, anger, bitterness and frustration, and ultimately joy, throughout virtually every moment of the 90-minute production. Her effort is admirable in its craft and stamina, but there are limits to the impact of wailed hysteria.
The distance between high drama and parody is narrow, as I was reminded by quiet giggles of neighbors nearby in the Geary. I didn't join them, but certainly felt worn down by the emotional battering. But there were moments when I came close.
They were provoked by Allegra Rose Edwards as Elektra's sister, Chrysothemis, and Caroline Lagerfelt as Clytemnestra.
In Edwards' case, the jarring issue was costuming and makeup. In a production visually dominated by blacks and dark grays, Edwards is an exotic intruder in white lace, short skirt, patent leather boots and pale, over-rouged makeup. Her demeanor is icy yet erotic. The role is serious, even if Chrysothemis' compromises may deserve scorn, but the woman we see borders on the ludicrous.
(Another questionable bit of costuming: Augesen in a sheer, low-cut dress that reveals a black bra and panties. The role and the performance are in no way sexy, so why is the attire?)

As for Lagerfelt, her Clytemnestra veers between occasional notes of overdone haughtiness and a predominant aura of compelling sincerity. Clytemnestra may be a murderer, but her action can be understood. As she passionately points out, Agememnon killed their daughter, and the fact that he was trying to placate a god during the Trojan War doesn't excuse the crime. Murder begat murder in a seemingly endless cycle in ancient Greece.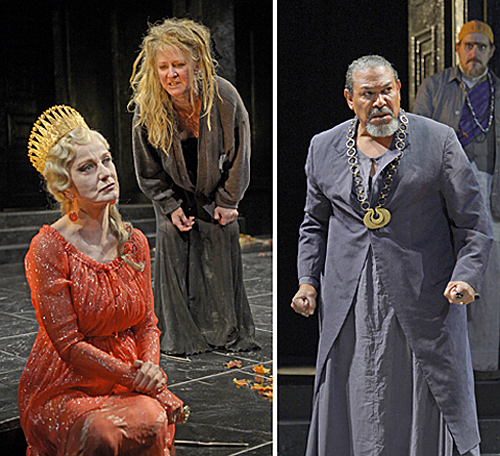 Caroline Lagerfelt, as Clytemnestra, turns a cold ear to the rage of Elektra (Augesen); Stephen Anthony Jones as Aegisthus and Anthony Fusco as Orestes' Tutor. Photos by Kevin Berne
The play's mood and the balance of homicidal power changes with the arrival of Elektra's brother, Orestes (a tepid Nick Steen), whom Elektra had saved from death by spiriting him into exile as a child. In the many years that followed, he remained in her mind as the one possible source of vengeance. His departure had been prompted by fear that he too would be murdered, because of a prophecy that he would repay Agememnon's killers.
His return doesn't come smoothly or painlessly, however. It is preceded by a bogus but very intricate tale that Orestes had been killed in a chariot-racing accident. The lie brings heights of relief to Clytemnestra and depths of despair to Elektra.
But reversal follows reversal in the minutes that quickly follow, leading powerfully to bloody "justice" in the end. Was that really the end that Sophocles envisioned? We'll never know, since most of his plays have been lost.
Punctuating and supporting the action are short, usually dissonant instrumental and vocal pieces composed by David Lang and performed by cellist Theresa Wong, seated at the edge of the stage.
The drama was adapted and translated in taut, lucid fashion by Timberlake Wertenbaker, whose riveting Hecuba was a highlight of ACT's 1998 season. Direction was by ACT executive director Carey Perloff.
"Elektra" runs through Nov. 18 at ACT's Geary Theater, 415 Geary St., San Francisco. Tickets are $25-$125, from 415-749-2228 or www.act-sf.org.