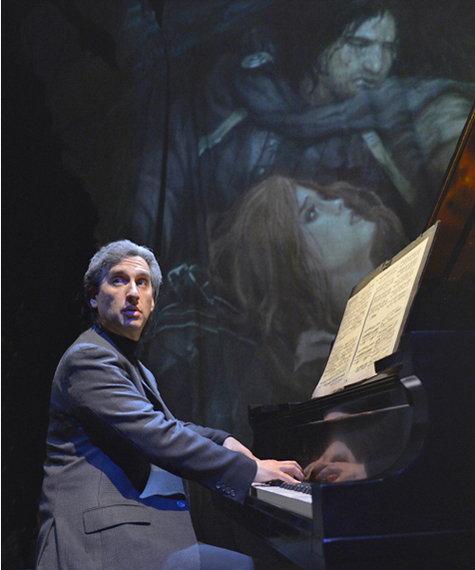 Felder as Bernstein, beneath an image from Wagner's Tristan and Isolde
Photo courtesy of kevinberne.com
Genius doesn't lend itself to containment in the time-space capsule called theater. And Leonard Bernstein -- conductor, composer, educator, television pioneer, social activist and complex private personality -- surely deserves the label of genius. He was the first American conductor to achieve international acclaim; his compositions, spanning the gamut from Broadway to opera to symphonic works, remain staples of musical theater and concert halls; his influence on later conductors is well-documented.
That breadth makes it easy to dismiss Hershey Felder as Leonard Bernstein in Maestro as superficial, and to carp about what's not there. I'd rather celebrate what is there, in a beautifully realized staging at Berkeley Rep: a tour de force that fuses speech, song and pianistic brilliance into a captivating vignette of one of the towering figures of 20th century American music.
It's also hilarious at times, and awe-inspiring in Felder's unfolding of a compelling narrative while hitting every note of a varied, complex and difficult score.
The show is the fourth in a series that Felder calls his Composers Sonata, extending a pattern established in productions that looked at Beethoven, Chopin and Gershwin. This is the first that I've seen, but I suspect that it falls closer to his heart than any of its predecessors, which were drawn from more remote times and personalities. Felder and Bernstein share a number of parallels, among them a Jewish heritage, involvement with Harvard and of course their status as musicians who also reveled in oral performance.
Anyone who arrives early at Berkeley Rep's Thrust Stage can see the real Bernstein in his prime, in clips from his televised Young People's Concerts. The program, broadcast on CBS from 1958 to 1972, introduced mass audiences to an engaging personality who made classical music accessible.
His interests did not stop with the classics, as Felder stresses in the show's first moments, singing and playing "Tonight" from West Side Story with tenderness and fire. The number, celebrating a young person's discovery of an overpowering love, subtly sets the tone for much of what follows: a portrait of the artist as a young man, infatuated with music.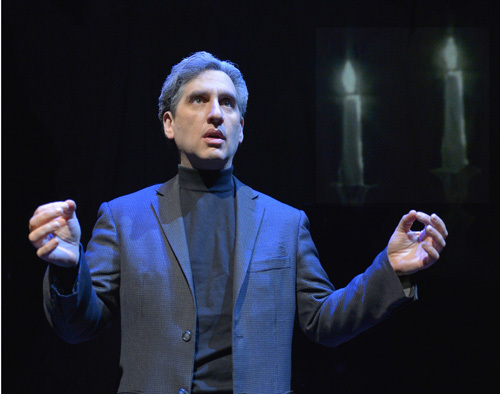 Religion played a major role in Bernstein's childhood; here Felder remembers a Jewish ritual with candles.
Photo courtesy of kevinberne.com
Pursuing that passion forced Bernstein to overcome one obstacle after another, none more daunting than his father's scorn. A businessman who raised his family in a Boston suburb, the elder Bernstein insisted that his son pursue a more practical education and refused to pay for the music lessons that the boy coveted. So he taught himself, playing by ear on an inherited upright until his skills allowed him to teach other kids, at $1 a session. Then he paid for his own instruction.
Duels between father and son allow Felder to introduce his talent for mimicry, channeling the older man and setting a lively pattern that carries through sketches of musicians who helped shape his career. They include conductor Dimitri Mitropoulos, who prodded Bernstein toward conducting, the composer Aaron Copland, who applied a sharply critical eye to his compositions, and conductor Serge Koussevitzky, who became a close friend.
Felder's brief depictions of them and others mix reverence with satiric impressions, delivered with thick and varied accents, and and invariably bringing down the house. But none hit with as much surprise and sizzle as his story of the 25-year-old Bernstein's instant and unlikely rise to fame on Nov. 14, 1943.
A phone call from music director Artur Rodzinski summoned him to lead the New York Philharmonic in Carnegie Hall that day because guest conductor Bruno Walter had fallen ill. The news came as a shock. Bernstein was the orchestra's assistant conductor, but he had never led it. To compound the challenge, he was suffering from a hangover and lack of sleep after a night of partying. And he didn't know the music or have time for a rehearsal.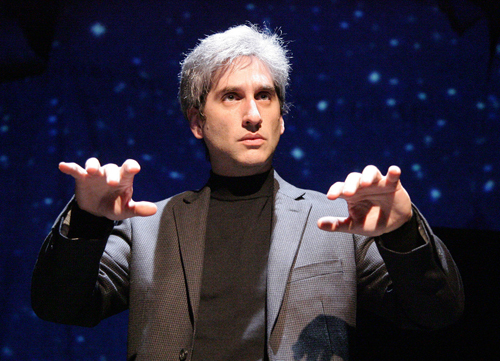 Felder at the imagined podium: a rare triumph for an American
Photo by Michael Lamont
But the show went on, triumphantly, in a national broadcast. He made the front page of The New York Times the next morning. A star was born.
Felder skims over Bernstein's lesser-known work on Broadway (On the Town, Wonderful Town, etc.), putting the emphasis on West Side Story, where he joined with lyricist Stephen Sondheim in shaping the groundbreaking dramatic musical. Much of the credit for its emotional power belongs to Sondheim, the composer says.
And Felder barely touches Bernstein's adult life away from the podium, introducing only a bit about his relationship with actress Felicia Montealegre, whom he married in 1951 and with whom he had three children.
The play's early narrative intimates that Bernstein was also attracted to men, but the depth of that attraction does not become clear until we learn that he left Felicia after some 25 years of wedlock, to live briefly with a male lover. She developed terminal cancer a year later, and Bernstein returned and remained until her death.
Felder handles the story's many moods with grace and versatility, usually sitting at the piano and blending his words with virtuosic playing of pieces by Beethoven, Mahler, Wagner, Grieg and others, and naturally by Bernstein.
Joel Zwick, whose Hollywood credits include My Big Fat Greek Wedding contributed the sharp direction. Felder gets visual support from large projections of photos of personalities whom he mentions and from an exquisite lighting design.
Would Bernstein have been proud to be depicted in such engrossing and appealing fashion? I think so.
Hershey Felder as Leonard Bernstein in Maestro runs through July 3 in Berkeley Repertory Theatre's Thrust Stage, 2012 Addison St., Berkeley. Tickets cost $29-$87 (subject to change) from 510-647-2949 or http://www.berkeleyrep.org.