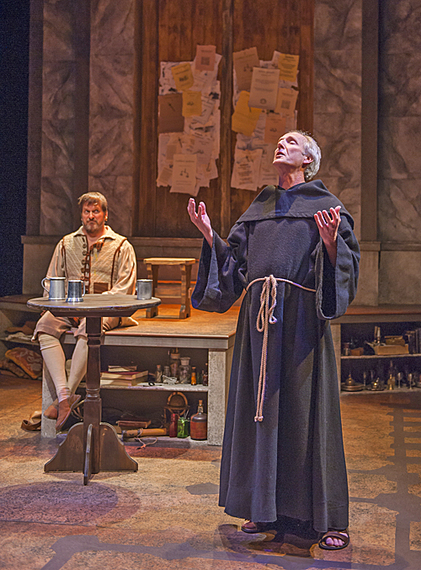 Friendly antagonists: Dan Hiatt, right, as the pious Martin Luther, Michael Stevenson as the irreverent Doctor Faustus
Alas, poor Hamlet! Methought we knew you well. Then along cometh playsmith David Davalos, revealing a young man who struggleth to choose between majors at Wittenberg U., and suddenly, there's a new you!
Sort of. The Hamlet in Davalos' Wittenberg is essentially the same Danish prince that we've met before, but much funnier. He's thoughtful, for sure, but just can't make up his mind. Should he pursue theology, taught with fervor by the troubled yet reverent Professor Doctor Martin Luther, or should he opt for philosophy, and follow the iconoclastic prodding of Professor Doctor John Faustus? Both contend for his mind and soul in his student years.
And, on a lighter level, can he make that choice while sharpening his edge with forehand and backhand for the upcoming tennis match with Paris U., represented by a slasher named Laertes?
To learn the answers, you'll have to visit Aurora Theatre in Berkeley, where Wittenberg is holding hilarious court. As an aside, let me note that all were at the university at roughly the same time, in fact or fiction.
The puzzles and puns fall in profusion, drawn most frequently with irony from such sources as Shakespeare, Christopher Marlowe's Doctor Faustus, Luther's 95 Theses and the likes of Homer, St. Augustine, Stanley Kubrick and many more. And while the outpouring of erudite wit may seem exhibitionistic, it provides a scintillating backdrop for a play that offers more than its share of heady debates between exemplars of piety and skepticism.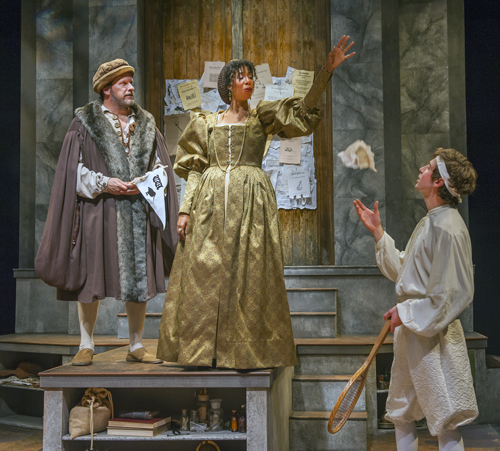 Helen of Troy (Elizabeth Carter) flirts with tennis-playing Hamlet (Jeremy Kahn), observed by Faustus (Stevenson)
Familiar quotations dropped into new and frequently silly contexts generated peals of laughter on opening night, though I assume many laughs may have puzzled viewers who missed the references. Still, the staging boasts more than enough verbal and visual playfulness of accessible sorts to keep just about anyone entertained. You don't need to be a scholar to be tickled by this visit to Wittenberg, but it certainly helps to have a reasonable familiarity with Hamlet.
Although the perplexed Dane is the most familiar of the play's personalities, at least in theatrical terms, Faustus and Luther are its dominant figures, providing the force that lures Hamlet in one direction and then in its opposite. All three roles receive first-rate portrayals under Josh Costello's sizzling direction.
A robust, bearded Michael Stevenson presents Faustus as a man who is equally at home in a tavern as in a debating hall, and as enthralled by pleasures of the flesh as by those of the inquiring mind. At its core, his doctrine commands a rejection of all doctrine, replacing it with a need to doubt, to question and to pursue your own truths.
As Luther, pale and angular Dan Hiatt gives us a scholar who professes and promotes piety while simultaneously agonizing over the practices of his church. Most painfully, he laments the sale of indulgences that allow buyers to sin without fear of heavenly retribution. This Luther proclaims an unshakeable belief in the Bible as the infallible link between man and God, and ultimately rejects the need for intercession by any institution.
Like Faustus, however, he reveals a variety of earthly traits. One that they share is a taste for German beer, sometimes to excess; one that is Luther's alone is a persistent problem with constipation, which Faustus in his role as a physician attempts to relieve. (For the historically minded, that attribute has been deduced from scatological references in Luther's writings.)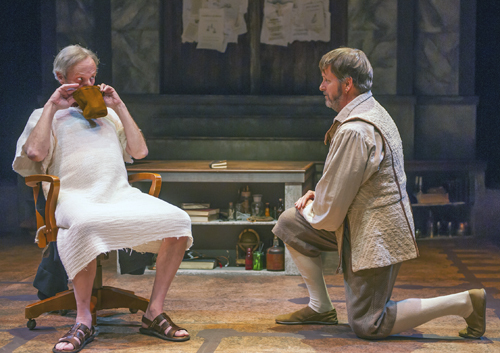 Philosopher as physician: Luther (Hiatt) has a problem, Faustus (Stevenson) has a remedy.
And as Hamlet, Jeremy Kahn shines with youthful energy, innocence and sincerity. An attentive listener to his would-be mentors, vacillating but determined to choose the right direction, he suggests the prince that Shakespeare brought to fame.

Elizabeth Carter dispatches the play's four female roles with charm, sexiness and dexterity: She's pert and sassy as a barmaid, headstrong and sensual as Helen of Troy, ethereal as the dream image of the Virgin Mary, and assured as a messenger from Denmark. Each of the characters can be traced to the play's literary sources.
Like so much scenery at Aurora, the set by Erik E. Sinkkonen is a marvel of invention and compression. Its centerpiece is a towering gothic arch that frames peeling wooden doors, plastered with notices; below it are platforms and the stage floor that smoothly metamorphose into locales of school, church, tavern and bedroom, along with realms created in dream and nightmare. Jim Cave's lighting adds immensely to the moods.
Taken together, the elements add up to a feast for the eyes, the mind and especially the funny bone.
Photos By David Allen
Wittenberg runs through May 4 at Aurora Theatre, 2081 Addison St, Berkeley. Tickets cost $32-$50, from 510-843-4822 or www.auroratheatre.org