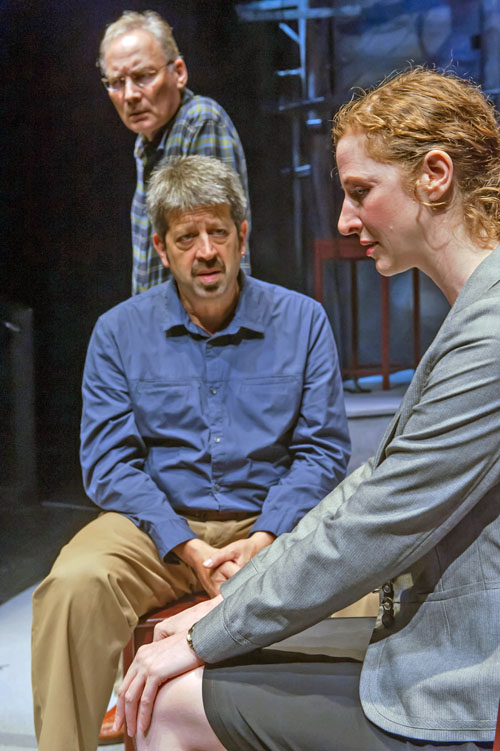 A shocking revelation: Emma (Jessica Bates) listens to her father, Ben (Rolf Saxon), watched by uncle Leo (Victor Talmadge).
Photo by David Allen
How's this for a theatrical rarity: a drama that's deeply steeped in politics in which leftists are portrayed as flawed, troubled people.
That description could apply to most of the eight characters in Amy Herzog's After the Revolution, which opened Aurora Theatre's 22nd season in Berkeley a few days ago. With long-time Bay Area standout Joy Carlin providing the sharp, fluid direction and a generally strong cast bringing credibility to unevenly written personalities, this Revolution is a clear success at compelling attention and reflection.
Although the drama takes place in 1999, its conflicts and stresses flow from events and attitudes that were facts of American life many decades earlier: during the Depression, during World War II and in the era of Sen. Joe McCarthy's witch-hunts in pursuit of Communists. To most Americans who came of age after the '50s, the play should serve as something of a history lesson.
Herzog mines the social background, along with tales shared within her own family, to shape a story of idealism, deception and the price to be paid when an idol falls. And while I think it is fair to label "After the Revolution" a drama, it frequently sparkles with hilarity.
While the play's events are fixed in recent times, its pivotal incident took place in the 1940s, when family patriarch Joe Joseph cited his fifth Amendment rights and refused to name suspected Communists during a congressional hearing. As one consequence, he was blacklisted and his promising career in government was shattered. As another, he became a hero in the eyes of his family and to many outside that small circle.
Even after his death a half-century later, Joe is still revered by one of his two sons, by his widow and especially by his granddaughter Emma. A recent graduate of law school, she even founded a charitable fund in Joe's name, dedicated to supporting such causes as justice.
But Emma, played with radiance and intensity by Jessica Bates, is fiercely idealistic in her commitment to truth as well as to external ideals. When she discovers that her grandfather had lied by denying that he spied for the Soviets during the war, hell breaks loose within the family and the foundation, where her boyfriend is a key player.
It doesn't matter that Joe's espionage consisted of sharing trivial economic information, revealed in cables that were declassified after the collapse of the Soviet Union. To Emma, any lie is absolutely unpardonable. That makes for high drama and raging conflict at times, but it erodes almost any sympathetic quality that she might possess.
Complicating her predicament is the fact that her father, Ben (Rolf Saxon) knew about Joe's spying and told others in the family but not Emma. That's another affront that she can't shrug off.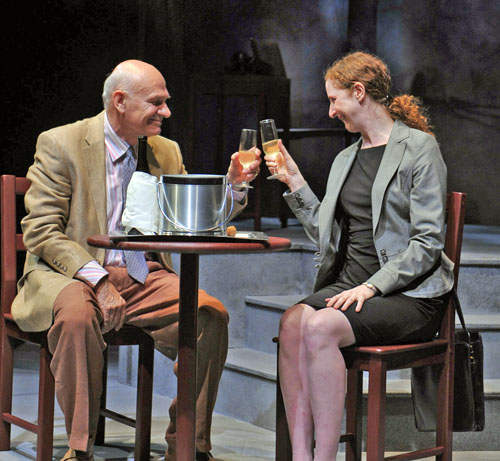 Family friend Morty (Peter Kybart) has kind words and an offer for Emma (Bates).
Photo by David Allen
Some in the family, as well as boyfriend/colleague Miguel (Adrian Anchondo) struggle to calm her, to convince her that the past can't be undone and should be viewed from a compassionate perspective. They try on a personal level, invoking affection and concern; they try on a philosophical level, pointing out that communism in mid-century was widespread where Joe lived, in New York, and noting that Communists led the drive for the rights of workers and minorities when virtually no one in mainstream politics voiced such radical positions.
It's a believable family, with a wide variety of personalities and degrees of political engagement, along with the ability to comfort and love each other despite their differences.
Most come through with clarity and appeal. There's Pamela Gaye Walker as Ben's domestic partner and Victor Talmadge as his older brother, who make valiant efforts at conciliation; there's Sarah Mitchell as Emma's quirky sister, whose chatter about addiction and rehab injects amusing digressions.
Outside the family there's Peter Kybart as a charming and rich old friend of Joe's, who offers a huge bequest to Emma's foundation as well as some reasoned advice that she hesitates to accept. And finally there's Anchondo as Emma's lover and partner in idealism, who does his best to break through her wall of rage.
Only Joe's widow (Ellen Ratner) chooses to confront Emma head-on, defending her late husband without any hint of criticism. Her performance may be slightly stiff, but the questions she raises about making judgments and without considering historical context sum up the underlying essence of the play. It's well worth contemplation.
After the Revolution runs through Oct. 6 at Aurora Theatre, 2081 Addison St., Berkeley. Tickets are $32-$50 from 510-843-4822 or www.auroratheatre.org