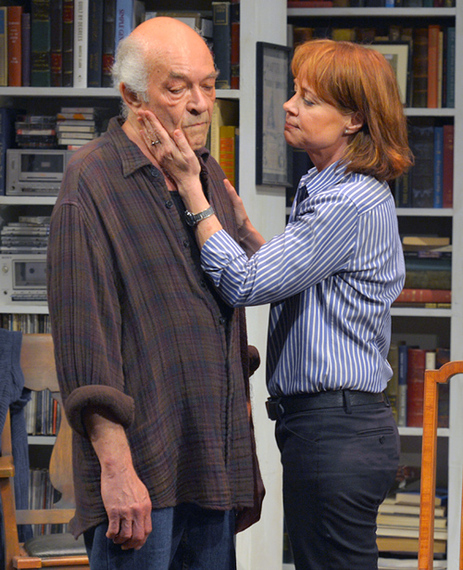 A tough moment for father and daughter: Mark Margolis as Gus, Dierdre Lovejoy as Empty.
Photos by Kevin Berne
Sound and fury permeate much of the 3 hours and 45 minutes of Tony Kushner's latest foray into the psyches, hopes, frustrations, passions, politics, sexual entanglements, religious sympathies, class conflicts and intellectual pursuits of Americans. Whether they signify anything coherent, or whether coherence even matters, is another issue.
The play, which carries the 14-word title The Intelligent Homosexual's Guide to Capitalism and Socialism With a Key to the Scriptures, certainly makes for compelling viewing in Berkeley Rep's Roda Theatre. Kushner, who rocketed to fame with Angels in America about a dozen years ago, creates distinct characters and engrossing stage dynamics. And director Tony Taccone, a long-time collaborator, knows how to display his work with visceral power.
But this Guide looks like a work in progress. It premiered in Minneapolis five years ago, moved in a revised version to New York in 2011 and is now enjoying its West Coast premiere with still more changes. A few days before the Berkeley opening the script was still getting new pages, and I wouldn't be surprised if changes are taking place during the run.
Kushner obviously abides by Tolstoy's famed assertion, ". . . every unhappy family is unhappy in its own way."
The Marcantonio family, which occupies the core of Guide, can probably match any clan in realistic drama for varied sources of unhappiness.
For openers, family patriarch Gus (a robust and dominant Mark Margolis) calls together his three adult children, along with spouses and partners, to make an announcement: He intends to kill himself. His stated reason is a belief that he has Alzheimer's and does not care to go quietly to that dark fate. And his reason for the get-together is a desire to reveal plans to sell the Brooklyn brownstone that the family has owned for more than a century, so the trio can share the proceeds.
Predictably, no one is overjoyed. Sons Pill and Vito and daughter Empty (as in the initials of Maria Teresa) are aghast, each in his or her own way. They concur on one point: Although Gus may suffer from small lapses of memory, he shows no signs of serious dementia, let alone Alzheimer's.
Agreement seems to end there, and the arguments that follow in an overlapping
cascade shoot off in a dizzying array of directions. With as many as five or six people shouting simultaneously, understanding everyone is impossible.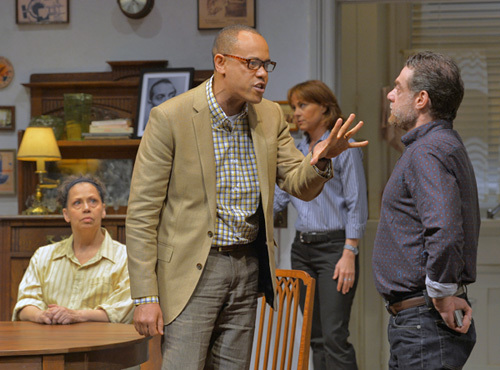 Spousal indignation: Paul (Tyrone Mitchell Henderson) lectures Pill (Lou Liberatore), watched by Clio (Randy Danson). Empty (Lovejoy) is at rear.
Some quarrels involve social issues, triggered most often by Gus's upbeat recollections of his heady days as a longshore union organizer and dedicated Marxist, an optimism displaced by despair over left-wing impotence in the face of triumphant capitalism.
Some involve sexual matters, focusing most intensely on Pill's infatuation with a young male prostitute whose affections have cost him $30,000, borrowed within the family. To complicate that morass still further, Pill, a high school teacher, is married to college professor Paul, who makes his resentments known in clear and forceful terms.
Another twist along sexual lines involves Empty, who swings both ways. She's tepidly involved with a very pregnant partner, Maeve, and on occasion with her ex-husband, Adam. (That's Empty's ex, not Maeve's.) Adam lives in Gus's basement, years after the divorce.
And some of the cacophony involves religion, brought to the fore by Gus's relatively quiet sister, Clio. A former nun and former Maoist, she has immersed herself in the spiritualist writings of Mary Baker Eddy, who founded the Christian Science Church.
This being a Kushner play, snippets of erudition fly by, at times comprehensibly. For those astute enough to pick them up, the minutiae draw upon sources as diverse as Latin poetry, Dante, Marx, Shaw and Vito Marcantonio, among others.
If you don't recognize the last name, you're certainly not alone. A New York congressman in the 1930s and '40s, he was probably the most visible Italian-American radical of all time. And if you notice that his surname is the same as Gus's, chalk that up to coincidence. Kushner doesn't suggest any connection other than the men's shared political convictions.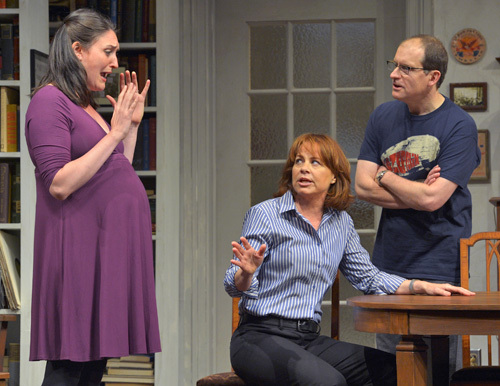 Animated expectation: Maeve (Liz Wisan), Empty (Lovejoy), Adam (Anthony Fusco)
Perhaps the most troubling element of the play, at least to this viewer, is an extremely detailed description of a technique for committing suicide without pain or mess. It's provided by a well-meaning visitor, calmly and clinically. What motivates her to provide this lethal advice to a visibly healthy man? I have no idea.
The performances are first-rate, across the board: Dierdre Lovejoy as daughter Empty, a level-headed labor lawyer who sees society slowly changing for the better; Lou Liberatore as the infatuated and frequently distraught Pill; Joseph J. Parks as Vito, a hothead who expresses his anger by smashing a bronze bust of Italian icon Giuseppe Garibaldi through the wall; Randy Danson as the relatively aloof Clio, who draws the play's biggest laugh; Tyrone Mitchell Henderson as Pill's frustrated, articulate husband; Liz Wisan as Empty's sardonically funny lover; Anthony Fusco as Empty's booze swilling ex-husband; Jordan Geiger as the young prostitute and two others in small but important roles.
Christopher Barecca designed the marvelous set, usually dominated by a book-filled living room but transformed in various ways by substantial elements that roll or fly in complex patterns.
Given the sharp characters, bright dialogue and ambitious conception, I have to hope that Kushner and company can pull all the pieces together into a drama that engages the emotions as well as the mind. It's not there yet.
The Intelligent Homosexual's Guide to Capitalism and Socialism With a Key to the Scriptures runs through June 29 in Berkeley Repertory Theatre's Roda Theatre, 2015 Addison St., Berkeley. Tickets are $29-$99, from 510-647-2949 or www.berkeleyrep.org