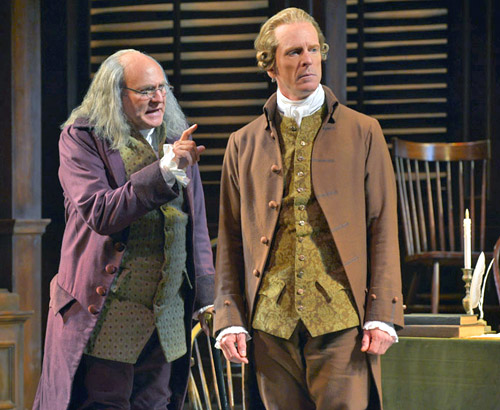 Benjamin Franklin (Andrew Boyer) has words for John Adams (John Hickok) in 1776
Photo by Kevin Berne
Just about every American knows the Declaration of Independence was adopted on July 4, 1776, I assume. But how many of us -- even those who paid attention during history classes -- have any idea of the intense struggles that raged among the individuals and factions that created the momentous document? A paltry few, I have to guess. I certainly didn't.
It's a terrific story that demands telling and 1776, the sizzling musical that opened American Conservatory Theater's season a few nights ago, tells it in terrific fashion. History lessons seldom if ever come in such palatable, entertaining and revealing form. And they rarely seem as timely.
The very thought of seeing Thomas Jefferson, John Adams, Benjamin Franklin and other historical figures reduced to theatrical scale, and then watching them sing, dance, joke and emote was enough to make me squirm and wonder whether a trip to the Geary Theater would be worth the time. The squirms were undeserved; the trip and the experience were more than worth my time and should be an enormously rewarding use of your time if you're lucky enough to get tickets.
A Tony Award winner in its Broadway debut in 1969, the show boasts music and lyrics by Sherman Edwards and a book by Peter Stone that transform a story that we might have considered familiar into something magical and new. With a few exceptions that are traceable to the needs of dramatic cohesion, what happens on stage happened in Philadelphia 237 years ago. Much of the dialogue comes from records and correspondence.
Director Frank Galati, best known for adapting and directing John Steinbeck's The Grapes of Wrath for the stage, revived this incursion into Americana for a Florida theater last year. ACT artistic director Carey Perloff saw it there, invited Galati and company to San Francisco and, as the line goes, the rest is history.
It doesn't matter that we know the story's conclusion: a unanimous vote by representatives of 13 colonies to break from Great Britain. What matters in 1776 is the details, which unfold with tension, fury, humor, pathos, musicality and even a few snippets of bawdiness, along with vivid portraits of several men whose signatures appear on the declaration.
No one is presented as more resolute than Adams (John Hickok), whose tenaciousness provokes the show's first big number, "Sit Down, John." Delivered with gusto by foes and allies alike, it establishes Adams as a politician whose verbosity matches his determination in pursuit of independence. His public posture approaches the demagogic but his private personality contains softer elements, visible in interplay -- conducted via the mails -- with wife Abigail (Abby Mueller).
Franklin is certainly the most recognizable of the personalities, not only because actor Andrew Boyer looks the part but because he's treated as an agreeable, well-respected codger whose appetite for liquor and sex have not diminished with age. He may snooze through most of the proceedings, but arises with eagerness when either his wit and wisdom are needed, or when opportunity knocks for zestful mischief.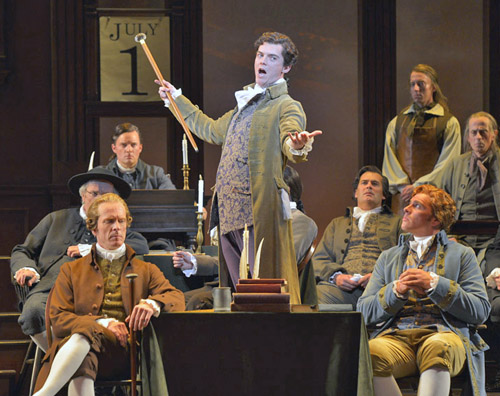 Edwin Rutledge (Jarrod Zimmerman) delivers a fierce denunciation of hypocrisy; his listeners include John Adams (John Hickok, left front) and Thomas Jefferson (Brandon Dahlquist, right front)
Photo by Kevin Berne
The depiction of Thomas Jefferson (Brandon Dahlquist) may hold the most surprises for viewers. We find him a somewhat reluctant patriot, compelled to write the declaration when all others on the drafting committee refuse. Where would he rather be? In Virginia, in bed with young wife Martha (Andrea Prestinario).
She and Mueller are the only women in the 26-member cast, but both shine in lovely songs that swing the focus from the political to the personal.
But political maneuvering provides the heart and soul of 1776; the road to accord seems as fraught with obstacles as any in Congress today.
Obstacle number one is an effort to prevent the proposal of independence from even being debated; once the debate has begun, obstacle two is discord between states and within delegations over the direction to take; and obstacle three involves the wording of the document that Jefferson drafted.
Many changes come easily, but none is more contentious than mention of slavery and the suggestion that it is incompatible with a nation envisioned as a bastion of liberty. For a time the dispute threatens to block any agreement, until South Carolina's Edward Rutledge (Jarrod Zimmerman, delivering the play's most impassioned musical number) shatters the argument mounted by abolitionist New Englanders and others.
If slavery is evil, Rutledge insists, it is no worse than the profitable exploitation of the slave trade by northern shippers. On that amoral note, compromise happens; the embryo of a nation emerges.
Mara Blumenfeld designed the diverse and accurate 18th century costumes and wigs, whose look reflects region and class as well as aspects of individuality, and Russell Metheny did the effective set, dominated by dark wood walls and louvered windows. Expert musical support comes from a 10-piece orchestra conducted by Russell Rice.
1776 runs through Oct. 6 in ACT's Geary Theater, 415 Geary St., San Francisco. Tickets are $35-$180, from 414-749-2228 or act-sf.org