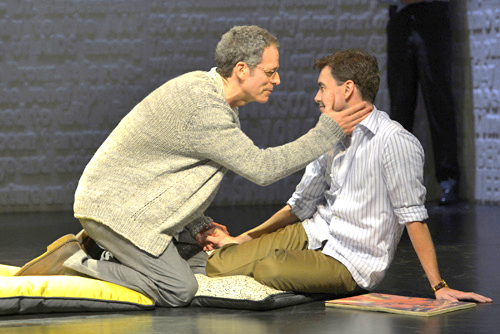 Patrick Breen is Ned, Matt McGrath is Felix: Some moments are tender
Photo by Kevin Berne
Rage. Frustration. Terror. Helplessness. Determination. Persistence.
Larry Kramer embodied all those emotions and more in the early 1980s, when he wrote The Normal Heart. As a gay man who watched friends dying of a disease that had no explanation, no certain cause, diverse symptoms and not even a name, Kramer saw a disaster in the making and did his best to spread the alarm. Almost no one would listen: not the medical establishment, not the political establishment, not the media, not even the men who were its potential victims.
Now, 27 years after the play's debut, The Normal Heart has returned, as powerful as ever. A Tony-winner under George C. Wolfe's direction last year, it opened American Conservatory Theater's 45th season in San Francisco a few days ago. Wolfe is once more at the helm, bringing with him a cast that includes several of the drama's Broadway veterans.
Kramer's story may be unique in contemporary theater. It tackled an issue that was topical when it opened, pleading for attention from people and institutions that might combat the growing pandemic that came to be known as AIDS, and pleading for changes in the promiscuous sexual patterns that contributed to the disease's spread. In 2012, Kramer and the play continue to make the same plea, while the global death toll surpasses 31 million, with no end in sight.
His rage is understandable, and so is the rage of his onstage alter-ego, Ned Weeks (Broadway cast member Patrick Breen in a sizzling yet poignant performance). But Kramer is too fine a dramatist to leave The Normal Heart as a one-note exercise in confrontation. As counterpoint to Ned's outrage over the dreadful social picture, Kramer endows him with a capacity for individual attachment, for love.
That quality not only softens the drama's caustic surface but also helps bring it into the 21st century. It introduces the concept of gay marriage, a notion that had to be revolutionary and probably unbelievable to most viewers in 1985.
But the need for close individual bonds is crucial to Kramer's thinking, and reflected in the play's title. Kramer drew it from W. H. Auden's September 1, 1939, which contains these words:
...each woman and each man

Craves what it cannot have,

Not universal love

But to be loved alone.
In the play, that idea generates resentment and ridicule among Ned's associates, most of whom don't want to make waves that would bring attention to them or the gay community. Many are heatedly invested in the principle of sex without commitment or even personal connection, as a treasured product of the gay rights movement of the '70s. To some, the idea of giving up bathhouse sex is unthinkable, even if life itself might be at stake.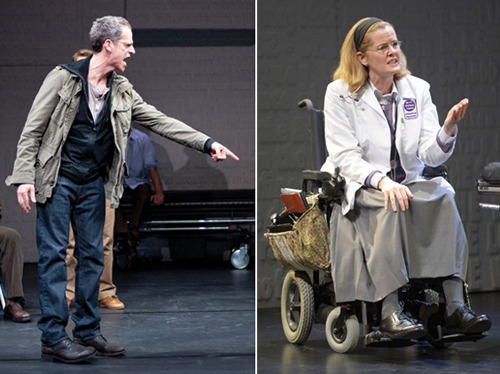 Breen in a typical outburst of rage; Jordan Baker as a helpless doctor
Photos by Kevin Berne
But restraint is central to Ned's drive for prevention, just as pressure on medical researchers and on politicians is central to his campaign for a cure and for compassionate care of the sick.
In The Normal Heart, Ned's frustration and anger are shared by a female doctor who has become a magnet for young men stricken by the strange, new disease. The physician, Emma Brookner (Jordan Baker), has ample reason to approach her patients with deep compassion. She is a survivor of an earlier epidemic, polio, and spends her days in a wheelchair. And she seethes with rage at her impotence in the face of this new terror.
True to the early history of the epidemic and Kramer's labors to combat it, the play traces efforts to mobilize support and at least raise awareness of impending perils.
Ned meets resistance even from a brother (Bruce Altman), a well-placed lawyer who considers homosexuality a disorder; he eventually joins with a few other men in forming a small organization that is essentially designed to provide comfort for the sick and dying; he pleads for help from City Hall but waits many months for a response, and then is told that the mayor doesn't intend to be seen as sympathetic to gays. In all of those endeavors, Ned's ferocious, screamed diatribes undercut much of the sympathy he seeks.
Even his efforts to pressure the New York Times into treating the deadly epidemic with attention comparable to its 1982 coverage of a few cases of Tylenol poisoning fall on deaf ears. But the failure has a silver lining. It connects Ned with a style writer who eventually becomes the love of his life.
Matt McGrath does a charming turn as the writer, Felix, bringing the play a dimension that is warm, filled with sentiment but not sentimentality, and thoroughly believable.
It is also a very welcome relief from the staccato thunder of confrontation that permeates so much of the play. The Normal Heart is a stunning work, recreating a slice of history that unfortunately has not slipped into the past, but it definitely does not offer an easy evening in the theater.

The Normal Heart runs through Oct. 7 in American Conservatory Theater's Geary Theater, 415 Geary St., San Francisco. Tickets are $20-$95 (subject to change), from 415-749-2228 or www.act-sf.org