BD Wong as a country doctor entrusted with a tiny but weighty burden
Photos by Kevin Berne
Like so many Asian antiquities seen through western eyes, the music-infused drama The Orphan of Zhao is a curiosity. Its approach to both character and narrative resembles few plays created in the West, from Sophocles to Sondheim.
Unlike most Asian antiquities that we encounter in museums, however, it offers few subtleties or puzzles. What you see and hear is absolutely lucid, and its reflections of cultural values that still exist in parts of our world need no decoding.
As translated and adapted by the British playwright-poet James Fenton and staged by ACT under the direction of Carey Perloff, this Orphan dashes headlong through episodes of treachery, murder, suicide, sacrifice, reverence, loyalty, honor and above all else the pursuit of revenge. Its climax -- bloody retribution for bloody acts -- can in its strange way be called optimistic.
The story dates from some 2,400 years ago, according to various sources, and its stage version can be traced to the 13th century playwright Ji Junxiang, whose play and its offshoots remain staples of Chinese theater and even a recent movie. Translated into French by a Jesuit missionary in the 16th century, Ji's drama has spawned adaptations in Italian, French, English and other languages, including one by Voltaire. In the 20th century it could well have influenced Bertolt Brecht, especially in The Caucasian Chalk Circle.
But that's history. Whether Orphan speaks to contemporary audiences as more than a cross-cultural period piece is debatable.
Apparently many San Francisco viewers find it marvelous. On opening night, ACT's production was greeted by a standing ovation from a huge portion of the audience in the Geary Theater. That doesn't happen often.
Much as I respect the work displayed by the cast of 12 as well as by the creators of the production's scenery, lighting, costumes and especially by the musicians who dispatch a complex and evocative score, the play lacks the quality that makes any theater piece resonate most powerfully: emotional engagement.
The tale contains enough anguish and tragedy to evoke shock after shock, and more than a few tears. But the performance style, which adheres to the historic Chinese conventions, dilutes its power and poignancy.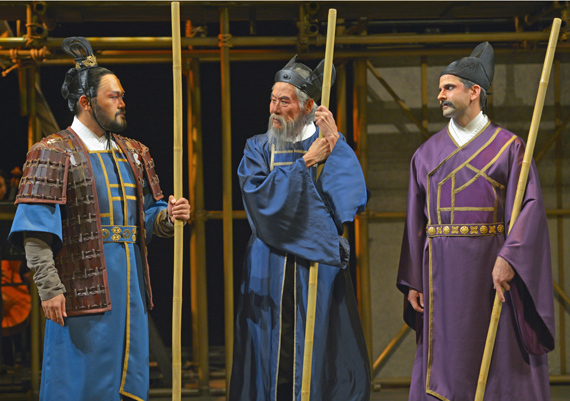 Nobles of the imperial court: Orville Mendoza, Sab Shimono, Nick Gabriel
Each of the principal movers of the drama's action addresses the audience, introducing himself along with his motivations and allegiances. That leaves only the plot to provide tension and surprise.
The epic stretches from the imperial palace to the far reaches of China, but its propelling events take place in the court of a dissolute emperor. He's a genuinely cheerful fellow who uses a newly constructed tower to indulge in a unique sport: using bow and arrow to shoot his subjects on the grounds below.
That pastime receives support and encouragement from courtier Tu'an Gu (Stan Egi), who aspires to succeed him to the throne. Skewering the populace doesn't sit well with three other members of the nobility, however.
Knowing they are powerless against the wily Tu'an Gu, the elderly Chongsun Chujiu (Sab Shimono) chooses to retire to a remote farm, while the general Wei Jiang (Orville Mendoza) opts to leave for distant places, along with his army. That leaves only Zhao Dun (Nick Gabriel), who is married to the emperor's pregnant daughter, to voice indignation about high-placed barbarism.
He's no match for Tu'an Gu, however. The conniver convinces the emperor that his son-in-law's is a traitor who must die, then gives Zhao the choice between execution or suicide. (That's a privilege reserved for the aristocracy; common folk suffer butchery, depicted in stylized forms that involve no blood on stage.)
His suicide is the catalyst for all that follows, including the offstage murder of every member of Zhao's extended family except his infant son, who is plucked from harm's way by a country doctor (BD Wong). The escape provokes Tu'an Gu to threaten death to every male infant in the country if the orphan is not found and killed, creating a harrowing quandary: Should the orphan be surrendered? Should thousands perish? Should another infant be passed off as the Zhao child, and sacrificed?
The predicament generates the drama's most agonizing interplay, but even here emotion is held in check by relatively rigid performances. The style offers a glimpse into ancient Chinese theater and into a philosophy that pits personal and social values against each other, but those insights fail to travel from the intellectual to the visceral.
That's playwright/adapter Fenton's choice, of course, but I would have appreciated a greater opportunity for empathy.
Daniel Ostling designed the towering but skeletal set, composed of bamboo-look tubes linked by ladders, stairs and platforms; Linda Cho did the excellent period costumes, ranging from armor to opulent robes to simple peasant garb; and Byron Au Yong composed the exotic and mesmerizing score, using a bowed and plucked cello, a violin and improvised or traditional instruments.
The Orphan of Zhao runs through June 29 in ACT's Geary Theater, 415 Geary St., San Francisco. Tickets are $20-$120, from 415-749-2228 or http://www.act-sf.org