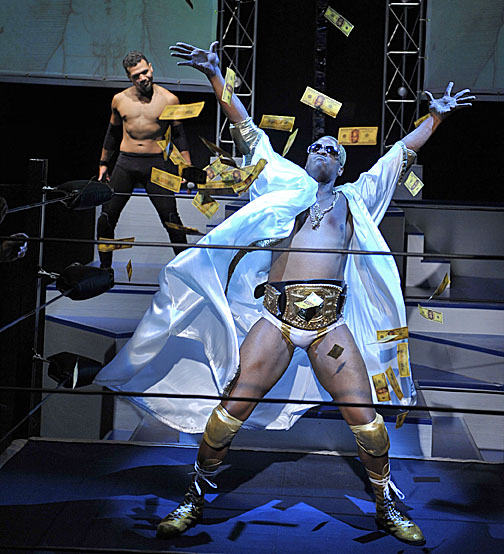 Chad Deity (Beethovan Oden) showers fans with cash; Mace (Tony Sancho) watches.
Forgive me, Herb Gardner, for lifting a few words that you wrote more than 20 years ago, in program notes for a play far gentler than Kristoffer Diaz's The Elaborate Entrance of Chad Deity. The comedy, a finalist for the 2010 Pulitzer Prize, launched Aurora Theater's 21st season on a flamboyant note a few days ago.
Gardner wrote this: "God help me, I love it. Because it's alive. And because the theater is alive, exactly what is terrible is wonderful . . . there is a chance of glory and disaster . . . the actors and the audience will take each other somewhere, neither knows where for sure."
Whatever its faults may be, The Elaborate Entrance of Chad Deity is Alive. Vibrant. Crackling with strobes and swirling spotlights and hip-hop sounds and huge videos and most of all with human energy. The story may be slight and obvious, but it sizzles as it satirizes a tacky genre of make-believe that regularly captivates thousands of Americans in arenas and millions more in front of their TV screens. And it gambles with the inescapable possibility of disaster.
Diaz shaped most of his characters as garish cartoons, but like good cartoons they were shaped around a framework of truth. Under Jon Tracy's direction, Aurora brings them to life through over-the-top performances by actors who can deliver not only a perfectly inflected line or a perfectly preposterous pose, but also can manage a pretty convincing body slam.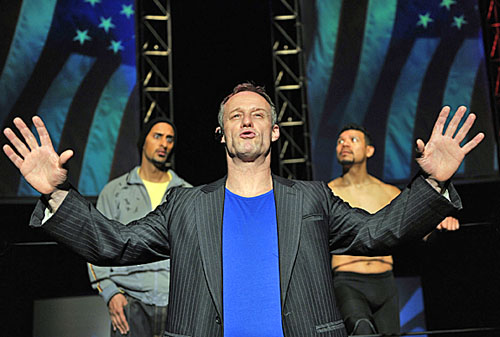 Rod Gnapp lays out a huckster's grandiose vision to Nasser Khan (left) and Sancho.

The play uses professional wrestling as a metaphor for all sorts of perceived American sins, and treats promoters and athletes alike as partners in a flashy scam whose spectacles separate enthralled and willing suckers from their cash. And like professional wrestling, where winners and losers are predetermined but accidents occasionally happen, a show that employs athletics is unusually subject to mishaps also.
That happened on opening night, when lithe and well-muscled Tony Sancho -- as the play's narrator and most sympathetic character -- leaped into the fight ring that fills the center of Aurora's small stage, knocking one of its boundary ropes from its corner mooring. Sancho fell but didn't miss a beat; the show went on, with its pseudo-violent choreography undoubtedly improvised until repairs could be made at intermission.
The most obvious and egregious of Diaz's targets is epitomized by Everett K. Olson (Rod Gnapp), founder of a circuit known as THE Wrestling and familiarly known as EKO. THE's success rests on EKO's ability to create heroes and villains: oversized personalities that crowds will adore or hate, and will follow with the intensity that surrounds so many celebrities in this media-saturated era.
Gnapp's masterful acting turns EKO into a loud and vulgar exemplar of oiliness, cynicism and cruelty, as well as an equal-opportunity bigot.
THE's hero of the moment is Chad Deity (Beethovan Oden), a big and buff black man decked out in gold from his short-cropped hair to high-topped boots. His wrestling skills are minimal, but he oozes charisma from every pore. And charisma sells.
That's where Sancho, as Macedonio "The Mace" Guerra comes in. If Chad is the ring's ruler, Mace is the skillful serf who protects his interests. He knows how to take falls that look authentic, in the process making Chad and his counterparts look terrific.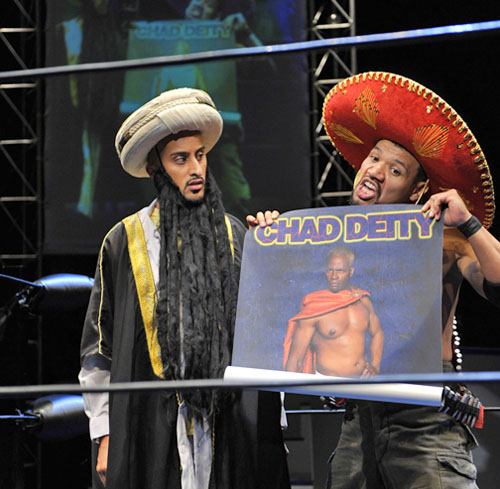 The art of promotion: Khan as The Fundamentalist, Sancho as Che Chavez Castro
Mace also understands his place in the spectacle's grand scheme, and has no regrets about his lowly status and minimal pay, at least in the early going. A rabid fan of wrestling since early childhood in the Bronx, he revels in toiling at something he loves.
But EKO's crassness and his passion for exploiting anyone and everyone ultimately push Mace over the edge.
When Mace discovers a potential prodigy to add to EKO's stable of stars, he is appalled by the promoter's response. The new find, an Indian-American named Vigneshwar Paduar (Nasser Khan), has no wrestling experience but, like Chad, brims with charisma.
That's not quite enough for EKO, who insists on reshaping that charisma into something that crowds will instantly recognize and loathe. Paduar's ethnic background is irrelevant: In the ring, EKO commands, he'll wear a turban and long black beard and be identified as a Muslim terrorist. The name he'll carry is The Fundamentalist, and Mace will be his straight man, a Latin known as Che Chavez Castro.
But the best-laid plans have a way of going awry.
Burly Dave Maier rounds out the cast, softening up the audience before the show and playing three gaudy wrestlers during the action that follows. A veteran stage fighter and fight director, he may be as important to the production's success as director Tracy and designers Nina Ball (set), Kurt Landisman (lighting) and Cliff Caruthers (sound).
The Elaborate Entrance of Chad Deity runs through Sept. 30 at Aurora Theatre, 2081 Addison St., Berkeley. Tickets are $32-$50, from 510-843-4822 or www.auroratheatre.org.
Photos by David Allen