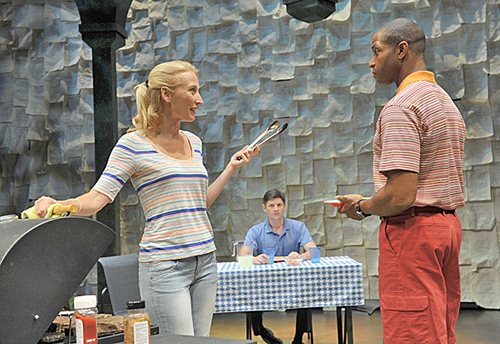 Sparks at a barbecue: Belinda (Carrie Paff) and Cody (Aldo Billingslea), observed by nameless high school friend (Gabriel Marin)
Photos by David Allen
Covers of Aurora Theatre's programs usually offer some broad hint of the tone of the plays they introduce. For This Is How It Goes, the illustration goes quite a bit further: Two hands are clasped around the thorny stem of three intertwined roses; a female hand is white; a male hand is black; a subtitle declares The Truth Is Always of Some Importance, with emphasis on the word "some."
Race, sex, three thorny relationships, dubious truths: Schematically, that's the spine of Neil Labute's taut but hollow play, which is receiving a riveting production in its Bay Area debut at Aurora.
To expand that summary a bit, let me share a couple of truths spoken by a nameless narrator who alternates between recounting events and participating in them.
Early in the play's 90 minutes, he addresses the audience with an admission that is hardly needed: "I might be an unreliable narrator"; later he drops a line that Paula Deen, among many others, would certainly appreciate: "A word only has power if you let it." The quotations might be slightly off, but their message is not.
Beyond that, truth is up for grabs, which makes for interesting post-show conversation and speculation but illuminates only Labute's ability to merge tension with laughter. He is a first-rate craftsman and one of the most-produced playwrights of recent years (The Mercy Seat, Fat Pig, The Shape of Things, etc.) but This Is How it Goes offers little depth to go with the polish of its surface.
The narrator, identified only as Man, opens the play on a comic note, slipping timidly through a door in the back wall and disporting himself as an awkward, self-effacing nerd. That's one of several façades he presents, in a skillful performance by Gabriel Marin.
The awkwardness dissipates after an apparently chance encounter with former classmate Belinda (Carrie Paff), whom he remembers as a radiant beauty in their high school days. Now she's a wife and mother, married to an ex-jock, and obviously unhappy. The setting is a small midwestern city -- a crucial fact -- where the narrator has returned after an absence of 15 years.
If truth is a casualty throughout the play, the facts about the narrator are the hardest to pin down. At one point he describes himself as a former lawyer who gave up that profession to try his hand at writing, a la John Grisham. At another point he details his departure from the legal profession in far grittier and uglier terms. His shared memories of more recent events are similarly open to question.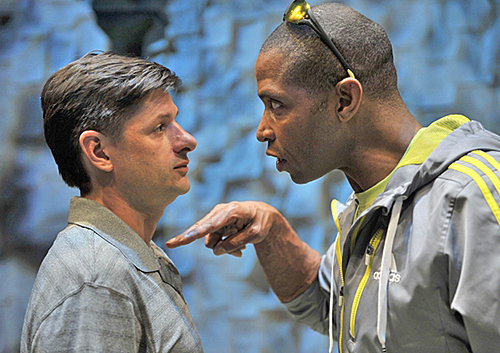 Cody (Billingslea) makes an emphatic point to an old friend (Marin)
The married couple's background and icy relationship comes through much more clearly and persuasively. We learn that Belinda was drawn to husband Cody (Aldo Billingslea) because he was both a superstar athlete and black: one of the very few black teens in town. Pairing off with him gave a huge boost to her social visibility and status.
For him, connecting with a popular, gorgeous blonde served precisely the same function.
But time has eroded the novelty of their bonds and nothing, not even the children, has arisen to take its place. Besides that, Cody has become one of the most successful businessmen in town, propelled it seems by determination, pride and a mean streak that never softens.
LaBute takes them through a dizzying series of twists, turns and reversals, shifting between live action and the narrator's recollections, deceptions or fantasies. Kurt Landisman's lighting varies between bright and subdued tones to signify the difference.
Those twists include a peek into the interplay among the three in high school, where the narrator had an intense crush on Belinda, she barely noticed him, and Cody manipulated both. Years later, memories of those days burn intensely in the Man, though they have been all but forgotten by the couple.
Race is certainly an element in the triangle, even a constant undercurrent, but not the factor that determines the play's outcome. That is shaped much more strongly by the forces that drive both men, neither of whom would qualify as a nice guy. They bristle, they connive, they struggle, while Belinda remains essentially passive and somewhat inscrutable.
The conflicts suggest a belief that racism is universal, at least to varying degrees, and capable of bursting out in ugly forms under provocation. If that is LaBute's point, it's worth considering. But that's just one more puzzle that surrounds "This Is How it Goes."
Director Tom Ross and all three performers give LaBute's text all the sizzle it might hold, but sizzle alone doesn't make a fully satisfying play.
This Is How it Goes runs through July 21 at Aurora Theatre, 2081 Addison St., Berkeley. Tickets cost $32-$50, from 510-843-4822 or www.auroratheatre.org