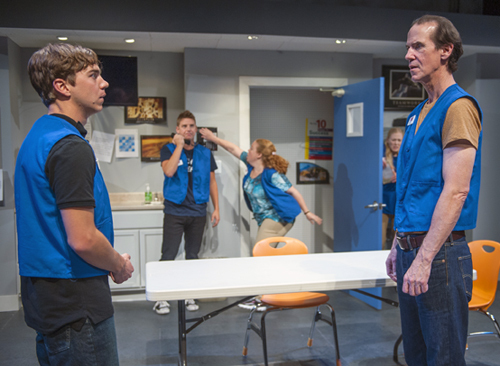 Will (Robert Parsons, right) confronts son Alex (Daniel Petzold) as other employees scramble in Hobby Lobby break room.
Photo courtesy of David Allen
When life fails you in every conventional, visible way -- a marriage shattered, a child lost to adoption, a job that brings no satisfaction and little income -- maybe God can provide an answer. But when God fails, then what?
That quandary faces the 40ish protagonist of A Bright New Boise, Samuel D. Hunter's intense comedy-drama, as the stage lights go dark for the last time. It also faces us, if we choose to address it.
An Obie award winner in 2011, the play is receiving a theatrically compelling, fierce and often funny Bay Area premiere at Aurora Theatre in Berkeley.
An apocalyptic strain of Christianity is central to protagonist Will's existence, yet he finds himself needing something more immediate and concrete to embrace: connection with his long-estranged son, Alex. The craving for a human bond followed the collapse of an evangelical cult where Will had worshipped until scandal brought it down.
Connecting and bonding are rare events in Will's abrasive world, however. Although he moves from the cult's rural roost in northern Idaho to relatively urban Boise and takes a minimum-wage job in the Hobby Lobby store where Alex works, open arms don't await him.
What he finds instead is suspicion, insecurity and cruel hostility, fueled in large part by conflicts over belief and values. Those values are secular as well as doctrinal.
Playwright Hunter seems to be an equal-opportunity skeptic who blends sympathy for his characters with animus toward their motivations.
Despite Will's certitude about an impending apocalypse that will bring the brilliant light of rapture for true believers, he is the most approachable of the play's five characters. In private he may plead for the world's fiery end but with others he seems restrained, malleable, even gentle. When pressed, he will share the tenets of his creed, but only extreme stress in will make him raise his voice.
Robert Parsons handles the role superbly, skillfully shading Will's many moods. His performance is by far the strongest element of the production.
Will's nuances stand him in sharp contrast against the other four, none of whom displays any subtlety of character.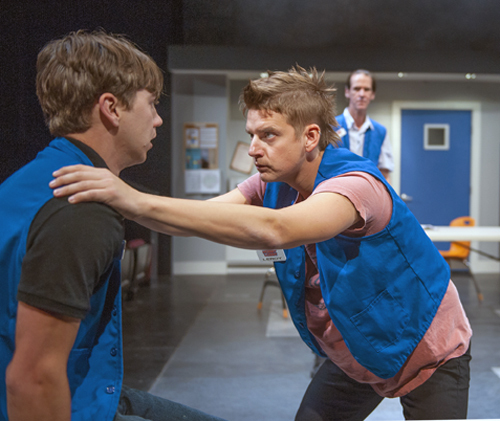 Leroy (Patrick Russell) tries to calm a panic attack by Alex (Petzold) as Will (Parsons) watches.
Photo courtesy of David Allen
Alex (Daniel Petzold) bristles with barely suppressed rage, expressed most often in cryptic monosyllables. In speaking with his father, he insists on listening only to what he wants to hear and shouts "Stop!" when Will crosses a verbal boundary.
Store manager Pauline (Gwen Loeb) cares only about the orderly and profitable operation of the business, and makes those goals clear in obscenity-laced tirades. Her employees' religious beliefs mean nothing to her, so long as they don't interfere with the outlet's smooth operation.
Co-worker Leroy (Patrick Russell), who happens to be Alex's stepbrother, spews contempt for his employer as well as customers, but he stays employed because he knows the stock better than anyone else. Credit that to the fact that he's an artist, and so proud of his output that he wears examples of it to work daily. His oeuvre: T-shirts emblazoned with expletives or such profundities as "You Are Meat."
And co-worker Anna (Megan Trout) is a puzzled young woman who tosses prying questions at Will with genuine innocence, then cringes with apologies and facial contortions that convey abysmal self-doubt. About the only thing that she can tell him with assurance and cheerfulness is that her warm and welcoming Lutheran church is "just a nice community organization." And he should try it.
The invitation is enough to make an apostle of Armageddon plead for an end that can't come too soon.
Will's plea is frightening as well as moving, but the tautly staged drama that inspires it fails to deliver any fresh insights into either apocalyptic fervor or dysfunctional families. Considering the enthusiastic response that Boise won from Obie voters and others, I suspect something may have been lost in director Tom Ross's handling of the material.

A Bright New Boise runs through Dec. 8 at Aurora Theatre, 2081 Addison St., Berkeley. Tickets cost $32-$60, from 510-843-4822 or auroratheatre.org.