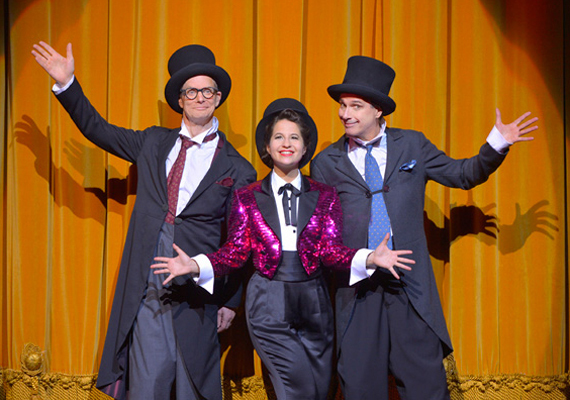 Bill Irwin (left), Shaina Taub, David Shiner: purveyors of fun and more
Photos by Kevin Berne
Has ACT's Geary Theater ever rocked with laughter to match the roars that greeted Bill Irwin, David Shiner and friends at the opening of Old Hats, which just kicked off the company's 2014-15 season? Possibly, but never in my experience with ACT, which dates back to the late '60s.
Irwin and Shiner raise the craft of slapstick clowning -- complete with floppy shoes, baggy pants and, yes, top hats -- from the kind of blithe comedy that you can see in any circus to an art that meshes the pursuit of laughs to sharp and poignant sketches of humanity. Whether they grin in triumph or sag in failure, they take viewers on a journey that we all can understand, and usually find hysterical.
They compliment and compete with each other in skit after skit, some purely exhibitions of fertile wit and extraordinary physical skills and others touching deeper wellsprings of commentary or emotion.
In Old Hats, their first theatrical collaboration since the Tony-winning Fool Moon, the pair share the stage with singer-keyboardist Shaina Taub and four instrumentalists, who inject lively interludes while giving the clowns -- and the audience -- a few pauses from a deluge of hilarity that might otherwise be wearing. The songs also provide what is probably a welcome respite for Irwin and Shiner, who may be the most agile and athletic seniors that we'll ever see. Both are near or past 60.
The show opens with an almost obligatory schtick with top hats: twirled, spun, rolled across backs, flipped high and caught with their heads, and on rare occasion allowed to fall to the stage. The bit may be old hat, but in expert hands it's lively fun.
After that, everything's fresh:
They do a wonderful silent take on a political debate, as candidates skewering each other with silent insults and blows, indulging in baby-kissing that no baby could survive, struggling to outdo each other as paragons of patriotism, and demonizing gays before flipping attitudes and pandering to gay voters.
All this takes place in front of a scoreboard with huge red arrows that swing up and down according to the effectiveness of the latest ploy.
In what may be the show's most audacious bit, Irwin shines in a send-up of our relationship with technology, graduating from selfies taken with a smartphone to warring with himself on a tablet, which uses his own image to bite him, and later dueling with himself projected hugely on a stage-wide screen.

And Shiner generates the show's most touching moments, as a hobo. Seated on a park bench, he reaches into a trash barrel and plucks out a cell phone, a teddy bear, a bolt of white satin suggestive of a bridal gown, other objects. In almost every case, the prop brings moments of joy, then heartbreak.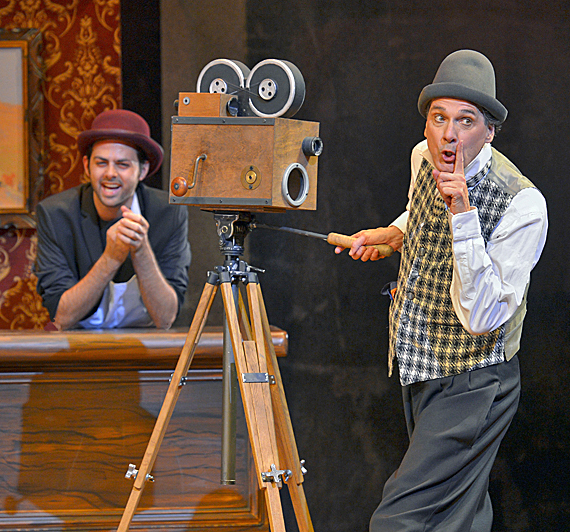 Movie-making is a zany business when David Shiner runs the show.
The clowns pair up brightly as middle-aged gents who meet on a railroad station, duel in shriveling and elevating each other (physically as well as emotionally), then evolve into pals who exchange samples from their pill boxes. The pills are potent, with hilarious effects.
The second act finds Irwin and Shiner shattering the norms of clowndom, going vocal. When Irwin breaks into the first bars of the title song from Oklahoma!, Shiner counters with a dash of familiar Shakespeare, and on it goes.
Like all good clowns, they also work hard and succesfully at connecting with the audience, plunging into the house, spewing sight-gag insults and delivering hugs and kisses to the vulnerables in the front row.
They also scour the house for partners in a two flamboyant numbers: One involves Shiner as a sleazy magician, Irwin as his disgruntled female assistant and a lass from the audience who submits to being placed in a box and sliced in half; the other parodies the filming of a Wild West silent movie, with five conscripts learning their roles from a mugging, groping, pratfalling Shiner.
Both skits bring down the house, though it's hard to believe that the conscripts, whose stature, attire and skills fit their roles to perfection, were spontaneous picks. But who could fault the pros for using ringers?
The target is laughter, and Irwin, Shiner and all who abet them hit the bull's-eye.
Old Hats runs through Oct. 12 in ACT's Geary Theater, 415 Geary St., San Francisco. Tickets are $20-$120, from 415-749-2228 or act-sf.org