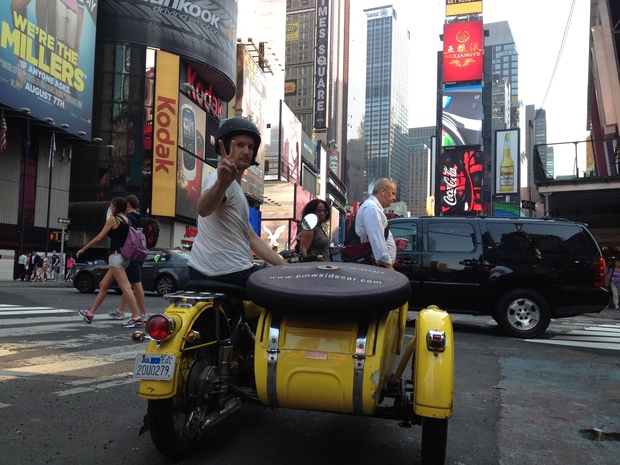 "Let's all be awesome!"
The voice in your head
Traveling across America on Kindness ONE® has not been an easy endeavor. You see, Kindness ONE® has a nasty little habit of getting a little bit too grumpy. (Editors note; in his defense Leon, he is a 1978 built bike after all!). He doesn't particularly like the mornings. In fact he hates mornings and sometimes won't even get out of bed (that's code for the bike just will not start). To add to his neurosis he is not very fond of cities, as he dislikes the stopping and starting. Oh those pesky traffic lights I keep teasing him... However, for all his grumpiness he is a true workhorse and managed to bring me safely to New York City. For that I am eternally grateful.
As finally I arrived in Times Square, with Kindness ONE ® overheating, again, I was struck by the magnitude of what we had 'all' achieved. I say all because Kindness ONE®, Leon Logothetis (that would be me!) and the good people of America have done this all together. I know that we have by no means completed this journey across the globe but the first leg has been navigated successfully
The next stage of the adventure involves a container ship from New York to Europe. Before this adventure started I needed to do a bit of pre planning and called many shipping companies asking them for free passage across the Atlantic. Both for me and Kindness ONE®. I received a rather luke warm response and was beginning to feel the haunting winds of dejection wash over me. It was absolutely imperative that I cross the Atlantic for free and my only hope was a cargo ship.
As my confidence waned, I eventually found a company willing to help the cause. Their kindness and generosity has made it possible for me to continue this journey on the kindness of others. I leave tomorrow on an 11-day journey across the vastness of the Atlantic. Europe awaits and so does a lot of time for contemplation...
I am currently on a journey that is powered by the kindness of strangers. With no money, no credit cards, no gas and no place to stay, I am circling the globe on a bright yellow, vintage motorcycle with a sidecar, Kindness ONE® (Sort of like Air Force One, but kinder). Please click here to read more.