This December brings mixed emotions for me. On one hand, I love the cold of winter! On the other, I recently moved to L.A. where we have one long "It's Warm Out Today But You May Want To Bring a Light Coat With You Because It Might Be Just Chilly Enough That You'll Need It" season all year long, so it doesn't matter!
But for music blog readers everywhere, December means the onslaught of Year-End Lists, which is always funny to me because: Who cares? But they're fun to read, and I especially love reading all the comments by readers who are APPALLED that the list doesn't match their own personal lists to a T. RUMOR HAS IT IF ALT-J RELEASED YOUR FAVORITE RECORD OF THE YEAR IT CAN STILL BE YOUR FAVORITE RECORD OF THE YEAR EVEN IF THE OTHER READERS OF STEREOGUM.COM DON'T AGREE WITH YOU. But I haven't come to discuss hilarious Year-End commenters. I've come to tell you about my favorite music this year.
This was the first year in a long time that I bought and liked a LOT of records. There are so many to choose from! Did you guys like Celebration Rock by Japandroids? I did! What about Miguel's Kaleidoscope Dream? Probably my favorite album of the year. That being said, when somebody asks you what your favorite piece of music was in 2012, there is only one correct answer:
"Call Me Maybe."
I often like to brag that I was pretty early in my support of "Call Me Maybe" as The Best Pop Song Since "Single Ladies," as evidenced by this Tumblr post, roughly three months before it really took off. I had a Workout Mix that consisted of the song on repeat 11 times in a row. One of the highlights of my year was having THIS AMAZING PICTURE taken with Carly Rae Jepsen.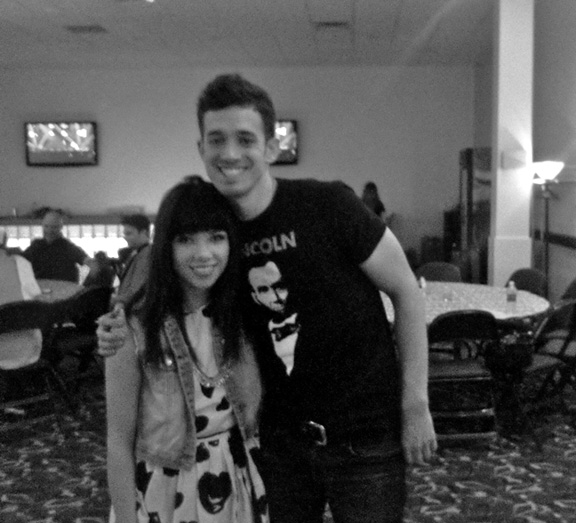 The point is, I love this song, and not just because I think it's absurdly catchy, but because I delight in the fact that it was a pop song that captivated just about everybody. From teeny boppers enjoying the best of an art targeted directly at them, to music snobs throwing their hands up in submission and saying "Look, I can't help it, I am inexplicably obsessed with this song." Everybody had "Call Me Maybe" on repeat this summer, and it made me supremely happy. It's an achievement that is becoming rarer and rarer where it used to be commonplace. It wasn't too long ago that every year used to bring a "Cry Me A River" or a "Crazy In Love" (or both! As was the case in 2003). Now we're left with... I dunno... whatever the 19th single off of Rihanna's most recent album is.
And yet, Spin magazine placed the song at #7, despite titling their list "This Is Crazy, Here's Our Numbers." Much to nobody's surprise, Pitchfork put the song at a measly #29 (and it's not because they scorn pop music: Usher's "Climax" appears at #3, and Nicki Minaj's "Beez In The Trap" shows up at #18). And come on, it barely even cracked Rolling Stone's list, taking the last-place spot at #50!
Is "Call Me Maybe" on par with great pop achievements of the past? Who knows. The production sounds like it was recorded on Garageband by somebody's cousin, and the lyrics in the verse are a total throwaway. But when that chorus hits, the rest of the world basically disappears, and it's been too long since I've had that feeling. So yes, I loved "channel ORANGE" by Frank Ocean and "Confess" by Twin Shadow and blah blah blah. But when I think of 2012, it will forever be the year of "Call Me Maybe" for me. And, though apparently many critics may be loathe to admit it, I have a sinking suspicion I am far from being alone in that opinion.