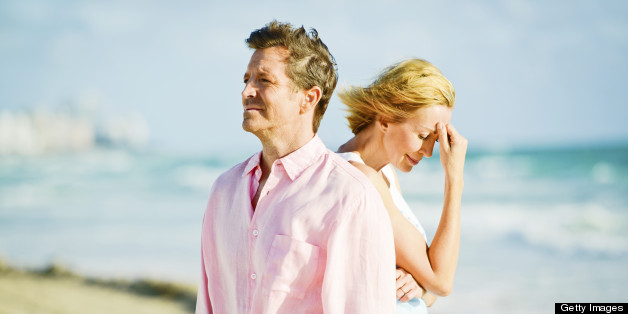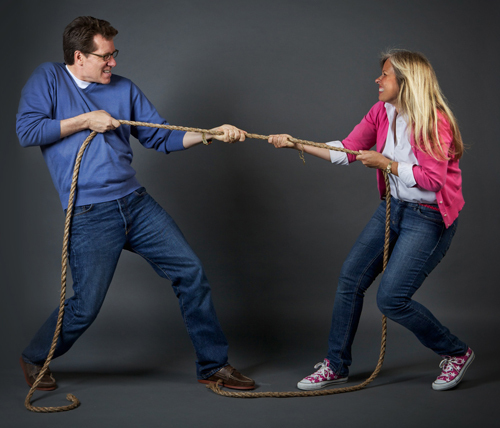 We not only share the same first name, but the same passion for helping other couples build better relationships. As a psychologist (Les) and a marriage and family therapist (Leslie), married since 1984, we don't claim to have a perfect relationship. We fight -- just like every other couple on the planet. But we've learned a secret: There's a revolutionary difference between a bad fight and a good fight.

When a couple learns to fight a good fight the conflict actually brings them closer. That's at the center of our latest book, The Good Fight: How Conflict Can Bring You Closer.

All couples fight over the same five things: money, sex, work, parenting, and housework. Most argue about these five issues over and over again, mainly because they are hot buttons -- stressors that speak to our sense of love and fairness.

Here are some proven tools to help you cool down "The Big Five."

Money
Allow us to say it straight: Money fights between couples are rarely about money. So if you want to minimize a currency conflict, trace it back to the fear that's fueling it.

Instead of fighting over the amount of money that was spent on who-knows-what, shift the focus toward what really matters: (1) your fear of not having influence in important issues impacting your life, (2) your fear of not having security in your future, (3) your fear of having no respect shown for your values, or (4) your fear of not realizing your dreams.

Sex
To keep sexual grievances down and the marital bedsprings bouncing, we recommend focusing on solving "coordination failure." It's a common problem in marriages. The number-one reason people report not having sex in their marriage is "too tired," followed closely by "not in the mood." Most of the time, that's code, knowingly or not, for having mismatched libidos.

Next, discuss your sex drives. As we write this, we can almost feel you cringing. For most couples, talking about sex is about as comfortable as sleeping in a car. Yet it's a conversation that's critically important to aligning your libidos and minimizing your conflicts. When the time is right, when both of you are relaxed and not distracted, ask each other to explain when you feel most frisky? Your answers may surprise you. A friend recently discovered that his wife found him sexiest when he wore a suit. He joked that he was thinking about wearing it to bed.

Work
We've got two words for you: date night. We know. You've heard this a thousand times: Do a weekly date night or your marriage will suffer. Sounds more like a threat than friendly advice, doesn't it? But it's a surefire way to keep career conflict to a minimum.
In spite of this frequent advice, the message doesn't seem to be getting through. Here's how often married people, aged twenty-five to fifty with two or more children, have a date night:
Once a week: 4 percent
Once a month: 21 percent
Once every two to three months: 21 percent
Once every four to six months: 18 percent
Once every seven months or less often: 36 percent
Yikes! We can do better than that, and there's good reason to do it. The National Marriage Project at the University of Virginia recently released a report titled "The Date Night Opportunity." This study found that husbands and wives who set aside a deliberate time to connect and have fun at least once a week were approximately three and a half times more likely to report being "very happy" in their marriages.

Children
The solution for nearly any parenting conflict is found in getting on the same page and presenting a unified front. Otherwise, your kids play you against each other and add fuel to the parenting fire. Conflict decreases as teamwork increases. It may not be easy to agree with your spouse on the rules and standards you are willing to enforce with your kids. That's why the first order of business is to iron out differences behind closed doors.

Don't try to solve your parenting squabbles in the moment -- while the kids enjoy the show. The time for presenting your ideas and negotiating trade-offs is when the two of you are alone. Once you reach agreement, stick together. When parents present a united front, there's no room for recriminating I-told-you-so's.

Chores
Let's face it, most housework fights come about because one spouse is keeping score. That's a bad idea. The scales of marriage are always in flux, and you're only setting yourselves up for turmoil if you've installed a figurative scoreboard in your relationship. Using the division of labor approach does away with all that.

Trina, for example, is better and faster than Dan at both doing the dishes and tidying up around the house. In fact, she does it in half the time it takes him. Given this fact, does it make sense for Dan to do either of these tasks? Not really. What does make sense is for Dan to refresh the water bowl for their pet and prepare their child's room for bedtime. He's also quicker at organizing and tracking their finances. He does it in half the time it would take Trina. He's also pretty good at ironing his own shirts.

You get the idea. It's simple. Quit trying to divide the household chores down the middle. Marriage is lived best when you're not trying to balance the scales.
Photo by Brandon Hill.