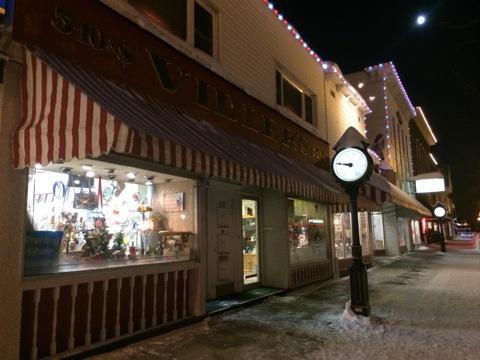 Ed and Bob Vidler's parents would keep the family variety store open on Christmas Eve until the last customer left. Under the tree, the boys would get as gifts whatever went unsold from the night before.
Ed Vidler told me that story a quarter century ago as we talked about the impact a soon to be constructed mega-mall would have on local businesses.
Vidler's five and dime survived the mall, just as it had survived wars, recession, births, deaths and more recently, the threat from internet shopping.
Stepping inside reminds you of the imagery created by Scrooge's ghost of Christmas past of a more innocent time. Smells of popcorn in a vintage machine, pumped into a small bag for 10 cents, the creak of the old wooden floors, colorful dispensaries of penny candy, a mechanical riding horse for children. Over there, metal toy cars, dolls, marbles, spools of thread, scented candles.
The distinctive red and white awning is the centerpiece of a cardboard cutout town called East Aurora, about 20 miles south of Buffalo, New York. A place so quaint, the fire hydrants are painted like Dalmatians, firefighters and various toy characters.
Kids of yesteryear who grew up going to Vidler's, have introduced their own to a piece of the past.
But for all their home-spun genuineness, the Vidler brothers became great marketers. They played on their resemblance to the characters in the Bartles and Jaymes TV commericals of the 1980's by running a series of take off ads. And yes, that's a Vidler-on-the-roof of the store in the form of a monster sized Ed Vidler.
Bob died earlier this year at the age of 88. His brother, Ed is retired. Their off-spring still run the place, just like it's been run for over 80 years.
When I lived nearby and found my head spinning and my pocketbook depleted and my senses overwhelmed by the craziness of mall Christmasness, I'd stop in for some final odds and ends and rediscover magic.
Vidler's does offer online shopping now, but you should go there in person. Go on Christmas Eve. Preferably in the final minutes before closing time.