Now, I'm the first to admit, I love football Sundays not for the thrill of the game, but because my husband takes the kids to his brother's, giving me a solid three hours to catch up on my DVR, sneak in a real workout and, maybe best of all, go to the grocery store when it's nearly empty.
And Super Bowl Sunday? Well, I'm always up for a party -- especially one that involves chicken wings, seven-layer dip, potato skins and beer. And while I may not be concerned with the score, I definitely keep tabs on the commercials and half-time theatrics.
But, as a Denver resident for nearly 15 years, this Super Bowl is different. See, when the Denver Broncos face off against the Seattle Seahawks on Feb. 2, I'll be watching -- and cheering -- probably even during the non-commercial parts. I mean, I even bought the kids orange Bronco T-shirts and wore a team jersey to the office. This is serious.
However, I hate to look like one of those bandwagon jumpers (even though I totally am), so I decided to do a little Super Bowl research to at least make me sound like a real fan during the big game. If you, too, enjoy an empty grocery store on Sundays, feel free to study up on this game day trivia play-by-play.
Now, go Broncos! XOXO (that's football lingo, right?)
Seattle fans be crazy: It's one thing to paint your face in team colors, don a wild wig or name your dog after your favorite player. But to bestow your newborn baby girl with a moniker like Cydnee Leigh 12th Mann, as one diehard Seahawks fans couple did? Apparently, that's what Seahawks fans call themselves, the 12th man. And here we thought Dweezil was a poor choice.
But Denver fans are, too: Denver's 9News reports Broncos tattoo requests are increasing so much that at least one local inker had to bring in more artists to keep up with demand. In fact, Endless Ink Tattoo is vying to top the record for the most Super Bowl-inspired tattoos. (Fun fact! The current record is 303, by the way, which, coincidentally, is also a Denver area code.)
Make a friendly wager: Sure, there are plenty of Vegas gamblers busy betting on the big game, but I prefer to point out the good-natured wagers going on between the competing cities' politicians: Should the Broncos win, Seattle Mayor Ed Murray must send Denver Mayor Michael Hancock a care package including salmon, Dungeness crab, a bicycle and a Dale Chihuly glass piece to be auctioned for a Denver homeless program. Should Seattle win, Hancock will pony up green chile, a hoodie, baseball cap, handmade skis and an auction item to benefit a Seattle AIDS alliance. Oh, and Murray will have to wear Broncos pjs in public, while Hancock will have to wear a thrift shop outfit in front of his city. The local museums are also getting into the spirit, with the Denver Art Museum loaning a Frederic Remington bronze cowboy statue for three months, and the Seattle Art Museum vowing to loan a carved Seahawk mask.
Drop some entertainment knowledge: When the guy next to you asks who that woman is singing the national anthem, let the poor uncultured man know it's the legendary Renee Fleming, the first opera singer to ever perform The Star Spangled Banner at the Super Bowl. She also has four Grammys -- that's two more than half-time performer Bruno Mars, who will be joined on stage by the Red Hot Chili Peppers (and they have six Grammys, if you're keeping score).
Ogle some cute animals: The kids (OK, OK, I totally want to see them, too), will want to check out adorable puppies and kittens, no doubt. Flip over to the Puppy Bowl, now in its eighth year on Animal Planet for many "awwwws" starting at 3 p.m. EST. But don't miss the first ever Kitten Bowl, taking place on the Hallmark Channel, where the fur starts flying at 12 p.m. EST.
And don't forget about groundhogs: It may be Super Sunday, but Feb. 2 is also Groundhog's Day, you know, that day when Punxsutawney Phil predicts an early spring or a long winter. But the game shouldn't take too much away from the rodent. Phil does his thing at 7 a.m. EST, well before the 6:30 p.m. kickoff. (Note to self: Sneak in a viewing of Bill Murray's classic movie before watching kittens.)
Pass the guac: As you're dipping into that bowl of guacamole goodness, share this factoid from avocadocentral.com: More than 41 million bowls of guac are expected to be served on Super Bowl Sunday -- that's enough the fill a football end zone from one end to the other, just over the top of the goal post. We're gonna need more chips.

Go ahead and wing it: Oh, and the National Chicken Council estimates 1.25 billion chicken wings will be served on Super Sunday. We're gonna need more ranch.
Say hi to Uncle Jesse: Who knew my kids would be so into -- nay, obsessed -- with Full House reruns? I'll be sure to warn them that the dads of the popular '90s series will be reuniting for a Super Bowl commercial. Adweek reports Uncle Jesse (John Stamos), Uncle Joey (Dave Coulier) and Danny (Bob Saget) will team up for a Dannon Oikos yogurt ad. Have mercy!
Speaking of those commercials: Forget trying to load up on stats on pass completions. Someone at the party is bound to question how expensive Super Bowl ad time is. Here's your chance to swoop in: Industry insiders put the price tag at $4 million to $4.5 million for a 30-second spot -- and, yes, all 65 or so spots were sold out before the end of 2013.
Now, about that weather: With the big game taking place in East Rutherford, N.J. -- at MetLife Stadium which has no dome -- it's expected to be a wee bit chilly come kickoff. Like, a low of 24 degrees chilly. When your fellow partygoers note how freezing everyone in the stands look, you can tell them they may just be the coldest Super Bowl fans ever. The 1972 championship held in New Orleans holds the current record, when it was a balmy 39 degrees. Layers, people. Layers.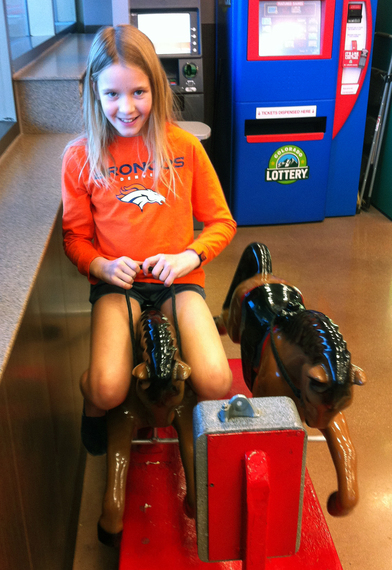 My daughter, in Broncos gear, riding a horse at the near-empty grocery store during the fourth quarter of Denver's AFC Championship victory.
Lesley Kennedy writes for ShopAtHome.com. Follow ShopAtHome on Instagram @shopathome and Lesley on Google+.