For the second holiday season in a row, Americans are short on jobs and treasure. Yet many of this month's magazine gift guides and advertisements are still begging us to buy a preposterous array of prezzies and "stocking stuffers:" a $400 dollar pair of boots here, a $2,000 designer handbag there, a box of artisanal chocolates that cost as much as the GDP of Ghana.
I personally have more than two dozen people on my gift list this year: even in the best of times, it wasn't exactly an option to shell out this kind of dough on material holiday cheer. Hopefully the recession has immunized us to blowsy marketing, and made us smarter and more thoughtful about the way that we express our holiday appreciation for our loved ones.
Last year, we ran a recession-friendly list of holiday gift suggestions. Without further ado, we present the 2009 edition. As usual, it is long on whimsy and easy on the pocketbook.
Happy holidays, and we look forward to your further suggestions in the comments section.
1. A photo album / scrapbook documenting your time together over the past year. Print out the best 2009 photographs from your hard drive and paste them into one of those wonderful, old-fashioned, black-page photo albums (using photo corners, of course). Also include: ticket stubs, cards from restaurants you visited, magazine clippings, that sort of thing. These days we document our lives on the treadmill-y news feeds of Facebook, but a diary-style scrapbook like this will be treasured for years to come.
2. On that note, how about a beautiful diary to document the next year? We are living in extraordinary times, and years later, diaries become windows into extraordinary times past. If you need inspiration on this point, check out The Red Leather Diary by Lily Koppel, The Great Depression: A Diary by Benjamin Roth, or The Unexpurgated Cecil Beaton, i.e. the wildly bitchy later journals of the society photographer.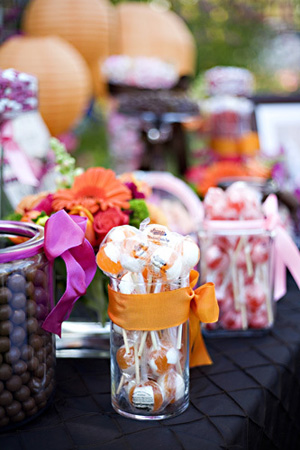 3. A collection of candy-filled mason jars. Standing in a row on a counter, these glass canisters make a beautiful sight. Go down to the hardware store, buy a dozen mason jars, and fill them up with brightly-hued, fruit-shaped runts; boldly-striped licorice all-sorts; candy necklaces and rings; chalky, pastel smarties. Or fill them with candy from the giftee's childhood. Old Time Candy sells sweeties according to decade: the 1950s box includes Atomic Fire Balls, Lemonheads, and candy cigarettes; fast forward to the 1970s assortment, and you'll find Pop Rocks, Nik-L-Nips, and Zotz Sours.
4. Order a passel of lovely "seed postcards," which literally have wildflower seeds embedded in the stationery. Then send the person twelve postcards -- one for each official day of Christmas -- and on the 25th, give him or her twelve little clay pots in which to plant the cards. Placed on a sunny windowsill, the pretty wildflowers will chase away the winter blues for weeks to come.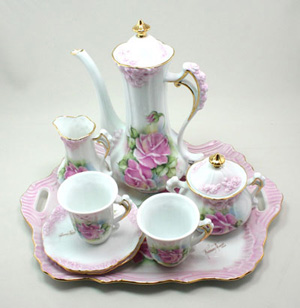 5. A pretty tea set is always a welcome gift: they portend hours of gossip over tea on rainy afternoons. Pearl River in New York City has some perfectly lovely and inexpensive sets, such as this rose-colored "Longevity Set"; Fishes Eddy also has a wide array of chic-ly mismatched proper little teacups and tea pots. And of course, don't forget the tea: a visit to famed tea shop, McNulty's - whether virtual or in person - is always a rich pleasure.
6. Red Chanel lipstick: all of the luxury of the entire Chanel enterprise distilled down to a black-and-gold tube. It lasts all year, and each swipe brings a timeless glamour that no $1000 pair of trendy shoes ever could.
7. Handkerchiefs for men. An old-fashioned elegance. The same for ladies: women always used to carry them in their pocketbooks. Take them to your local tailor and have them embroidered. People usually sew in their initials, but I like to have the whole first name stitched in.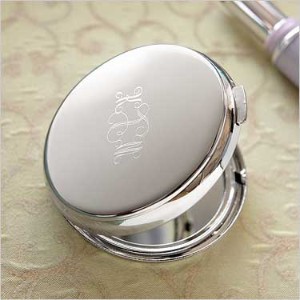 8. Another vanished pocketbook flourish that makes a lovely present: monogrammed compact mirrors. A flea market staple, such mirrors can also be bought relatively inexpensively at online bridesmaid retailers: you can pick from an array of pretty silver-plated designs and have the person's initials placed on the top for as little as $10.
9. Hotel stationery from the person's favorite hotel. Perhaps from his or her honeymoon hotel; maybe from the hotel of his or her dreams (mine: the Paris Ritz:). Or: how about a sampling from the most exotic and/or quaint hotels in the world (among my favorites: the American Colony in Jerusalem, the Soneva Gili in the Maldives, the Chateau Marmont in LA, the Soniat House in New Orleans in NOLA)? Just call the hotels and ask them to send you some samples. This gift essentially amounts to giving a trip around the world in a most unusual way.
10. Give a trio of date palms, for the giftee to set up in the living room or on the deck in the summer. Who doesn't need an oasis?
11. A beautiful, fat, bright orange goldfish, with a big glass champagne bucket for its home. Cheaper than a Matisse but just as beautiful.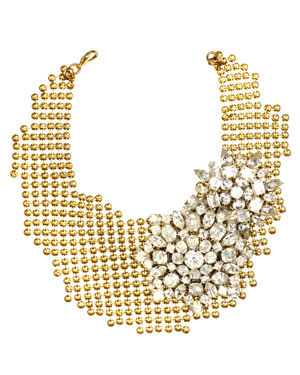 12. A Lulu Frost "corkboard" necklace. While a bit pricey, this piece will be a versatile part of one's wardrobe for years to come; you can take the deco pins off the brass mesh and put on your own. Pin on family heirloom brooches; buy new/old ones at your local flea market. Or why not make your own version? Have your local tailor mock up a cloth bib of the same proportions, and pin away.
13. Shrinky dinks. I know that this sounds patently absurd, but they now make blank Shrinky Dinks sheets: you can trace your favorite childhood book illustrations with permanent marker, shrink them down, and they become the most charming, unique Christmas tree ornaments.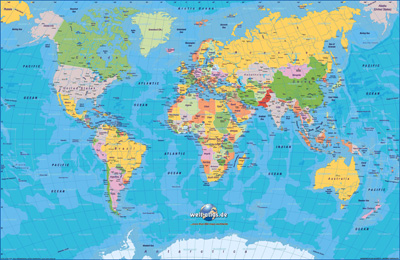 15. A pretty world map and a set of bright-yellow pins, to put into the destinations he or she most wants to visit.