In 2007, I launched on this site a column called Lets' Bring Back -- which has since celebrated hundreds of forgotten-yet-delightful fashions, pastimes, objects, and personalities.
From zeppelins to sealing wax, from turbans to typewriters, from Auntie Mame to the Ziegfeld Follies, Let's Bring Back has covered a lot of ground. Special editions of the column included a wildly popular Mad Men edition and the crowd-pleasing "Culinary Delectables" edition, among many others.
A few weeks ago, Let"s Bring Back made its official debut as a book. While this tome has itself been recommended in many gift guides, I've looked inside its pages for further inspiration about what to buy my nearest and dearest this holiday season.
Below are fifteen Let's Bring Back-inspired gift suggestions for your favorite nostalgists. Typewriters and flyswatters for Grandpa or Dad ... Victorian flip rings and tea sets for Granny and Mom ... wax fangs and lips for Junior and Junior Miss -- there is something here to amuse everyone.
The following material is excerpted from Let's Bring Back (Chronicle Books, November 1):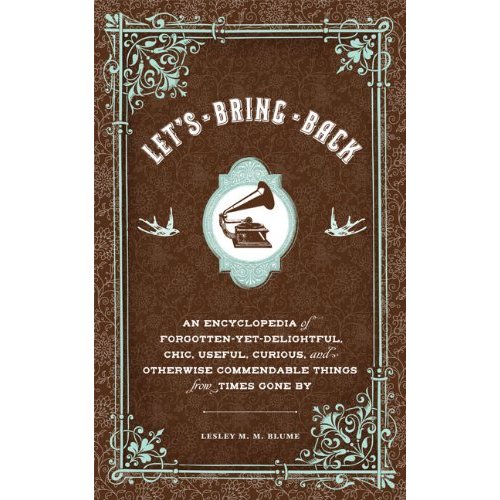 BUY THE BOOK: Click here to purchase Let's Bring Back.
Follow Let's Bring Back on Twitter: @LetsBringBack
For publicity inquiries, please contact April Whitney at Chronicle Books: April_Whitney@chroniclebooks.com