In 2007, we launched on this site a column called Lets' Bring Back -- which has, over the past three years, celebrated hundreds of forgotten-yet-delightful fashions, pastimes, objects, and personalities.
On November 1, 2010, Let"s Bring Back will make its debut as a book -- and in honor of its release, the Huffington Post's Style section will spotlight ten historical style icons featured in the book's pages.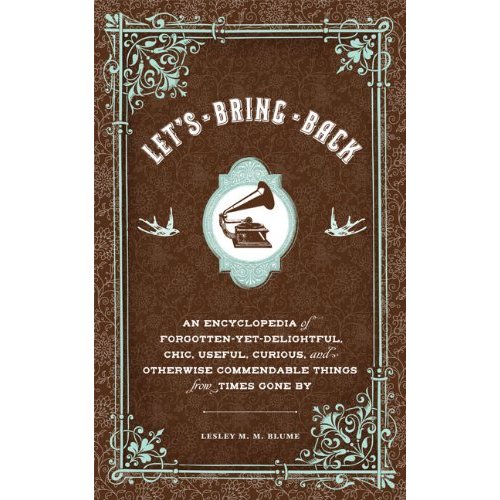 Many of these tastemakers, designers, and muses are now unjustly fading from public memory. Once you've spent some time with them, you'll agree that each of these women deserves to remain in the limelight.
After all, fashion is fleeting, but true style glimmers forever.
Our first ICON OF STYLE profile on performer Josephine Baker created quite a splash, and then many of you "met" brilliant hat designer Lilly Daché, our second ICON OF STYLE subject. Our third subject, Surrealist designer Elsa Schiaparelli, was once as dominant in the fashion industry as her then-rival Coco Chanel. This past weekend, we celebrated screen siren and war heroine Marlene Dietrich. And earlier this week, the world's first supermodel, Suzy Parker, and activist heiress Nancy Cunard resurfaced to dazzle the masses.
Today the Marchesa Casati -- extrovert, hostess, and patroness of the arts -- makes her debut as an ICON OF STYLE subject. Unlike our other style icons, Casati had her true heyday before World War I -- yet her occult-ish look continues to inspire history-minded fashion insiders generations later. The Marchesa Casati was truly the high priestess of eccentricity, as you will see below.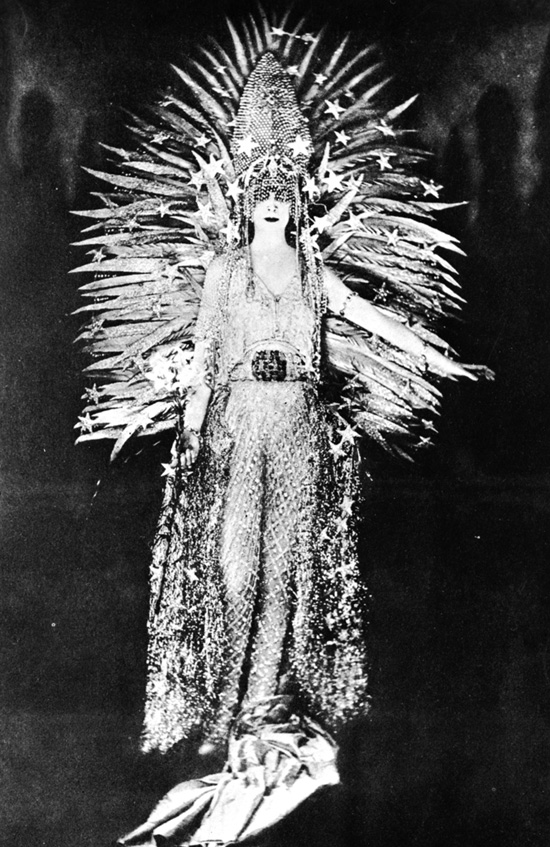 Italian patron of the arts Marchesa Casati wearing a costume which symbolizes light to a fancy dress party in Paris, 1922. The costume, designed by Worth, is made of a net of diamonds, incorporates a gold feather sun against a diamond tiara and has a glittering silver fringe.(Caption and photo courtesy of LIFE.com)
The following excerpt is from Let's Bring Back (Chronicle Books, November 1):
THE MARCHESA LUISA CASATI (1881 - 1957)
From her earliest years, Luisa, the Marchesa Casati Stampa di Soncino, had one goal:
"I want to be a living work of art."
To say that she achieved this goal is an understatement. The first step entailed transforming her physicality from merely fashionable to extravagantly unique. The Marchesa accomplished this in a number of ways: she lined her eyes with inches of black kohl, and even took the dangerous step of dilating her pupils with atropine to give her a certain come-hither gaze. The effect was alarming, to say the least.
The next step: turning her surroundings into an appropriately extravagant backdrop and stage. The heiress purchased a crumbling palazzo on the Grand Canal of Venice; her parties there became the stuff of legends. Albino crows and snakes filled her private zoo (these animals often roamed the grounds freely). A visitor recalled that at one fete, "positioned at the fireplaces that flanked both ends of the massive room, servants in waistcoats and powdered wigs, continually tossed handfuls of copper filings onto the flames, transforming them into blazes of vivid green." Sheer golden pajamas were often Casati's apparel of choice when she hosted dinner parties.
Scarcely acquainted with the concept of modesty, the Marchesa Casati's public persona also trailed extroversion like tendrils of strong perfume. At night, she glided through the streets of Venice, naked beneath her fur coats, led by diamond-collared cheetahs. Artists of her era grew fascinated, and she served as muse to Ezra Pound, Pablo Picasso, Jean Cocteau, and many more.

Yet all parties must come to an end: somewhat unsurprisingly, Luisa Casati went broke ... and even worse, she went out of fashion. By the 1920s, aesthetics had changed, and her particular brand of eccentricity was deemed passe. Even her close friend Baron de Meyer commented in the bon ton bible, Harper's Bazaar: "Taste and exquisite reticence have become one of the fine arts. Eccentricity is thought a crime and is actually the most démodé and unfashionable thing a woman can indulge in nowadays!"
Yet even in poverty, the Marchesa found ways to be uniquely creative. To demonstrate: toward the end of her life, she was left with only a smattering of belongings to remember her glory years: a broken cuckoo clock, a stuffed lion's head, and a purported fragment of St. Peter's finger that had once been "flung at her during a séance," according to a biographer. She had also been able to keep a few books from a once-vast collection, and displayed them with the gilt-edged pages facing outward, making a regular row of volumes appear to be block of shining gold.
Even posthumously, the Marchesa remains a muse today: she inspired the eponymous clothing line by Georgina Chapman and Keren Craig.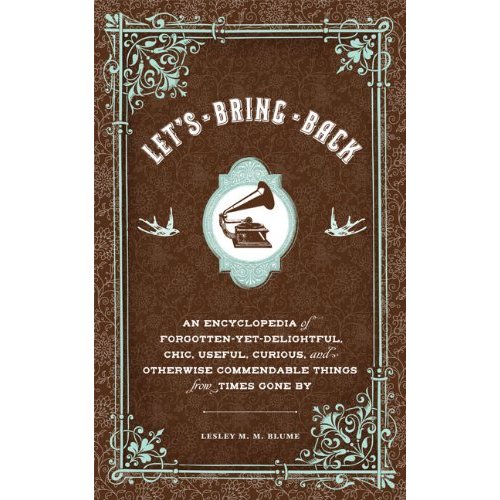 BUY THE BOOK: Click here to purchase Let's Bring Back.
Follow Let's Bring Back on Twitter: @LetsBringBack
For publicity inquiries, please contact April Whitney at Chronicle Books: April_Whitney@chroniclebooks.com