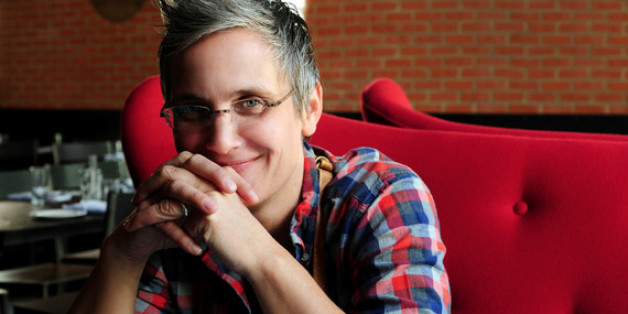 World-renowned chef Monica Pope was an early adopter and advocate of the local food movement in Houston, but she sealed her famous culinary reputation after competing on Bravo's second season of Top Chef Masters.
Owner of Sparrow Bar + Cookshop and Beaver's, Chef Pope creates daily farm-to-table menus at each restaurant. She is a James Beard Award nominee (2007), Houston Culinary Award winner (2009) and the only female Texas chef named a Food & Wine magazine Best New Chef (1996). Chef Pope is also a founding chair of the Chef's Advisory Board of Recipe for Success Foundation. Pope grew up in Houston and studied at Leiths School of Food and Wine in London. After working in Europe and San Francisco, she returned in 1992 and -- luckily for Houston foodies -- never plans to leave.
I spoke to Chef Pope to find out more about sourcing locally, Houston's culinary scene, dining philosophy and more:
What can we expect from Sparrow's tasting menu?
With this new format at Sparrow, we have five new courses that are driven by the local market each week. Sometimes we will pick courses that are signature dishes from Sparrow, so you might see the shiitake mushroom dumplings with blue cheese and honey. It's all locally driven with local mushrooms, local blue cheese, local honey. Our soups are always driven by what we have locally. This week happens to be our vegan butternut squash soup. You get a dessert as your fifth course. My favorite right now is this banana -- I guess you would call it a bread pudding -- with white chocolate and butterscotch sauce. Really simple and fresh.
What is your favorite dish on the tasting menu, and why?
I love salads that we do; I love wild game that we do. We have wild boar tenderloin, we have an elk Bolognese that's really good and the antelope cutlet. Elk Bolognese is a meat ragout that we do, and we do a house-cut noodle -- that's kinda family-favorite right there. It's a rich, creamy eggy pasta that we blend with different herbs and a Bolognese, this week happens to be elk and a gremolata with orange and lemon; it's really good.
Do you still get recognized for competing on "Top Chef Masters"?
It was four years ago and it's crazy that I do still get recognized, it always throws me for a loop. I mean I was always well-known here in town because I've been here for over 20 years with my own restaurants but it's crazy how if I go someplace else in the country, I'll get "the look" and I'll get the point. It's always a little surprising to me -- not off-putting, but a little surprising to me. My kids notice it, too. 'Cause everyone knows me. I'm always cautioning them to behave, and I have to behave too [laughs].
How would you describe your food philosophy?
What I try to do and what I feel like I do -- what we do well -- is global comfort food with local ingredients. I feel like what we do is very beautiful, satisfying food that is comforting. I love that I can connect with people from anywhere with the foods that we do, and it's local. My whole thing is to drive them [patrons] towards the local food scene 'cause it's awesome. It's really good for us, it's really flavorful, it's really diverse. It's all these things we're trying to keep alive in cooking. It's that connector for all of us, so hopefully they can come to Sparrow and experience that.
What are the easiest ingredients to source locally in Texas? What are the most difficult?
We obviously have awesome citrus people; we have peaches, citrus. I've been in my house for 20-plus years, the citrus this year is off the hook. Amazing, we just picked limes yesterday. And pecans -- we're know for and have awesome pecans. Greens, we just got apollo, which is new. So it's fun to see the different greens; there's huge diversity of that. In the last few years, potatoes (oddly enough), shell peas and beans. Okra. It's a Southern thing, I guess, but really, really good. The ones we've had past success with, that I wish we could see more of, are the fresh chickpeas. Asparagus I don't see as much of, but it's awesome this year.

How has Houston's culinary scene changed since you started and what do you think your impact has been?
When I started in '92, I mean, they thought I was crazy. We didn't know any farmers, we didn't have any connections, even to our fishermen or ranchers. In the first 10 years, there were attempts to connect and bring back the farmers' market, which happened about 12 years ago. That's when we were connecting the dots for people with this farm-to-table, literally from that farmers market, that farmer, to this table. And now I would say more and more chefs are trying to express it. That's the effect I've seen in my 21 years of trying; now people know what it's called, they have a name for it. Back in the day, I was just the odd one out. I still am in some ways because what is truly important to me about the movement isn't just going to the market and buying stuff and putting it on the menu, but it's more deeply rooted than that. It's a life, it's about community, family, diversity and health -- all these things.
Where was the last place you traveled?
Every other year, I tend to go to New York where my sister is. So we were in New York City. We went out to Long Island; she has a house in Sag Harbor. And we just went to the East Coast, that was the last place I traveled and the whole family came with. My wife and I have four [kids aged] 14, 11, 9, 7. Just trying to reconnect. My sister needed some design help and my wife is a designer, so we did some fun stuff. They had never been (except my daughter) to Long Island so that was a fun, new city.
Sparrow Bar + Cookshop is located at 3701 Travis Street in Houston.