Simon Cowell is making a bold bet Britney Spears and Demi Lovato will increase viewers and propel the second season of Fox's reality competition, X Factor, into a ratings hit.
Before a single episode of the British import aired in the U.S. last fall, Cowell, its creator and executive producer, predicted it would draw 20 million viewers and best American Idol, Cowell's former series.
Instead, X Factor ended its first season with a respectable, though not spectacular, 12.67 million viewers. It finished the 2011-2012 television season as the 19th highest rated program, well behind American Idol's second place finish with 19.81 viewers.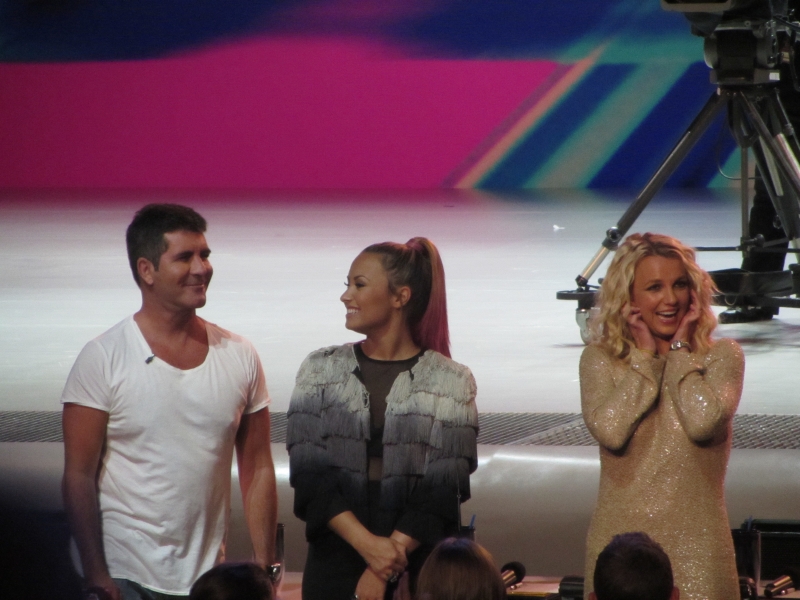 Though Cowell ate humble pie after his inflated ratings predictions, his wallet didn't suffer. After signing a partnership with Sony to tether the show to his own production company, Syco Entertainment, Cowell raked in $42 million.
With so much at stake, it was a no brainer Fox would bring the show back for a second season, albeit one with some tweaks.
The first causalities were judges Paula Abdul and Nicole Scherzinger, and host, Steve Jones. Abdul and Scherzinger were replaced at the judging table by Spears and Lovato, and as of this writing, a new host has not yet been named.
Always looking for ratings gold and water cooler moments, Cowell took a gamble by hiring Spears and Lovato. Both are untested entities on live television, and each has a well-documented breakdown and a trip to rehab in their recent past.
Britney in a Bubble

Spears, who rarely gives live interviews and is still under the controlled conservatorship of her father, Jamie Spears, and fiancé, Jason Trawick, is the show's biggest wild card.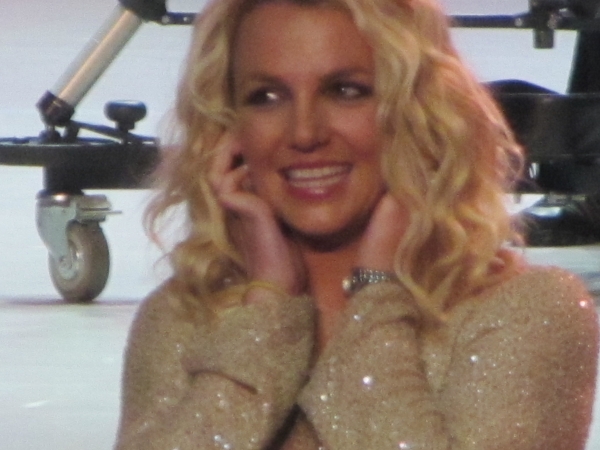 At the San Francisco/Oakland X Factor auditions I attended at Oracle Arena on June 17th and 18th, Spears, who looked gorgeous, never interacted with the audience. The only time she looked at the crowd in two days was to smile briefly while putting her hands over her ears at the deafening noise when the judges were introduced. She never turned her chair to solicit the audiences' opinion as Lovato, Cowell and the fourth judge, LA Reid, often did. She also never posed for pictures or signed autographs during breaks like Lovato and Cowell.
Instead, Spears was helped off the judging platform during every break in taping by an ever-present and fidgety Trawick, who hovered just out of camera range at all times, watching the TV monitors with producers and playing with his phone. At each break, he immediately led her backstage, helped by several beefy bodyguards. Spears looked straight ahead, never making eye contact with fans or looking to her left or right.
When it came time for her to judge, the soft spoken Spears offered vague generalities for why she liked or disliked a contestant, often simply voting yes or no in her shy, Southern drawl. In a word, she was professional. If her team wanted her controlled, they succeeded because she looked and sounded like a beautiful zombie going through the motions. I'm wondering if during the breaks, she wasn't getting adrenaline shots to prop her up.
While the lion's share of attention has gone to Spears, Lovato is proving herself as the potential breakout star. She was spunky and feisty and sparred with Cowell, everything Spears didn't do. She even coined a new pet name for Cowell, often referring to him as "Slimon." She wasn't afraid to say no to contestants and on several occasions, was the deciding vote to not send someone through to the next round.
At first glance, Spears and Lovato appear brought on board for their train-wreck-on-live-TV potential, but it's probable Cowell harbors additional, more practical motives as well. Spears remains popular in the all important 25-40-year-old female demographic and Lovato is today's "it" girl for the 12-20 tween set. If Cowell's calculations prove apt and he can attract both demos, he and Fox will have a bonafide hit on their hands this season.
Indeed, at the June 17th taping, one of the contestants commented before beginning her audition, "Demi, I have a 16-year-old sister, who wanted me to tell you she loves you; and Britney, I have a 30-year-old sister who wanted me to tell you she loves you."
Hearing those sentiments and reading headlines like "Demi Lovato Out Shines a Tired Looking Britney Spears" can't help the pop princess' already fragile psyche. But if this is what Cowell was banking on, the sedate Spears isn't taking the bait.
Spears joined Lovato on more than one occasion to vote against Cowell or Reid, including voting yes on a drag queen who announced wearing ladies panties made him feel free. Another notable split between the judges occurred over the fate of a former boy bander. On the latter decision, after it came down to Reid as the deciding vote, he voted no. The crowd went crazy and whooped and hollered and booed until the contestant was allowed back onstage to sing another song. This was the first time in the history of the show the fans had been able to influence the judges to change their mind. This audience lived up to its billing as the fifth judge.
Besides the drama of watching the judges and contestants, it was also interesting to watch firsthand how the show's producers fabricated camera shots for editing purposes.
Before the taping began on June 17th, producers mounted a camera on the stage, pointed at the audience, and instructed the audience on the count of three to turn to their neighbor and mug an expression of total surprise. After capturing those shots for a minute, the next set of instructions was, "This time, do it again but look only moderately surprised." They also taped the audience standing and cheering and jeering and booing, all apropos of nothing, just following hand signals, like a trained animal, of when to get louder or tone it down.
Outside the show on June 18th, producers walked through the crowd and selected random strangers, directing them to stand together in circles, so the cameramen could tape them pretending to talk. Elsewhere, they chose people to walk in front of the camera. One group of girls was instructed to trot back and forth in a semi-circle between two cameras for about 20 minutes, so they could tape the same shot from all angles. The entire scenario was very micro managed. Producers seemed to want specific people in their shots, especially exotic looking women or cute teenagers.
Instead of letting people go straight into the arena before the taping, the audience was herded to the front entrance and told to wait behind barricades for the judges' imminent arrival. Imminent must be a relative term because we were left standing in the 90 degree heat for almost two hours before the judges arrived in their chauffeured SUV's.
Spears exited first, shepherded by Trawick, who whisked her past the faux-frenzied staged masses. She was followed by Lovato and then Reid, both of whom lingered a little longer to sign autographs. When the fourth vehicle sat idle, the crowd began chanting, "We want Simon, we want Simon," only to have the car speed up and whiz by without ever depositing the mercurial judge to his fans. I assume this anticipation made for good camera shots of frothy, over-heated fans.
Once inside the arena, part of which was converted into a massive sound stage, various audience members tried their hand at singing - or dancing. The most memorable was a boy named Josh who danced his heart out while a girl in another section sang the One Direction (the group who finished third on the UK version of X Factor, and went on to become the first UK group in U.S. chart history to debut at number one with their first album) hit, "What Makes You Beautiful." She had the line of the night when she ad-libbed to Josh at the end, "I guess you do know you're beautiful." The crowd erupted in cheers and Josh was referenced with much enthusiasm during breaks for the remainder of the taping.
The Bay Area proved to have a lot of talent auditioning, including Gene Simmons' (lead singer of Kiss), 19-year-old daughter, Sophie. Sophie was determined to succeed on her own merit and didn't tell her famous parents (her mother is Shannon Tweed) that she was auditioning until the night before.
Based on what I observed, the show is poised to improve on last year's success both talent-wise and ratings-wise, and Cowell's gamble with Spears and Lovato will pay off even if they don't make train-wreck-television. Viewers will tune in for the rubber-necking and stay when the talent proves worthy.
While he's shying away from a 20 million prediction this season, Cowell told USA Today, "It didn't get the numbers I predicted. I'm not going to lie and say I'm thrilled. But I've also learned a lesson that you can't be too cocky, and it may take a few years. You've got to earn the right to those numbers."
X Factor premieres on Fox with the audition rounds on September 12th.
Photos (c) Lesleyann Coker