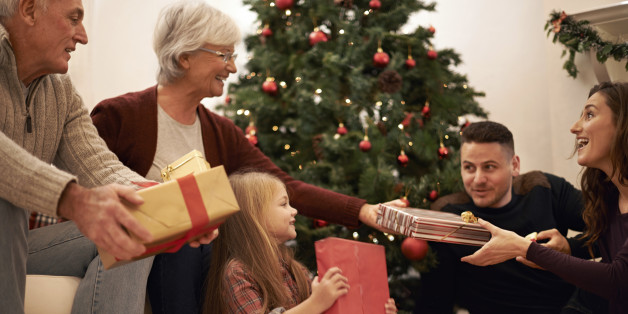 We say it every year; the holidays arrived before we knew it, seemingly out of nowhere. It seems like it was summer just yesterday, but somehow schools are already dismissing for the winter break.
Between school vacation, endless shopping lists, mailing holiday cards, cooking for extended family and traveling in potential winter storms, the holiday season can be overwhelming for parents. And with the hectic holiday season, the spirit of the holidays can sometimes get lost.
But there are easy ways for parents to help their family simplify and embrace the season. Here are five tips from PBS KIDS to rediscover the true meaning of the holidays:
1. Downscale holiday plans and expectations.
Keep the focus on family, on meaningful traditions and simple activities that replenish rather than exhaust. This year, PBS KIDS surveyed millennial parents and found that young parents don't want a high-paced, tech-overloaded holiday this year. This is the most tech-savvy generation in history, but they are craving a simpler season with less shopping, less stress and more quiet time with the family. The survey found that 82% desire more family time and 80% want to spend more time playing with their kids this holiday season.
2. Ask your children what they most love about your family's holiday.
You may be surprised by their answers. Once, I asked my oldest daughter what she loved most about the holidays, expecting to hear "presents" or "being out of school." She told me her favorite part was the time we got to spend together as a family and the uncontrollable amount of positive energy the season brought. "The energy?" I asked, surprised. "Yes, she said." She loved that everyone was happy, no one was stressed out and that there were lots of good vibes all around.
3. Whether you're decorating, baking cookies or making gifts for grandma, remember that the process is more important for your child than the outcome.
Keep it simple, and you and your child will enjoy it more. Kids want to help, and it makes things much more fun to get their eager assistance. The plain sugar cookies will taste even better than the most elaborate recipe if you make it together. Today's parents are focusing on simple processes like these: along with spending more time with family, topping the list of activities millennial parents want to do more of this season are cooking/baking. And it doesn't matter if you forget an ingredient in the pie (as I did one year) or the presents are not wrapped perfectly. The time spent with your family is the most important part.
4. Create small special moments in every day.
Go for a sledding adventure or a winter nature walk outside. Turn off every light in the house at dinner time, light candles, and invite everyone to be perfectly still and perfectly silent for a minute. Whatever your tradition, it gives kids something to look forward to and also creates a memory for you all to share.
5. Celebrate the holidays as a season of giving and doing for others.
Grab the kids and head next door to shovel an elderly neighbor's walkway; make Christmas cards together to send to soldiers stationed overseas; deliver soup to a friend with the flu and focus on gifts that give back. Every year during the holidays my family loves to give back to our community through volunteer work; its one of our favorite holiday traditions. Volunteer opportunities are usually pretty easy to find during the holidays and often involve tasks that even young children can help with, like making cards or sorting canned food or clothes for those in need. Remember that giving to others is a wonderful way to appreciate the true spirit of the season.

For more tips for simplifying the holidays, visit http://www.pbs.org/parents/holidays/parents-can-simplify-holidays/.