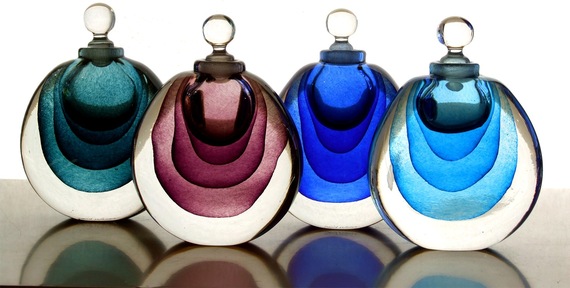 image via bohaglass.co.uk
I receive several emails a week asking about fragrances -- one of my favorite beauty items to shop for and to talk about.
Most of the emails are inquiries about finding a signature in-season fragrance. You would think finding a signature scent for any season would be easy, however; there are three things to consider before committing to a purchase.
When you are shopping for a signature scent, consider the following:
1) What fragrance category(s) do you like? Most fragrances are crafted of combined notes from more than one fragrance category, however; there are usually more dominant notes that stand out. Think this over to avoid buying a scent just because it is a season favorite.
Here is a quick rundown of the major fragrance categories:
Aquatic - airy, fresh rain-soaked, clean
Floral - romantic, classic, feminine
Fruity - bright, tropical, flirty
Citrus - tangy, invigorating, crisp
Earthy or Green - mossy, earthy
Asian inspired - exotic, sensual, earthy
Spicy - rich, peppery, warm
Woody - mossy wood, amber, musk
2) Consider fragrance brands that encourage blending. Bond No. 9, Jo Malone and Trish McEvoy are three of many fragrance brands that encourage mixing or blending of their scents, to create a unique custom scent. Blending two different fragrance categories can create more depth and excitement.
3) Don't buy a fragrance solely based on how it smells right after application. Ask for a sample and wear it for a day to find out how your body responds to it. You may find that a fragrance you really liked at first does not work for you after all, and it cost you nothing to discover this.
Portions of this article, originally posted on my blog Pop Goes the City, have been revised here.