Yesterday I walked into my bedroom and found my cat Tater (#ExploiTater) totally passed out, cuddled under the covers while "Take It Easy" by The Eagles played on the radio. First of all, it was oddly comforting. And secondly, he's totally nailing this thing called "life!"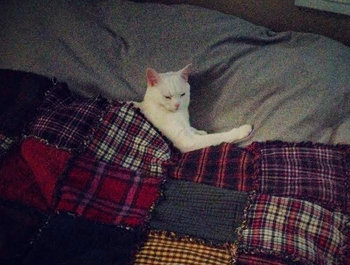 I wanted to share this fleeting moment of zen with others. So, I put out a call to all my crazy cat friends for photos of their blissed-out felines. And let's just say, now my inbox is an exploding volcano of totally adorable and chill cats.
Had a bad morning? Got into a fight? Anxious about the state of the world? Not to worry! Thanks to some carefree cats and The Eagles, you can now enjoy the effects of what feels like an all-day spa treatment. All without ever having to leave your desk and in under two minutes.
So, without further ado, I present: Cats Taking It Easy.
Video courtesy of the author. All photos used with permission.