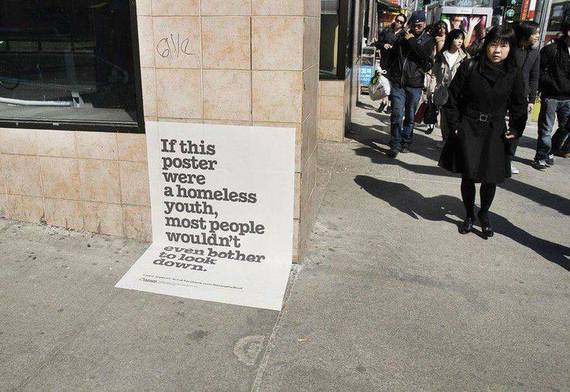 At the MTV Video Music Awards last summer, Miley Cyrus made an attempt to bring youth homelessness in America to center stage by having a homeless man accept her award. Yet, even with the best of intentions, the stunt seemed to backfire when reports surfaced that the man was not homeless and there were warrants out for his arrest.
What a shame!
In America, issues become "the flavor of the month," says Rotimi Rainwater, director of Lost In America, a documentary on youth homelessness currently in production. Somewhere between 1.6 and 2.8 million youth are living on the streets in this country. But unless the issue goes viral, he says, "stuff will not change." He cites Katrina and Sandy Hook as examples. He says that until people get enraged in this country, nothing changes. We can't fix a problem that people aren't even aware is a problem.
Rainwater knows what he's talking about: He was homeless himself. When he requested and received a hardship discharge from the Navy to go home to his mother who was fighting cancer, he found that he had no home to go to. By the time he received his discharge, his mother had lost her home and was living in hospice care. His only remaining relative was his grandmother.
When he approached her for help, she felt no obligation to reach out to him. He found himself sleeping in the park across the street from her apartment complex. He says that seeing the light in her apartment go on in the morning from his spot in the park is what scared him the most. He knew he had nowhere to go and no one to turn to. He, more than most, knows that "any kid ever on the street was in one way or another hurt -- let down by those who are supposed to love them most." You get a sense of nobody wanting you, nobody seeing you, he says. "It's rejection in all its forms."
He hears people say that any child on the streets who wants a home can have one, but he says those people are simply not educated on the topic. Although there are exceptions, he says there are three main reasons that kids end up on the streets:
1. Following a parent or guardian's death, or because of poverty, a home for them simply doesn't exist.
2. Home isn't safe because of sexual, physical or emotional abuse.
3. The people at home don't want them. As much as 45 percent of all homeless youth are thrown out of the house when they come out to their families as LGBT.
When he watches TV at night, Rainwater says he sees public service announcements for poverty-stricken kids in third-world countries, and animal shelters, yet he never sees one for the homeless kids in our own cities. Not only do we make these kids invisible by ignoring them, but when we do see them, we criminalize them with laws that make it illegal to sit or lie on public property. Rainwater has personally witnessed police officers across the country pass up groups of college kids sleeping in public parks only to approach the homeless kids a few yards away to force them to move on or to ticket them.
Rainwater was fortunate. He got off the streets after only nine months. He was young. He met a girl. She had an apartment. He moved in with her. Even though the relationship didn't last, it was enough for him to get himself off the streets, clean himself up, get a job, and become stable.
But what can be done for all the youth who don't have such an option?
Rainwater admits that he doesn't have the solution. But he does say that, to make a change in the right direction, two things need to happen. The first is to educate the public on the problem. The second is to get them mad enough to take action.
This he is doing by making Lost In America. The film is due to be completed by the end of 2015. His production team spent almost a year on the road interviewing homeless youth across America and talking to U.S. government officials. With the interviews complete, the team is seeking crowd funding to finish the project.
They have hopes that the film will cause enough of a stir to get Congress to conduct a comprehensive study in order to ascertain the actual number of homeless youth on the streets and the causes of their homelessness. He says he wants his film to make people angry when they discover the enormity of the problem, because it is only then that Congress will take the action to find a solution and to make the issue "the flavor of the month."
To learn more: Lost In America
More stories on this topic:
Sugar, a film on youth homelessness.