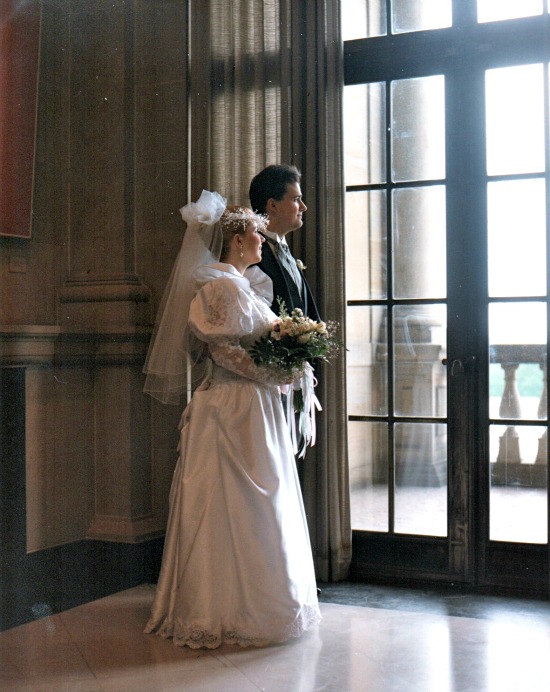 I've unpacked our wedding album. Remember? The one we spent all that money on back in 1989, choosing only the very best pictures from the hundreds that were taken, and having them printed up as 8 x 10s? The one we cherished for a year or so, then packed away? There's a point where the glow wore off and, yeah, sure it was still nice, but we'd seen it. Enough already.
Well, honey, it would seem that enough time has passed that it's magic again. When I looked at it this morning I didn't think "Yeah, that's us". I thought, "Wow, look at those kids." We were sooo young! Both just 22 years old. Just a year out of college. But, hey, we'd been dating exclusively since our freshman year at college. It had been four whole years. At that point, we'd been together for 20 percent of our entire lives! It seemed like a lot. And getting married seemed like a logical and inevitable choice.
(By the way, remember how fat we thought we were back then? Not only do I look at these pictures today and think "Wow, we look so young" but I also think, "Wow, we look so thin." Perspective is everything, darling.)
Remember the picture of us looking out the window? Me in my giant 1980s wedding dress with the poufy sleeves and the giant bow on the butt and you looking dapper in your morning jacket. We're gazing out into our future, the sun lighting our young and hopeful faces. Oh, what we didn't know then! I look at the face of that 22-year-old girl and I try to remember what she was thinking: "Try to look pretty" and "I sure do love this man" are the likely answers. I truly had no idea of how to think about our future together. It's not even like I puzzled over it. I was 22. I had no context.
We've been through so much together. Moving around the country, two amazing children, depression, world travel, cancer, creative success, unemployment, emergency surgeries, and yes, even our brief separation where we both learned that it was time to re-tool our relationship to stop living it like the college students we were and to start living it like the grownups we'd become. People say the hardships can ruin you or bring you closer together, but until you've endured them you never truly know what they mean. Now we know. Those people who said that? They were right.
They say the opposite of love isn't hate; it's indifference. I've loved you for 27 years. I've hated you for days on end. I have never, ever felt indifferent toward you. Your patience, your generosity, your intelligence and your love have been a gift that I haven't always deserved. You are a part of my heart, and to be without you would be like losing a limb. No, two limbs.
I would survive.
But it would really, really suck.
Happy 23rd anniversary, my love.
Leslie
P.S. In two years, please buy me an impressive piece of jewelry.
Leslie Irish Evans, Author, Speaker, and Self-Care Genius, lives on the Internet and writes about it at www.leslieirishevans.com. She encourages all of her readers to secure their own oxygen masks before assisting others.