After experiencing a difficult birth with her first child, Odile Razafinganahary decided she would do everything by the book during her second pregnancy to ensure she gave birth to a healthy baby. She was committed to keeping herself healthy, even though prenatal care is not widely available in Itaosy -- the rural Malagasy farming village where she lives -- especially for families of little means. Odile met with a skilled midwife at the local health facility and had five prenatal visits during which she learned she was carrying twin boys. When labor began, this young mother was ready, confident she had done everything she could to ensure the safe arrival of her twins.
But unforeseen complications still arose on that day in October 2011. Almost immediately after Odile gave birth to healthy babies, she began to bleed heavily -- a sign of a life-threatening condition called postpartum hemorrhage, the leading cause of death for women in Madagascar. Midwife Agnes Haingo knew she had to act swiftly. After ensuring that no fragments of the placenta remained inside, Agnes began to massage Odile's uterus. When the bleeding continued, she applied a pressure with a closed fist over the abdominal aorta through the abdomen to help staunch the flow of blood. After several minutes of compression, the bleeding finally stopped. The uterine massage and compression techniques Agnes learned through training supported by the U.S. Agency for International Development not only saved Odile's life, it greatly improved the chances of long-term survival for her newborn sons.
While many factors contribute to child deaths -- lack of nutrition, sanitation, immunizations, access to basic health care -- we must not forget that child survival begins with healthy mothers, not only during and after birth, but throughout pregnancy. Integrated screenings for preeclampsia and HIV, prevention and treatment of malaria and cervical cancer, along with basic prenatal care, are all essential to the health and well-being of pregnant women in low-resource settings and subsequently, the long-term survival of their children. Unfortunately, many women in sub-Saharan Africa and other vulnerable areas around the world still lack access to care that is standard for pregnant women in America, Europe and other developed countries.
For almost 40 years, Jhpiego has been developing innovative, new approaches to prevent the needless deaths of women and their families in some of the most vulnerable areas in the world. During that time, we have learned many lessons, none more important than the role of mothers in child survival. Essential care must be available and integrated into routine health visits. Nurses, midwives and other frontline health care workers must be skilled in providing basic emergency obstetric and newborn care so that we can continue to reduce the numbers of women who die from childbirth complications. Statistics suggest that when a mother dies, her children are 10 times more likely to die within two years of her death. But when a mother survives, her children thrive. They are more likely to be vaccinated, eat properly, attend school and become productive members of their community, thereby making countries more secure and our world a better place.
Today, Odile Razafinganahary is the proud mother of two healthy 8 month-old boys, Damas and Calist. Thanks to the care she received through the U.S. Government's global flagship Maternal and Children Health Integrated Program (MCHIP), led by Jhpiego, the boys are well on their way to reaching their fifth birthday. What better way to ensure that all children have that opportunity than to have their mothers alive and healthy to celebrate with them?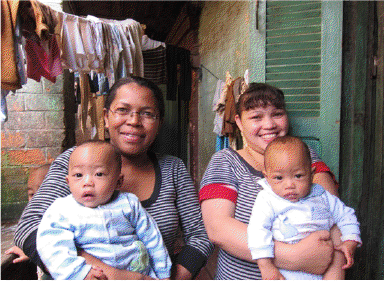 Mother Odile Razafinganahary (right) holds one of her 8-month-old twins, Calist, while midwife Agnes Haingo holds his twin brother, Damas. The twins were safely delivered by midwife Agnes on October 14, 2011. Photo taken by Susan Moffson, MCHIP-Madagascar.