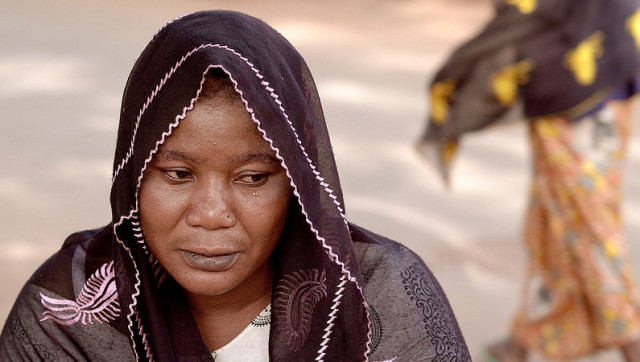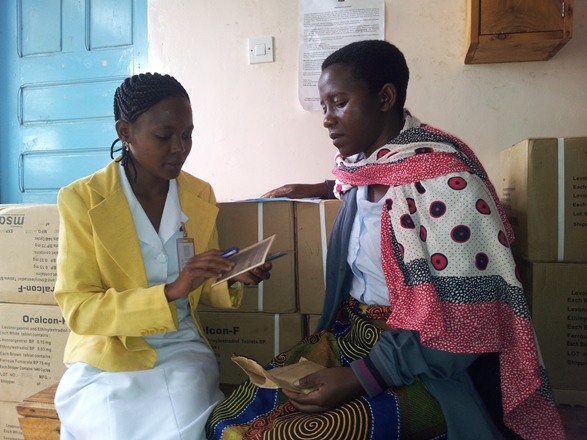 After screening and treating Julietha Makyala (right) for cervical cancer, Nursing Officer Antonia Masinga (left) provides her with post-treatment information.
Njombe, Tanzania -- Like most women in Tanzania, Julietha Makyala did not know much about cervical cancer. The 37-year-old works long hours as a vegetable seller at the local market, and her thoughts are typically consumed by work responsibilities, the well-being of her family and her list of daily chores. The furthest thing from her mind was the possibility that she was walking around with a silent but potentially fatal disease. Still, when Julietha heard that Kibena Hospital was offering free screening services for cervical cancer, something inside prompted her to be more watchful of her health and she decided to go to the clinic.
When she arrived at Kibena Hospital, she was surprised to see a packed registration area. Even for the health care providers at the clinic, where on average 20 to 30 women visit a day, the sight of more than 60 women waiting for services, many dressed in their bright kangas, was unusual.
But this was no typical day. It was the launch of an innovative, low-cost intervention to address a silent -- but preventable -- killer of over 270,000 women per year worldwide.
"Cervical cancer!" yelled nurse-midwife Immaculata Zemba as she opened the health education session for the women at the clinic that day. Her task was to explain to this group of healthy-looking women, including Julietha, that they might be walking around with a killer disease, unaware of the risk it poses to their health and the ultimate well-being of their families.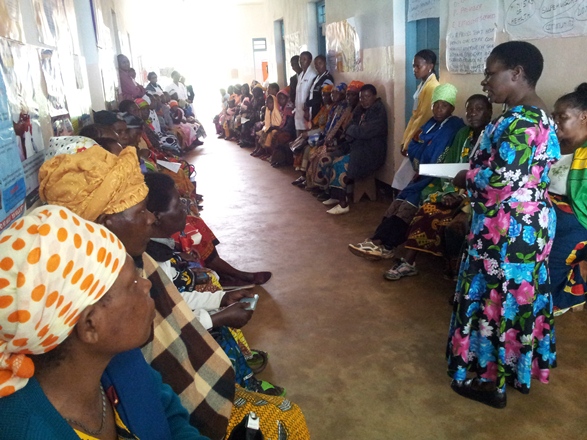 Women listen to nurse-midwife Immaculata Zemba of Kibena Hospital discuss cervical cancer, including what to expect during their free screening.
Cervical cancer is a slowly progressing disease, taking up to 15 years to develop from the initial infection with the human papillomavirus -- the cause of almost all cervical cancer cases -- to abnormal changes in the cells on the surface of the cervix. These abnormal changes, also called pre-cancerous lesions, can only be identified by a Pap test or by visual inspection with acetic acid. Although Pap tests are routinely used in developed countries, they require cytotechnicians, physicians, laboratories and reliable infrastructure that are typically unavailable in most of the developing world, including Tanzania.
This lack of access to preventive screening means that most women discover they have cervical cancer only by experiencing symptoms, when the disease has usually reached an advanced stage and is difficult to treat. As a result, cervical cancer is the most common form of cancer and the leading cause of cancer-related deaths in Tanzania. Of the more than 6,000 Tanzanian women who are diagnosed with cervical cancer each year, a staggering 80 percent will die within five years.
Recognizing the need to screen women early, the Tanzanian Ministry of Health and Social Welfare, with support from the U.S. Agency for International Development (USAID) and in partnership with Jhpiego, established a cervical cancer prevention and control project. The project is expanding access to low-cost cervical cancer screening services by providing health facilities with equipment and training for staff. The project uses a Jhpiego-pioneered screening method, called the single visit approach (SVA).
Under the single visit approach, providers screen women using acetic acid -- also known as vinegar -- which highlights precancerous lesions on the patient's cervix only a minute after being applied. If providers identify suspect lesions, they offer the patient immediate treatment during the same visit using a freezing procedure known as cryotherapy that destroys abnormal lesions. All of this, screening, treatment, and a life cancer free, for less than the cost of a dinner out with your family. To date, providers at 15 health facilities in the Morogoro, Iringa and Njombe Regions have screened 9,550 clients and 688 (or 7.2 percent) tested positive for a precancerous lesions. Of those eligible for cryotherapy, 91 percent received treatment in the same visit.
Trained to use the single visit approach, Antonia Masinga, a nurse from Ludewa Hospital, was able to screen Julietha.
"When I examined Julietha," she explained, "I noticed some abnormal changes on her cervix -- changes similar to the ones I learned from the training are indicative of precancerous lesions. Then I called the supervisor who confirmed my diagnosis." With guidance from her supervisor, she performed cryotherapy on Julietha, likely saving her life.
As for Julietha, her diagnosis and treatment made her realize how fortunate she was. "I was just walking, completely unaware," she said. "I am very grateful for this service and that I will be able to be there for my three children. Initially, when the nurse broke the news I was scared. But then she explained to me that I can get treated right here, today."
Julietha and 13 other women who tested positive for precancerous lesions that day were lucky -- a simple, free screening using only vinegar saved their lives. But millions of women around the world who don't have access to similar interventions aren't as fortunate. Women like Adjaratou Kinda, a mother of five from Burkina Faso who, after experiencing painful symptoms, visited a clinic now offering cervical cancer screening only to find out her disease had metastasized beyond the point where treatment was an option.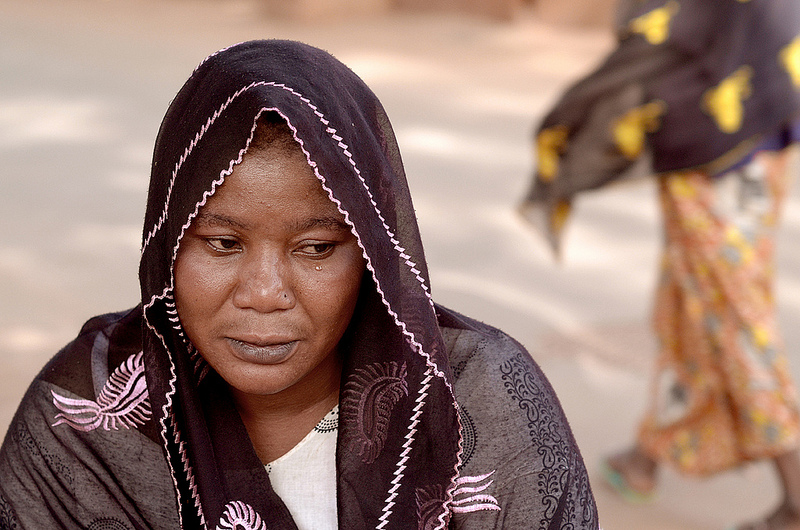 Adjaratou Kinda, a mother of five from a remote village in Burkina Faso, holds back tears after learning her diagnosis of advanced cervical cancer.
In the 21st century, women shouldn't be dying from preventable, treatable diseases simply because of their economic status or geographic location. Early screening and treatment -- like single visit approach -- saves lives. Please join Jhpiego in fighting this silent, but deadly killer.
This blog is part of our #GivingTuesday series, produced by The Huffington Post and the teams at InterAction, 92nd Street Y, United Nations Foundation, and others. Following Black Friday and Cyber Monday, #GivingTuesday -- which takes place for the first time on Tuesday, November 27 -- is a movement intended to open the holiday season on a philanthropic note. Go to www.givingtuesday.org to learn more and get involved.